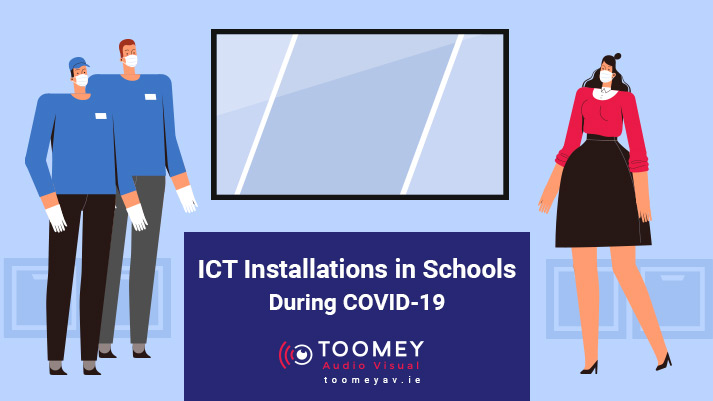 09 Jun

ICT Installations in Schools During COVID-19

Following this unprecedented period of lockdown, we find ourselves heading straight into the summer holiday period. Traditionally this is when we have found ourselves very busy with summer ICT installations of interactive screens, projectors and hall AV systems. Our maintenance dept. are generally flat out servicing projectors, classroom speakers and fixing faulty cables, termination boxes etc. This year is unique as schools have been empty since March. This makes it a great time to schedule installation, maintenance or upgrade works in your classrooms whilst they are empty.
Safety First
Toomey Audio Visual have been busy preparing for a safe and compliant return to work. This week we have produced our COVID-19 Risk Assessment and our COVID-19 Response plan. This details the policies and practices necessary within our organisation to ensure we are best equipped for every eventuality. Our AV technicians have all been issued with facemasks, disposable gloves and hand sanitising gel. All staff have undergone a COVID-19 online safety induction course.

What are the Most Popular Summer AV Installations?
Schools are looking to use this downtime to enhance their classroom ICT and we have noticed a trend in the most popular summer AV installations, check them out below.
Clevertouch V65
Our most popular selling classroom product at present is the Clevertouch V65" Interactive Flatscreen. This is a superb 4K Interactive screen with amazing free classroom software, wireless device connectivity, loads of inputs and a 5 year onsite warranty. Really we're not surprised that it's so popular, at €2500 on the wall – it's a steal!
EPSON School Hall PE System
Our Hall PE bundle consists of an EPSON EB685W widescreen ultra short throw projector, a 6' x 4' whiteboard, a set of 30 watt speakers and a wall mounted cage to keep everything safe and protected from stray balls. Simply walk up to it, plug in your laptop and away you go. Ideal for up to 35 students.
Low cost Short Throw Classroom Projector
Our Hitachi / Maxell MC CX301 Short Throw Projector is a superb model for classroom refreshes. Bring IWB/s back to life or update old faint projectors to a brighter more modern solution with a HDMI input, a much longer lamp life and an extended EDU warranty.
Digital Signage Systems
CLOUD DSA is the cloud based android signage system that is taking schools by storm. It's simple to use and it provides stunning quality digital signage around the school. Information, timetables, images, videos, and so much more.
Cameras & Audio for Zoom, Skype and Teams
With the use of video becoming part of our everyday lives, especially for remote teaching, we are seeing increased demands for cameras and audio devices. With COVID-19 concerns we expect these products to be one of the most popular installs over the next period.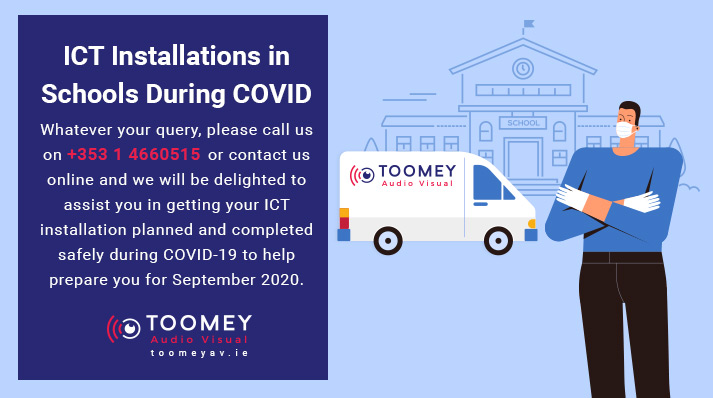 ICT Installations in Schools During COVID
Whatever your query, please call us on 01 4660515 or contact us online and we will be delighted to assist you in getting your ICT installation planned and completed safely during COVID-19 to help prepare you for September 2020.