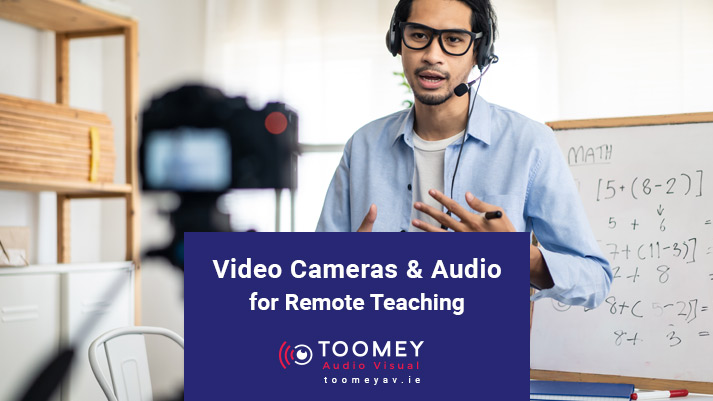 04 Jun

Video Cameras & Audio for Remote Teaching

As more and more classrooms transition to remote working, we are learning how to navigate all the aspects of working digitally. Some classes are moving online, which means that we're potentially making a lot of video calls. If you do not have a lot of experience with video conferencing, it may take some getting used to and in this post we'll outline some of the best video cameras and audio options for remote teaching. When it comes to video calling there are 2 main elements to it (well 3 really, but we will take a decent internet connection as a given) so let's get into it!
Audio & Video Settings
The single most important thing to be aware of is that you must select your audio and video settings on your PC. If you are using Zoom, Skype or another video platform, this is generally done within the application. Go to settings, select the microphone you are using, select the camera you are using and you should be good to go.

Video Options for Remote Teaching
Let's start with video options that are available for remote teaching. Needless to say his is the visual part of the call and there are a few options here.
1. Laptop Camera
Most laptops have an inbuilt camera. Generally speaking, the quality is pretty poor. The movement of the camera can be quite awkward, and the position is all too often too low and impractical especially if you are standing in front of a whiteboard / interactive screen etc.
2. Webcam
This is the next rung up the camera ladder. Webcam prices range from €80 to €200 and there are some decent cameras at the upper end of the range and most run Full HD (1080P) and even 4K (however this puts more pressure on the internet connection). These will give you a wider screen shot and most will have a software include to allow optimum set-up, digital zoom, focus etc when compared to a standard laptop camera.
3. Visualiser
Most classrooms have a visualiser. This is a camera and will work for remote teaching. If you are using something like the ladybug Lumens DC120/5 with a gooseneck mic, this is ideal as it make the camera very versatile when it comes to setting up the shot at the right angle and quickly moving the camera to a page / text book etc.
TIP: Bear in mind all the shots should be tested in advance. Do a dummy call and see how everything looks on the other end. The last think you want is textbook work appearing upside down!
4. PTZ Camera
The PTZ camera is the holy grail for remote teaching. A pan tilt and zoom HD camera allows you to set up shots to store in the camera. The remote control allows you to toggle easily between them. For example you could have a wide shot of the teacher and the board, a close up of the teacher seated, another shot of an experiment or practical work off to the side. This adds a more professional element to your video lessons. You can simply press the camera buttons 1-9 to change between shots.
Take Time To Set Up Your Shot
When it comes to remote teaching a key thing to remember is to set up your shot. Set up your device or camera so that it has a clear, unobstructed view of you. Don't sit too far from (or too close to) the camera. If you're using a separate camera, place it near your screen — it's best to put the camera at eye level, so that when you're looking at the screen, it appears as if you're looking at the person you're talking to.
Make sure your face is well lit. Natural lighting and side lighting work best, but overhead lights will work well, too. Backlighting can often make it hard to see; if you can't change the backlighting, try to put another light in front and to the side of your face. Clean up the area around you. Check the background before the call, and check that you're comfortable showing that on a video call.
Projectors & Flatscreens When Remote Teaching
If you are using a projector or interactive flatscreen in your call, check that the image is not flickering on your video image. If so, you will need to adjust the camera refresh rate to eliminate the flicker) also, check ink colours etc you are using to make sure they are visible on the video call. This should ideally be tested in advance of the call.

Audio Options for Remote Teaching
Now that we've had a look at some of the video options available to you it's time to have a look at the audio options for remote teaching.
1. Laptop Inbuilt Microphone
Most Laptops will have an inbuilt microphone. Much like the inbuilt webcam the quality is ok (ish) and is best defined as functional rather than impressive. Sound can be tinny and distorted. Laptops vary and the quality of inbuilt microphones is better on some laptops than on others. It should also be said that separate web cams will have their own microphones built in which will often be better quality than the laptop inbuilt mic.
2. Audio Pod
An audio pod is a great piece of kit. It has a high quality inbuilt microphone, a high quality speaker and generally echo cancellation, noise cancellation and a great pick up pattern (usually will cover an area of approx 2 metres around the unit). This greatly enhances the quality of the video call.
3.Wireless Lapel Kit
If you have a few more euros and want to sound great, go for a wireless lapel kit. This will give you complete freedom to move around and have a consistent audio level wherever you wander. We recommend the Sennheiser XS wireless Lapel Kit. Good value and Sennheiser quality.
4. Audio & Video USB Bars
A video bar will integrate audio and video seamlessly and present it as 1 x USB cable to simply plug into your laptop. This is a great solution for superb video and audio quality and some units come with great features like picture framing and speaker tracking which allows the camera to auto follow you when presenting. Great! BUT……and there is a but, they are typically designed to sit under a screen which means, for classroom use, the camera is facing towards the class and not the teacher. They can be used on the teachers desk to great effect, however this would generally be a temporary set-up for the call and then put away again after use as there would be cables etc. strewn across the your desk. Our favourite model is the POLY Studio.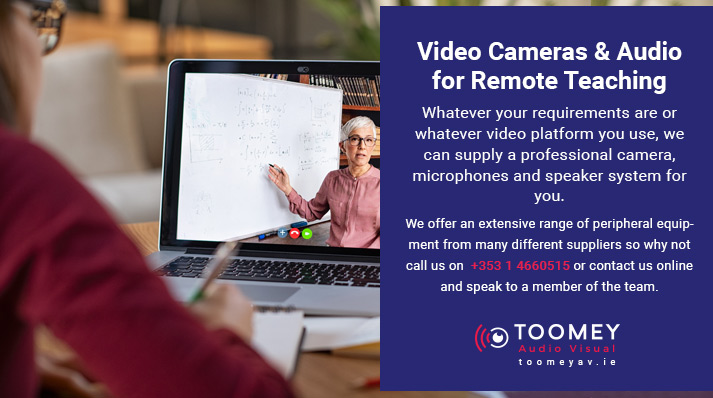 Video Cameras & Audio for Remote Teaching
Whatever your requirements are or whatever video platform you use, we can supply a professional camera, microphones and speaker system for you. We offer an extensive range of peripheral equipment from many different suppliers so why not call us on 01 466 0515 or contact us online and speak to a member of the team.