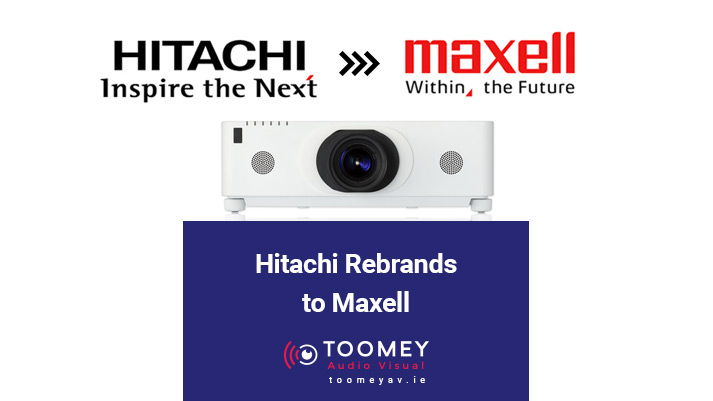 24 Oct

Hitachi Rebrands to Maxell

Maxell and Hitachi Japan have announced recently that all current Hitachi branded projectors will be rebranded as Maxell. The transition will see no change in products beyond the logo. There will also not be any changes in representation, warranty conditions, sales channels, repair agents or customer service.
Maxell Group Buys Hitachi Projectors
The Maxell Group acquired the projector business from Hitachi in July 2013. Since then, the Group has continued the development and production of Hitachi brand projectors and has been selling them worldwide. From October 2019, we will start to see all Hitachi projectors arriving branded as Maxell. Rest assured, they are the same great Hitachi projectors.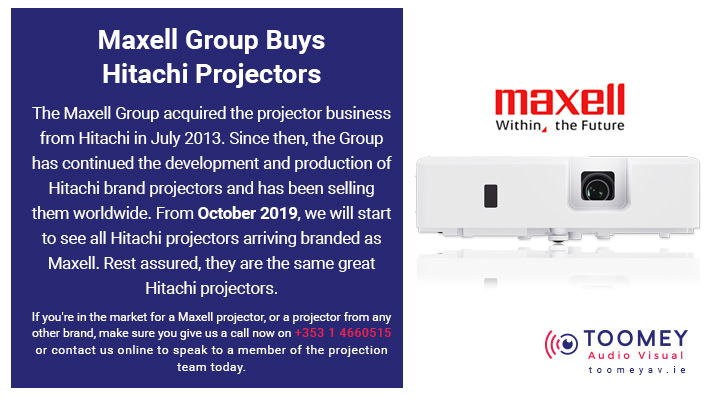 Maxell Range of Projectors
The Maxell range of projectors cover everything from standard ceiling mounted long throw to wall mounted short throw and ultra short throw. Some very nice installation models are also available for boardroom, conference room and mission critical applications. The short throw and ultra short throw models have been particularly popular in Irish schools primarily due to excellent long-term performance and low-cost long-life projector lamp replacements.
Maxell Laser Projectors
Maxell also bring to market a range of laser-based models. Laser projectors operate without a lamp and use an inbuilt laser to provide 20,000 hours of use with better quality performance over time. Also, the Maxell laser projectors have the added benefit of no maintenance, no filters or lamp replacements to worry about.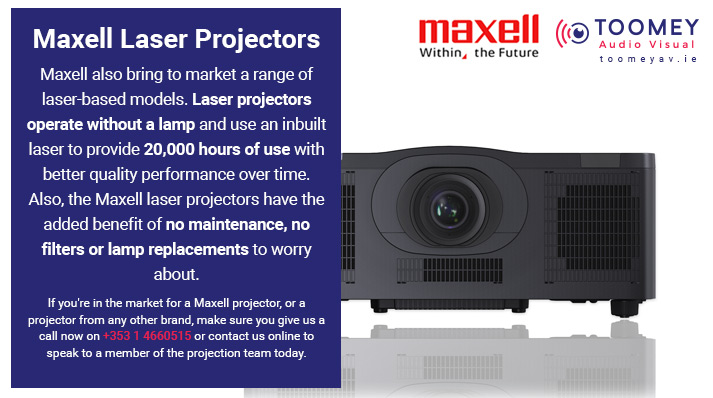 Do You Remember Maxell?
So, if like us you remember Maxell for the famous C60 & C90 Cassette tapes, it's time to revisit the brand of yesteryear and try the amazing technology offered by this truly global brand. The Maxell projectors are bound to be a success for the company. Find out more about Maxell here.
Maxell Projectors – Available Now
So, if you're in the market for a Maxell projector, or a projector from any other brand, make sure you give us a call now on 01 4660515 or contact us online to speak to a member of the projection team today.
Make sure you don't miss out on future blog posts by joining our mailing list now!