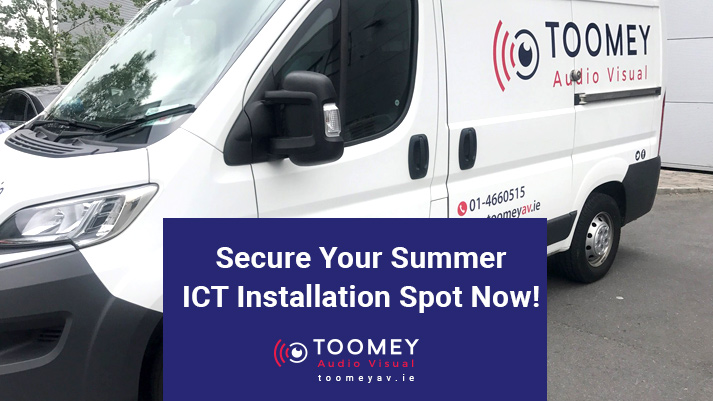 07 Jun

Secure Your Summer ICT Installation Spot Now!
Summers and School ICT
Summer is here! This means a well-earned break for both students and teachers across the country: a time for rest and play and, if we're lucky, soaking up the rays. But this is not the case for all educators. Preparations must be made for the next school / college year. If you're planning on having ICT equipment installed in your school, the Summer is the best time to do it, so that it is ready for pupils when they return to school in the Autumn.
Making Education Easier and More Fun
For many pupils, returning to school in the Autumn is an unhappy time. This is understandable – children get bored easily and all their interest is in play, not work. However, ICT technology is changing all this.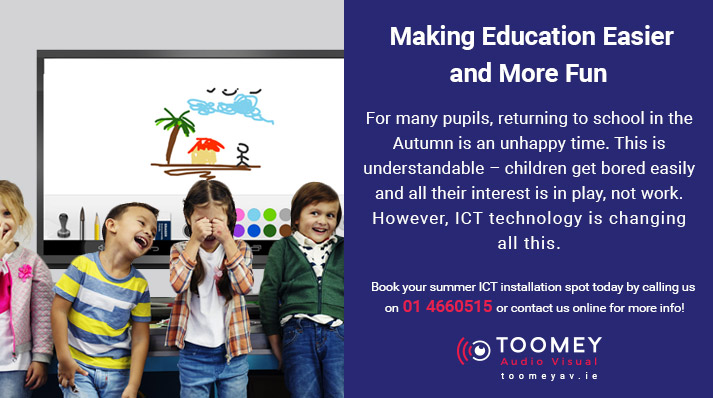 Projectors and Screens That Are Ideal For Schools
The interactive whiteboard and the interactive flat screen are making education easier and more fun. Learning apps allow the pupil to learn through play by offering interactive games. The learning process is also being sped up so that there is more time for pleasure and fun. This might involve watching a film that is relevant to what the class is currently learning about. Toomey AV provides projectors for schools and screens that are ideal for this, but the interactive flat screen can also be used in this way. A concert or talent competition in the school hall is another way to reward pupils, as well as being a way to celebrate talent and instill a sense of communal pride. We supply a range of PA systems as well as staging, lighting and microphones.
Transforming The Learning Environment With ICT
We offer a complete seamless integration of technology that will transform your school hall – show a film, put on a play, connect to YouTube or have a concert. ICT technology is completely transforming the learning environment so that the old dread of returning to school in the Autumn is becoming a thing of the past. For the coming generations, school life is about to get much more interesting and fun and this is how it should be.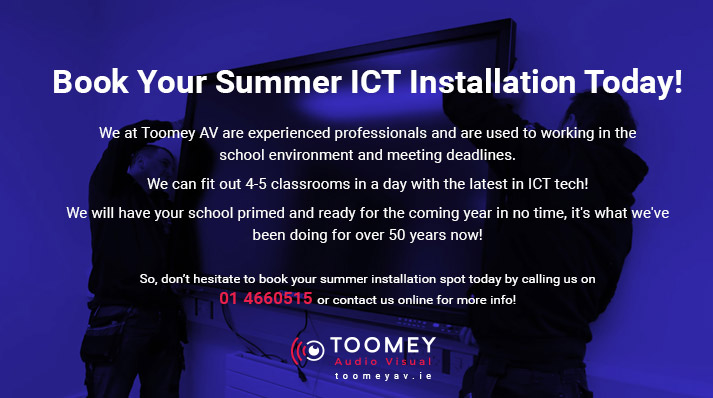 Book Your Summer ICT Installation Today!
We at Toomey AV are experienced professionals as far as installing ICT technology goes. We are used to working in the school environment and meeting deadlines and we are fast. We can fit out 4-5 classrooms in a day with the latest in ICT tech! We will have your school primed and ready for the coming year in no time, it's what we've been doing for over 50 years now! So, don't hesitate to book your summer installation spot today by calling us on +353 1 4660515 or contact us online for more info!