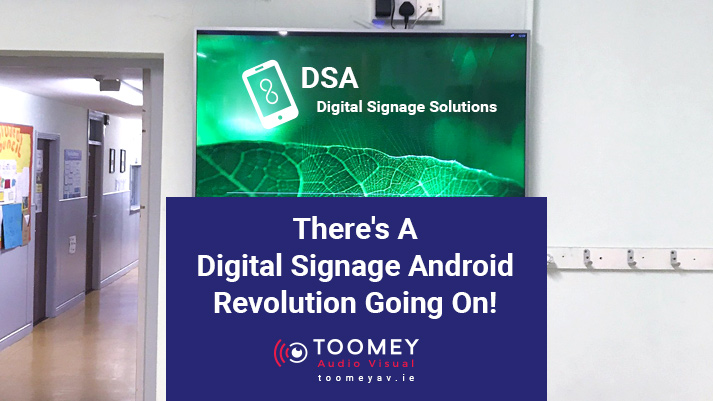 13 Nov

There's A Digital Signage Android Revolution Going On!
The Digital Signage Android Revolution
Up to now our digital signage systems were PC based and were wired from a computer to a wall mounted screen somewhere in the school. This involved long cable runs as well as requiring returning to a particular designated PC. With our new cloud based digital signage android system, you can control the signage screen from any internet connected device phone, table or PC. This gives great flexibility.
DSA Cloud Signage Solution
Our latest offering DSA is a cloud signage solution for Android devices. DSA comprises a platform independent Content Management Service (CMS) hosted in the Cloud and a Player App. DSA Signage Player is a specialised application designed for Android platforms. The DSA Signage Player allows centrally controlled content to play on any remote Android device.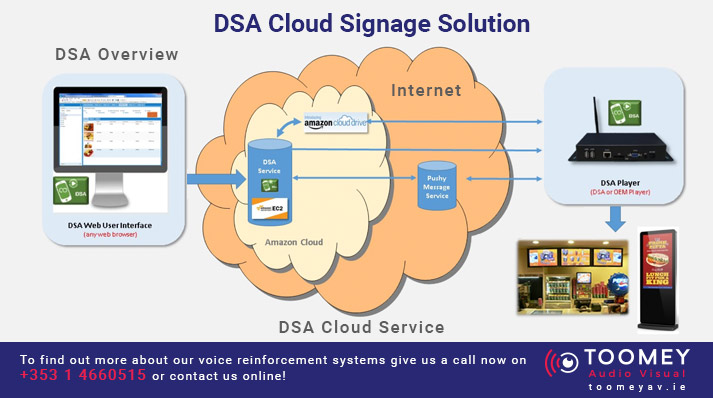 The DSA Service – A Digital Signage Solution
The DSA Service is a digital signage solution ideal for schools comprising of a Web User Interface (UI), Cloud Service and Android Player. Users manage content and devices using the Web UI. Playlists and media are uploaded to the cloud and distributed to internet connected players. Players download scheduled content from the service, store media locally and play. Background control services include player metrics, remote screenshot and software update.
Digital Signage Android & Amazon
For the more technically minded the DSA service is hosted in the Amazon Cloud using EC2 and S3 Cloud Storage. The DSA service is further enhanced with direct player control using the Pushy Messaging Service. For the user this means the DSA Service is built on industry standard cloud service, providing a high degree of reliability and scalability.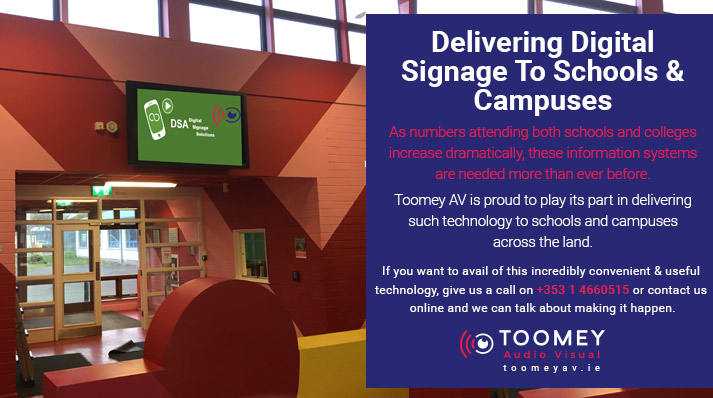 Delivering Digital Signage To Schools & Campuses
As numbers attending both schools and colleges increase dramatically, these information systems are needed more than ever before. Toomey AV is proud to play its part in delivering such technology to schools and campuses across the land. If you want to avail of this incredibly convenient and useful technology, give us a call on +353 1 4660515 or contact us online and we can talk about making it happen.