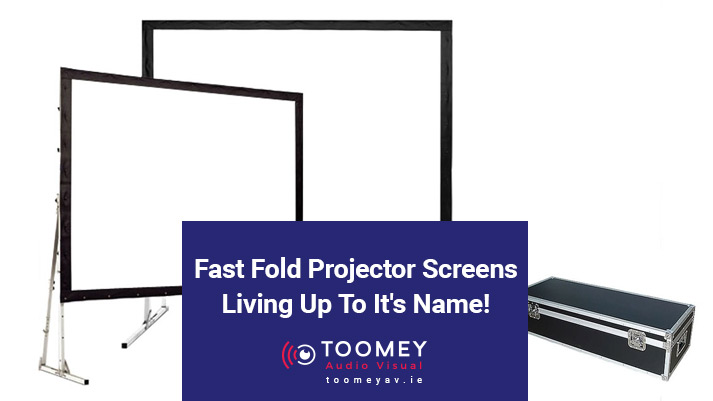 08 Oct

Fast Fold Projector Screens – Living Up To It's Name!

Fast fold projector screens are great because they are highly versatile and give you the option of front or rear projection. They are also very easy to assemble, operate and disassemble and can be easily transported. This week as part of our ongoing series looking into types of projector screens for schools we're going to take a closer look at the advantages of using a fast fold projector screen.
Fast Fold Projector Screens for Any Application
Fast fold projector screens are suitable for almost any application, including classrooms and meeting rooms, large halls and auditoriums and home cinema use. There is a full range of sizes and formats available to suit almost any projector screen requirements you might have.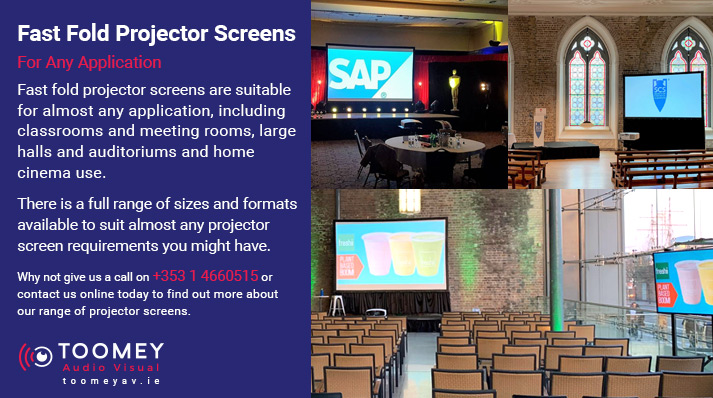 Fast Fold Projector Screens Can Be Assembled On Site
Fast fold projector screens can be assembled on site and then put away into bag or case and easily transported. Assembly will take 10 mins max., once you are familiar with it. An aluminium fold up frame is put together and hinged. Then you simply click a front or rear projection screen on to the frame. To disassemble you just do the opposite and then you put it away for easy transportation. Other types of mobile projector screens fail to be so easily transported, as they have rigid casings that are the full width of the screen.
A Major Advantage of the Fast Fold Screen
The option of front or rear projection is a major advantage of the fast fold screen. If you are not sure about this difference, read on! Front projection screens are white and part of what you would expect of a projector setup: the projector is in front of the screen and projects onto it. Rear projection surfaces are opaque in colour. Though rear projection requires more brightness than front, it has the distinct advantage of having a neat and tidy setup and look. However, rear projection does have its limitations. Rear projection requires space behind the screen (where you will put the projector), which could be as much as 4M, so this will restrict your room space.
The Fast Fold Screen Lives Up To Its Name
All these advantages and disadvantages taken into account, we believe the fast fold projector screen to be a very good choice for those shopping around for a projector screen. The benefits far outweigh the limitations. It is a highly practical and versatile piece of technology and you will master it in no time. Assembly and operation are virtually fool proof and the ease of transportation is sweet indeed. Its popularity is justified by its performance and compactness. The fast fold screen really does live up its name as it is very quickly folded and unfolded.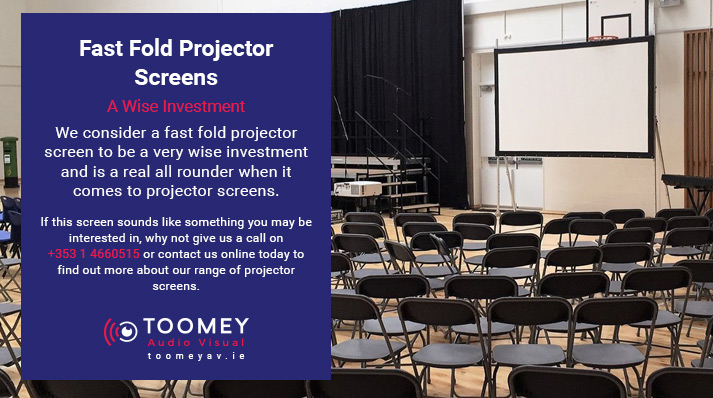 Fast Fold Projector Screens – A Wise Investment
We consider a fast fold projector screen to be a very wise investment and is a real all rounder when it comes to projector screens. It this screen sounds like something you may be interested in, why not give us a call on +353 1 4660515 or contact us online today to find out more about our range of projector screens.
Make sure you don't miss out on future blog posts by joining our mailing list now!