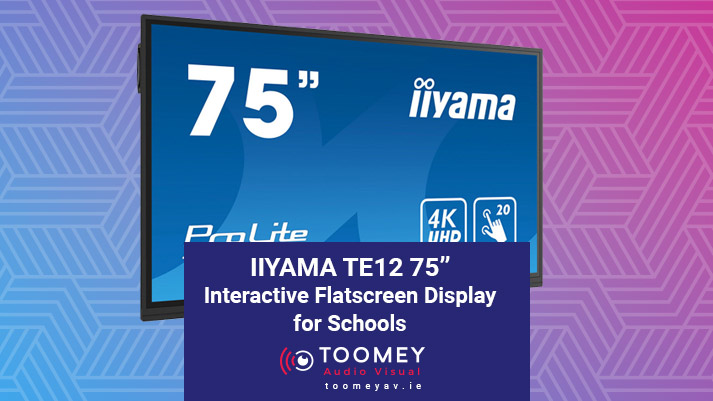 23 Jun

IIYAMA TE12 75" Interactive Flatscreen Display for Schools

75″ Interactive 4K UHD Touchscreen featuring a 4K interface with User Profiles
Toomey AV are renowned for selecting industry leading products that bring your classrooms to life. Our interactivity solutions feature the best interactive flat-panel (IFP) displays and powerful, compatible tools that teachers and students love. Our latest addition is the Iiyama TE12 range of Interactive displays. Simply stunning!
The IIYAMA TE12 75 – Education Made Simple
Collaboration for education has been made simple. The TE7512MIS-B1AG from Iiyama inspires all possibilities in all stages for education. With it's hybrid interactive solution, you can smoothly annotate in 4K and control any content on the display from any source.
PureTouch-IR 40-point Touchscreen Features
This PureTouch-IR 40-point Touchscreen with iiWare 10 (Android 11 OS) features Note, Browser, Cloud Drive and the option for you to sideload relevant apps you require for your organisation. It comes with dual function Touch pens, and you can easily save your notes and on-screen content directly to a USB device, 32GB internal memory or a selected cloud drive. Including an additional USB-C connection, the display supports the latest in video, audio and Touch signal via a single port and even charge your device with 65W power delivery.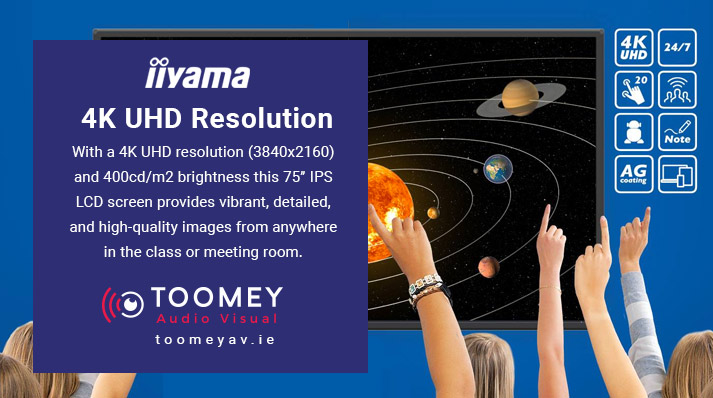 4K UHD Resolution
With a 4K UHD resolution (3840×2160) and 400cd/m2 brightness this 75" IPS LCD screen provides vibrant, detailed, and high-quality images from anywhere in the class or meeting room. The anti-glare coating drastically reduces ambient reflection in high-brightness environments without compromising the sharpness and clarity of the image. UHD resolution (3840×2160), better known as 4K, offers a gigantic viewable area with 4 times more information and work space than a Full HD screen. Due to the high DPI (dots per inch), it displays an incredibly sharp and crisp image.
Perfect for Busy Hybrid Environments
You can be sure that no matter what your Interactive aspiration, iiyama has the simplified solution just for you. Boasting a new 4K Interface with User Profiles for simple login and access to your very own bespoke menu and Cloud Drives, the TE7512MIS-B1AG becomes a highly personalised device within a busy hybrid environment for multiple users.
Share, stream and edit content from any device directly on screen and transform your team meetings or lessons into an easy, fast and seamless interactive session with the included WiFi module (OWM002), ScreenSharePro and EShare app. This LED monitor is equipped with two high quality stereo speakers that will pack a punch in most settings.
iiSignage
With iiSignage, you can easily create, publish and manage your own digital signage content on any iiyama 40-series display from a desktop PC in the same network. Use rich content like video's and widgets to create highly impactful advertising in minutes and schedule your content across multiple displays to best match your customers' behavior.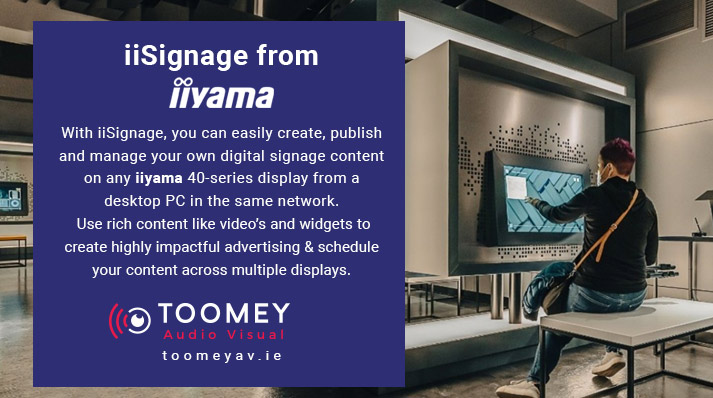 Ultra Slimline Display for Continuous Use
24/7 displays are designed for a continuous operation and come with an anti glare coating.The anti-glare coating is used in professional-grade displays to help avoid issues with reflections and external light sources affecting colour reproduction, contrast and sharpness. It also makes the screen less susceptible to dust, grease and dirt marks. Coupled with IPS technology the iiyama 75″ flatscreen offers higher contrast, darker blacks and much better viewing angles than standard TN technology. The screen will look good no matter what angle you look at it.
Android OS Inside
Thanks to Android OS, you can easily customize the display to your needs by installing applications directly to it. Iiyama Interactive panels improve productivity, measurably increase student engagement, and stimulate learning with compelling content in any classroom of any size and all with an OS that is familiar to most users.
Unrivalled After Sales Support & Service
Toomey AV offers a full spectrum of support services to ensure your interactivity investment cultivates powerful positive growth through enhanced learning and teaching. Support services include:
Product Trial Options
Professional tailored training sessions
Industry-leading equipment warranties
Integration and scheduled AV Maintenance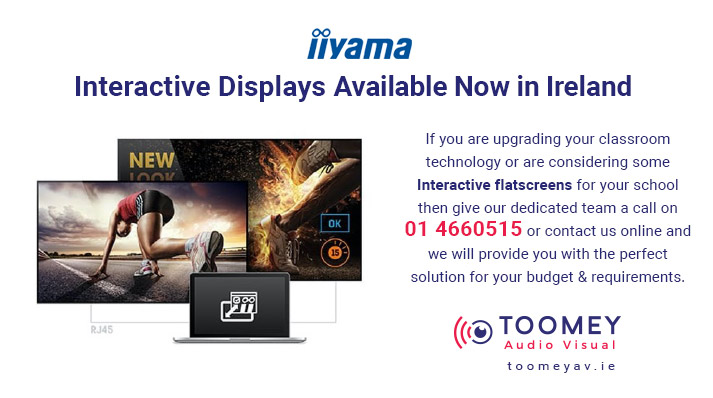 IiYama Interactive Displays Available Now in Ireland
If you are upgrading your classroom technology or are considering some Interactive flatscreens for your school then give our dedicated team a call on 01 466 0515 or contact us online and we will provide you with the perfect solution for your budget and requirements.