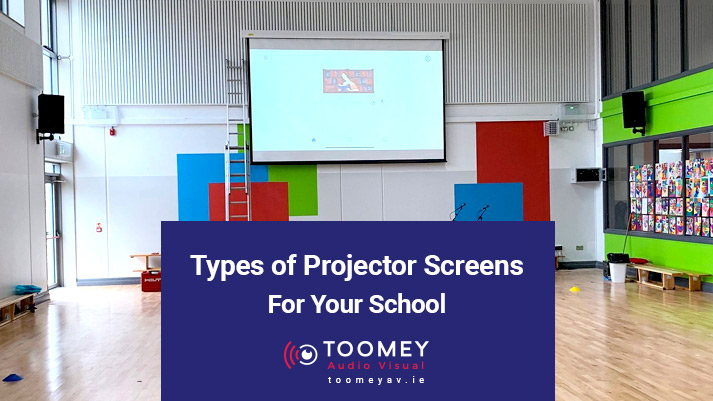 19 Aug

Types of Projector Screens For Your School

There are two main components to every projector: the projector itself and the projector screen. People sometimes don't give enough consideration to what kind of screen they need, and the result is a poor projection system. This is something that shouldn't be tolerated, especially if the projector is intended for use in a school. We've spoken before a bit about projector screens for schools and in this post we'll expand on the types of projector screens available.
Where Are Projectors Typically Used in Schools?
Projectors, like most other multi-media technology, are very user friendly these days. Little or no time should be lost when using one, especially for the first time. However, if you don't do your homework on projector screens then a disaster can easily happen. There are two main places in the school environment where projectors are typically used: the classroom and as part of a school hall AV system. They each have their own unique requirements as far as projector screens go.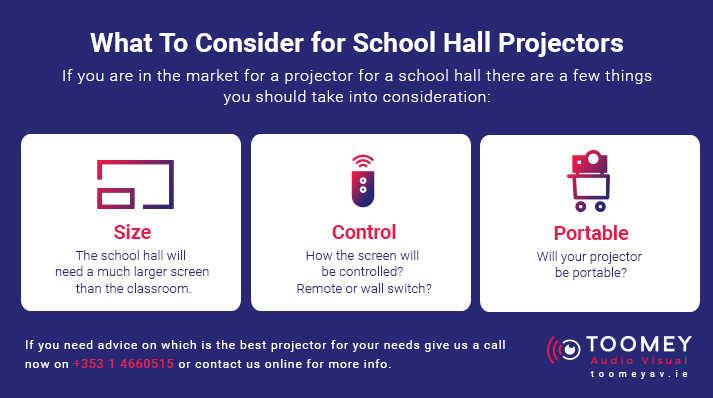 What To Consider for School Hall Projectors
If you are in the market for a projector for a school hall there are a few things you should take into consideration:
Size: The school hall will need a much larger screen than the classroom.
Control: How the screen will be controlled? Remote or wall switch? The remote will suit a classroom system, especially if it is meant to be portable. Whereas the wall switch would be most likely a better choice for a school hall.
Portable: Will your projector be portable? Again, if it is intended for classroom use, then a portable option is probably best whereas a larger environment might be better served by a fixed installation.
Types of School Projector Screens
There are many different projector types on the market, so it might seem daunting when choosing one for your school. To make your life easier, here are the five main categories that projector screens fall under:
Electric Screens: Perhaps best for large areas such as school halls, this elegant, sleek and powerful type of screen can be wall or ceiling mounted.
Manual Screens: These are a less expensive and very popular choice. They can be wall or ceiling mounted but they are a lot lighter than electric screens, and easier to look after. The main difference between the two is that the manual screen is pulled up and down by hand.
Tripod Screens: These are an excellent choice if you require a portable projector system. It is an ideal solution for a system that is intended to travel between classrooms.
Fast Fold Screens: These are highly recommended for school halls. They have a foldable, aluminium frame and an extremely flat surface for excellent viewing quality.
Fixed Frame Projector Screens: Fixed frame projector screens are the most expensive kind on the market and are mostly used for home theatres and commercial meeting rooms.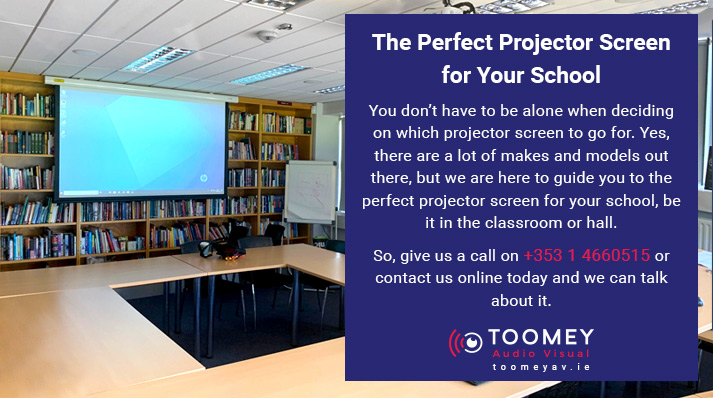 The Perfect Projector Screen for Your School
Hopefully the above helps. But you don't have to be alone when deciding on which projector screen to go for. Yes, there are a lot of makes and models out there, but we are here to guide you to the perfect projector screen for your school, be it in the classroom or hall. So, give us a call on +353 1 4660515 or contact us online today and we can talk about it.
Don't miss out on future blog posts and be in with a chance to win a €100 voucher by joining our mailing list now!