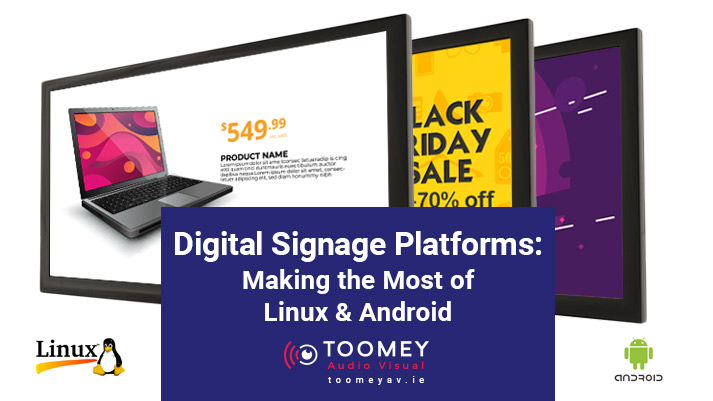 30 May

Digital Signage Platforms: Making the Most of Linux and Android
Digital Signage Platforms
Digital signage players are revolutionising the way content is being communicated. Across the globe businesses, schools and other institutions are conveying messages instantly and effectively. These messages range from vital info such as emergency procedures and news flashes to less urgent content such as school sports results and changes to timetables. No matter what the company or institution, digital signage will take your content distribution to the next level.
Android & Linux Platforms for Digital Signage
Digital signage players are everywhere these days because they are such powerful and effective tools for communication. Like any other software, you need a platform to allow you to use these tools. Both Android and Linux platforms support digital signage software. Let's take a closer look at how and why these platforms are the future of the digital signage world.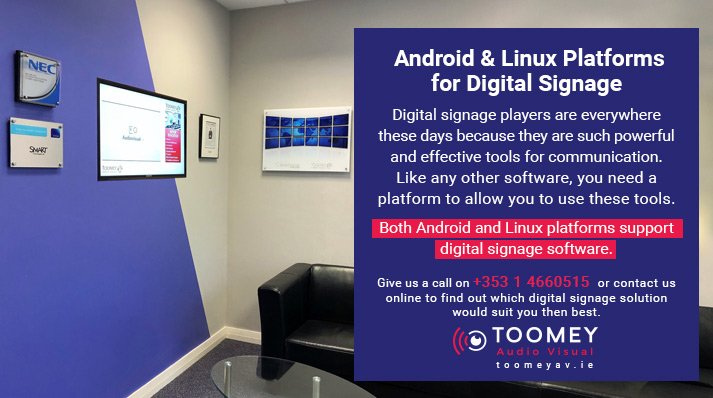 An Unlimited Number of Android Phones & Tablets
Android apps can turn any Android device (smartphone, Tablet, smart screen, TV box etc.) into a beautiful, interactive digital signage screen. They allow you to create campaigns that broadcast continuously to various locations, controlled from anywhere. Build an amazing presentation on your computer and push it down to an unlimited number of Android phones and Tablets. Make a change once and update Android users instantly. These Android users can be customers and prospects or pupils and students embracing the new wave of BYOD (Bring Your Own Device).
Linux Solutions For Digital Signage
People have been waiting a long time for Linux compatibility with digital signage software. Now that it is here, you will find that it was worth the wait. Linux solutions are highly stable which is essential for digital signage. Linux solutions are also flexible: you can be creative with your digital signage management and you can control it all from a single location. Many Linux solutions, such as Ubuntu, are free. You can scale the software at no cost and the system will stay stable.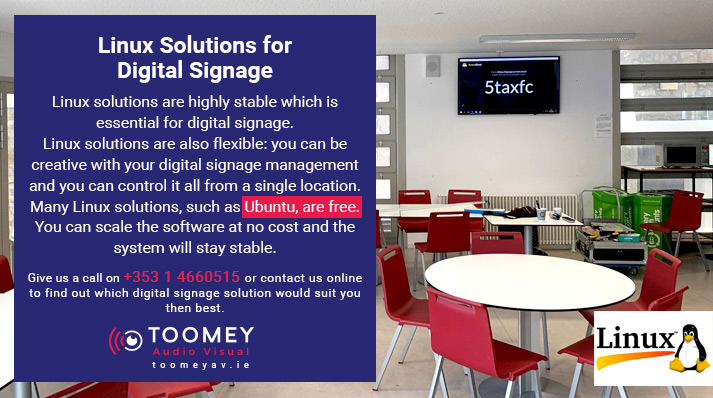 Empowering: Android & Linux Digital Signage Platforms
Digital signage is becoming ubiquitous in our society because it saves so much time and energy. It is truly one of the beauties of the digital revolution. Android and Linux digital signage platforms will empower you to disperse content across a range of devices.
Digital Signage Platforms
If you are interested in installing a digital signage platform in your school, workplace or any other institution that requires content distribution, you have taken the first step by reading this article. Now, let's take the next step and talk about your ideal signage solution. Give us a call on +353 1 4660515 or contact us online we would be happy to discuss your needs and advise you as best we can.
Don't miss out on future blog posts and be in with a chance to win a €100 voucher by joining our mailing list now!