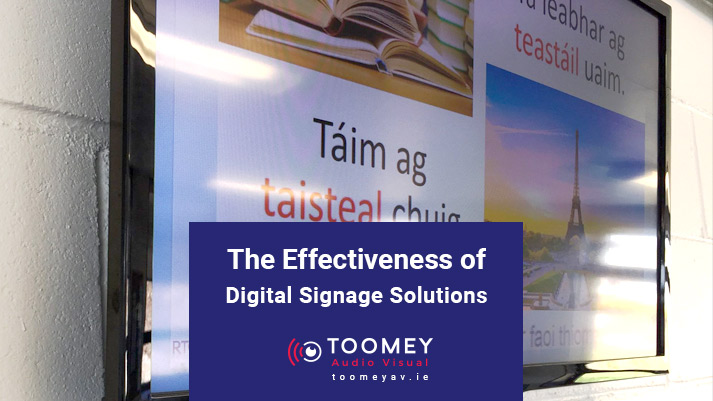 01 Mar

The Effectiveness of Digital Signage Solutions

If your aim is to disseminate information instantly and widely, then digital signage is the way to do it. Sending your content to multiple screens across the campus or school building is an incredibly efficient way of getting your message across.
Investing in a Digital Signage System
The flexibility offered by computer software and the interconnectedness of internet technology promise a digital signage solution that will satisfy all your signage needs. Save so much time and energy by investing in a digital signage system.
Display Fresh Content Simultaneously
A school or college is so much more than a learning environment: it is a community, and, like all communities, it wants to know what is new, especially news that is relevant and up-to-date. This requires a system of digital signage players that can display fresh content simultaneously and instantaneously. Once you have the network up and running, you can spread news and make announcements with ease. It is a lot more effective than making an announcement over an intercom or pinning a poster on a notice board. Reach more students with more up-to-date news items by installing a system of digital signage players.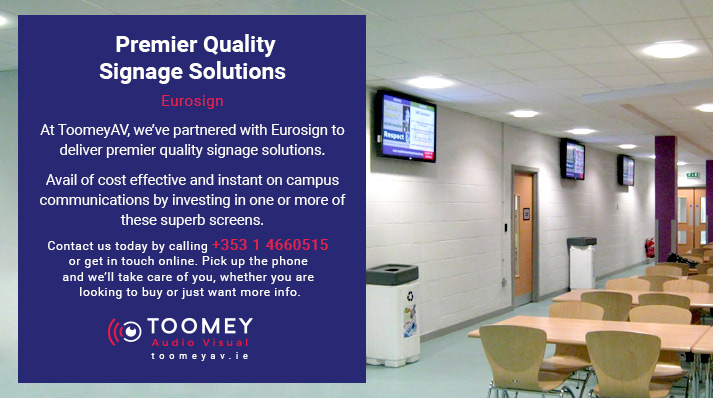 Premier Quality Signage Solutions – Eurosign
At ToomeyAV, we've partnered with Eurosign to deliver premier quality signage solutions. Avail of cost effective and instant on campus communications by investing in one or more of these superb screens. Display time-tables, showcase achievements and show emergency notices. These are just some of the uses you can put the players to. As well as disseminating different types of messages, you can display different types of dynamic content such as text, images, video, Flash, RSS feeds, HTML, TV, PowerPoint, PDFs and more.
The Eurosign Digital Player
The Eurosign digital player is a high quality, high performing piece of technology. Not only is it more effective at displaying news and getting the attention of staff and students, it is more energy efficient and affordable. Energy efficient because it has low power consumption, which means less environmental impact as well as more cost efficient, 'always on' usage. And affordable as it can be run on your existing IT infrastructure, as well as being one of the most reasonably priced high-quality digital signage players on the market.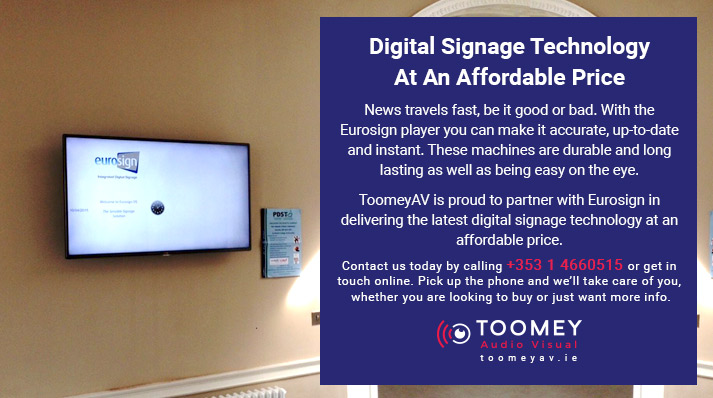 Digital Signage Technology At An Affordable Price
News travels fast, be it good or bad. With the Eurosign player you can make it accurate, up-to-date and instant. These machines are durable and long lasting as well as being easy on the eye. ToomeyAV is proud to partner with Eurosign in delivering the latest digital signage technology at an affordable price. You really couldn't ask for more in a digital signage solution.
So, contact us today by calling +353 1 4660515 or get in touch online. It costs nothing to enquire and we'd love to hear from you. Pick up the phone and we'll take care of you, whether you are looking to buy or are just want more info.
Don't miss out on future blog posts and be in with a chance to win a €100 voucher by joining our mailing list now!