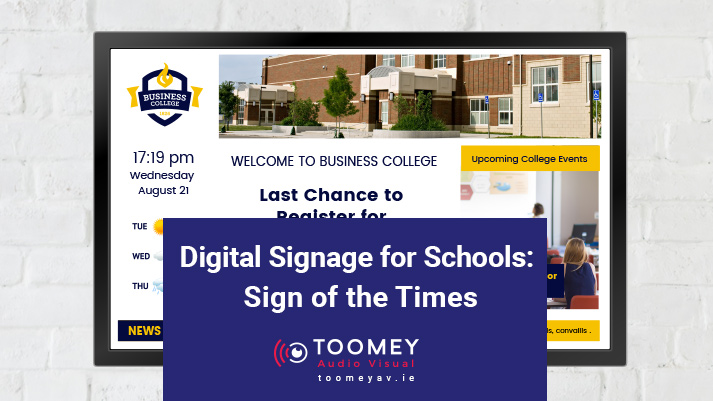 15 May

Digital Signage for Schools – Sign of the Times
Digital Signage for Schools
There are many reasons why digital signage for schools is more effective than traditional means of communication in the learning environment. Who remembers the old intercom system? The speaker over the classroom door broadcasting announcements from the school principle or one of his secretaries? A sign is more effective than the spoken word because it has permanence whereas speech is transient. Permanence means more people will get the message. Also, there is no risk of people mishearing and misunderstanding the message if it comes through a visual sign. A digital sign is even better as it is instantly changeable, saving your staff a lot of trouble. Also, the content on the screen can take many forms due to the powerful signage software: text, live video, pictures, Flash and RSS feeds can all be displayed on your screen.
Traditional Ways of Communicating in Schools
Other traditional ways of communicating with pupils and students are email distribution and pinning notices on notice boards. Digital signage works better than these two methods as it is more immediate. The faster you can get the message across, the better.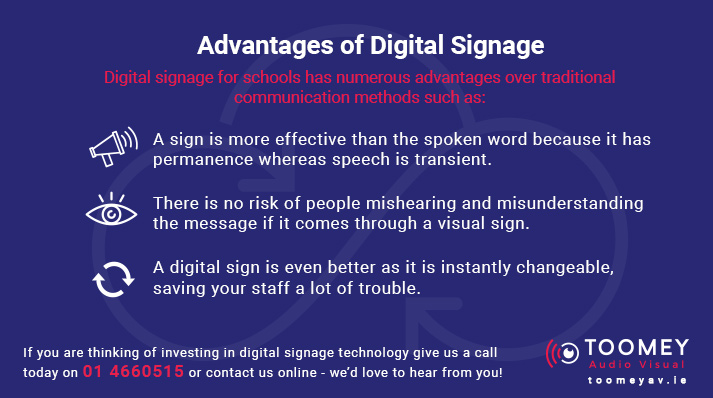 Digital Signage Players
Digital signage players are also more energy efficient by having low power consumption which prevents undue environmental impact and ensures more cost efficient 'always on' usage. Also, the digital signage software we use, Eurosign, is more affordable than most others and can be run on existing IT infrastructure, which means ease of installation.
Uses of Digital Signage in Schools
You can display and update timetables so everyone across the school and campus will be instantly informed. Because timetables are prone to change, updating them can be a headache if you are using more traditional means of communication. Make clean, clear and instant updates that immediately circulate though out the school or college with Eurosign.
Digital signage is also more effective for updates regarding change of teacher or change of room. Or you can make announcements regarding the results of sports fixtures or academic achievements. You can ensure government policy is implemented by displaying key dept of education messages and initiatives. And you can make emergency announcements such as a fire alarm, a news flash or a sudden cancellation.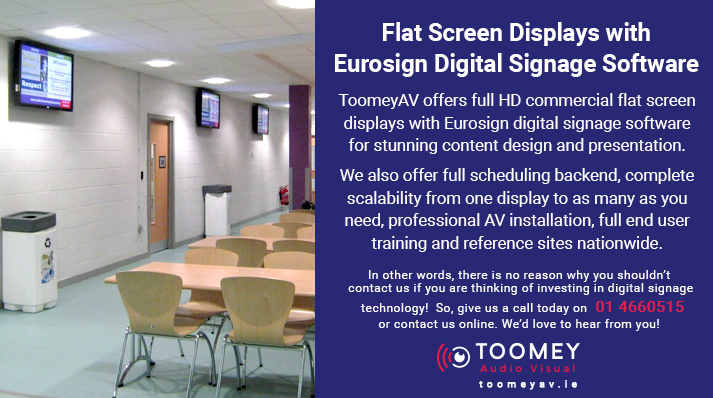 Flat Screen Displays with Eurosign Digital Signage Software
ToomeyAV offers full HD commercial flat screen displays with Eurosign digital signage software for stunning content design and presentation. We also offer full scheduling backend, complete scalability from one display to as many as you need, professional AV installation, full end user training and reference sites nationwide.
In other words, there is no reason why you shouldn't contact us if you are thinking of investing in digital signage technology. So, give us a call today on +353 1 4660515 or contact us online. We'd love to hear from you!