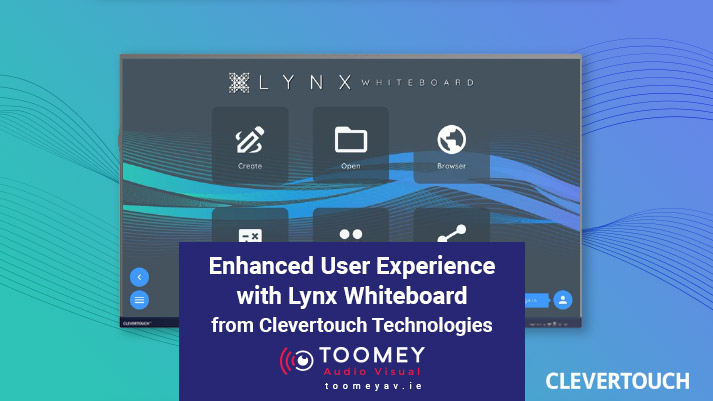 27 Oct

Enhanced User Experience with Lynx Whiteboard from Clevertouch Technologies

Lynx Whiteboard is the advanced Whiteboard from Clevertouch Technologies. Lynx can be installed on your Clevertouch IMPACT Series display from the Cleverstore, alternatively you can download it for any device including iPads, iPhones, Android devices, Windows PCs and Mac from Lynxcloud and mirror it direct to your Clevertouch Display.Lynx Whiteboard has now become the default whiteboard on theClevertouch IMPACT Max. 
How to Get Lynx Whiteboard
To get Lynx Whiteboard simply sign up at lynxcloud.app and once you have confirmed your email, you will be able to start designing lessons, no license key or subscription required.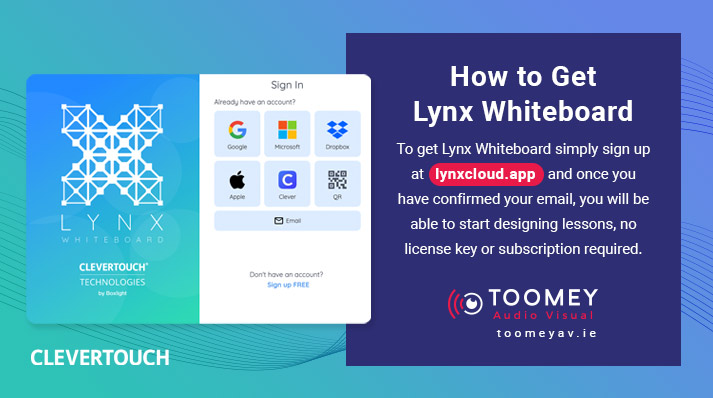 Sync with Multiple Cloud Drives
One of the huge benefits of Lynx Whiteboard is that in addition to coming with your own Lynx Cloud Drive, you can also sync this with your own cloud drives including Google Drive, DropBox and OneDrive, allowing users to create content from anywhere and then open it directly on to your display, meaning teachers don't need to do their prep in the classroom, they can save, organise and reuse lessons. Users can also load files from their linked drives directly into their whiteboard lesson.
Lynx Whiteboard Media Search
Using the built in safe search features users can add images, Gifs and Videos to their presentation. Drag and drop our content onto your presentation. YouTube videos will play advert free, ensuring continuity in the classroom.
Teacher Tools
The teacher toolkit is packed with resources including the handwriting recognition tool, where users can specify a font, maths and shape recognition tools and the hugely popular Rainbow pen, where the ink changes colour each time the pen is lifted from the board along with the spotlight feature.
Games & Activities with PHET
Clevertouch Technologies have partnered with STEM experts, PHET, to give you access to dozens of games and activities to engage students working on Science, Engineering, Technology and Maths.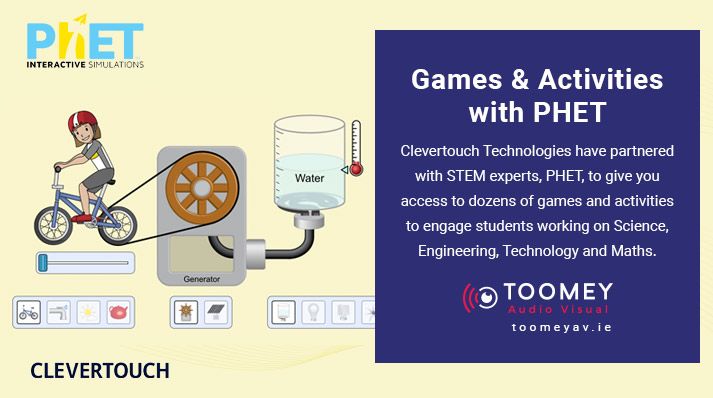 Increase Engagement
Lynx whiteboard is designed to increase student engagement, with handwriting recognition, math formula recognition, dice, maths tools, science tools, and more. There are always new reasons to get students up and actively learning.
Lynx Whiteboard Overview
Check out the Lynx Whiteboard video overview below which gives you a great introduction to its features and functionality.
Tips for Teachers
Ready to start creating lessons? Gilly & Gareth from Clevertouch Technologies have prepared some top video tips to help teachers. From making interactive scenes to teaching fractions with shape splitting, there's something for all subjects. Click the links below to view their top tips.
Lynx Whiteboard from Toomey

For further information regarding the Clevertouch range of hardware and software solutions, contact Toomey Audio Visual on 01 4660515 or contact us online for more info.