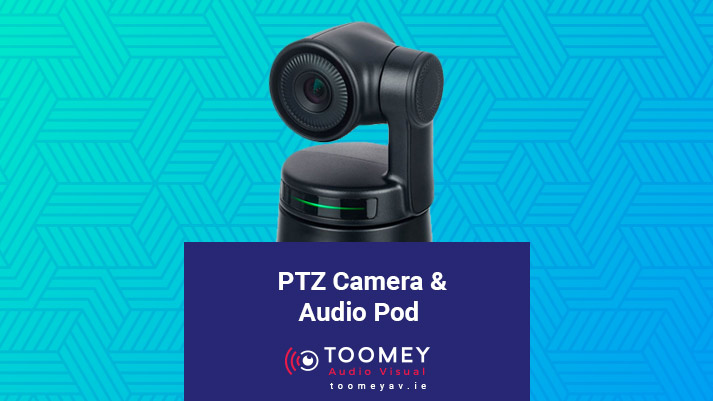 09 Feb

PTZ Camera & Audio Pod

At Toomey, we're committed to helping our customers continue with as much normality as possible. With so much uncertainty in the world currently we want to offer you certainty. With our PTZ Camera and Audio pod you can offer remote conferencing sessions for your business. You can still gather your staff and pupils together for a virtual meeting or event for your school.
PTZ Camera – Great Portability and Flexibility
The PTZ camera offers great portability and flexibility. With both video camera and webcam capabilities you can use this in variety of ways. Those cancelled events can now go ahead remotely. If there are vital meetings/lessons you need to schedule with students/staff then you can rest easy in the knowledge you can safely set one up with the PTZ package. The device runs directly from its USB port. This connects the video, power supply and communication abilities. With 10x zoom and 87° super wide angle you'll catch everything you need for your session. The sound on the pod is exceptional with noise suppression software and deep echo cancellation.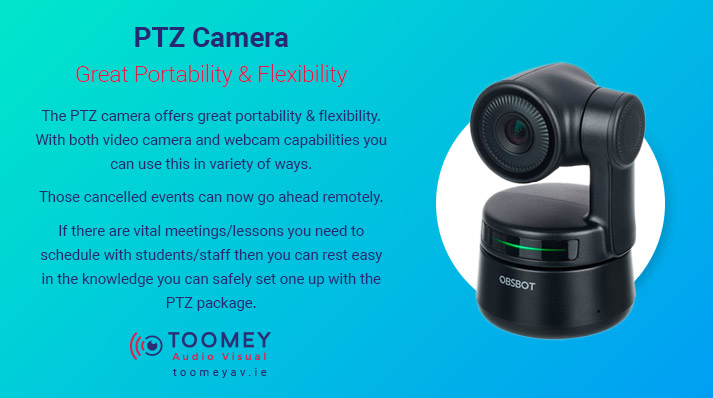 PTZ Camera Compatibility with Conferencing Software
The PTZ Camera and Audio Pod works with all conferencing software which enables your session to run smoothly and professionally. The easy plug and play nature as well as its portability allows this to be used anywhere you wish. You won't need to call everyone in for future staff meetings, during the pandemic at least, as you'll be able to get the team together virtually using our PTZ package. Pre-store different camera angles and shots which can be easily accessed with the touch of a button during a video call. This feature makes it the ideal solution for a classroom environment. Switch the video from the teacher's desk to the interactive flatscreen or practical area simply and easily.
Full Setup and Installation of PTZ Camera
It's an easy set up but we also offer full setup and advice throughout to ensure you and your staff can continue running lessons wherever possible. If you want to provide your students with remote learning then this product can help you and your school.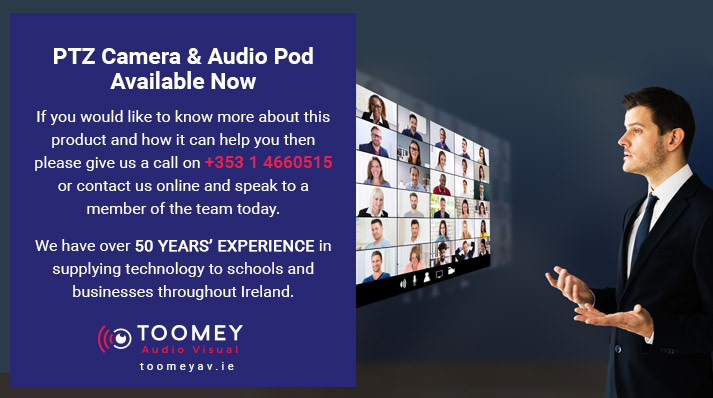 PTZ Camera & Audio Pod Available Now
If you would like to know more about this product and how it can help you then please give us a call on +353 1 4660515 or contact us online and speak to a member of the team today. We have over 50 years' experience in supplying technology to schools and businesses throughout Ireland.