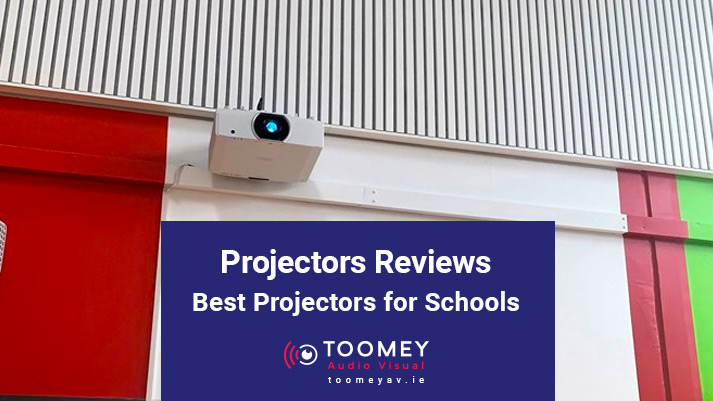 02 Jul

Projectors Reviews: Best Projectors for Schools
Projectors Reviews
We have been supplying schools with projector screens & video projectors for schools for five decades and we've learned a thing or two along the way. We supply projectors for every application – Portable Projectors, Installation, High Brightness, Full HD, Long Throw, Short Throw, Ultra Short throw, Classroom refresh units, IWB projectors, Large Venue and School Hall AV systems & conference models. We supply XGA, WXGA, Full HD & 4K Resolution models. I hope that hasn't been a list overload for you but has helped highlight that we do projectors, day in day out – for over 50 years. And so, in this post, we're going to review some of the projectors we stock so you can choose the best projector for your school.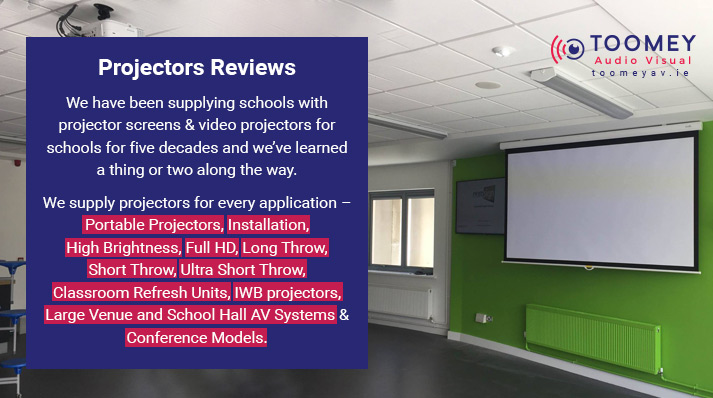 School Projectors Are Evolving
Resolutions, aspect ratios, brightness and onboard features are increasing and improving year after year. Toomey AV are not tied to any particular brands, so we are best placed to give you unbiased guidance on which projector best suits your needs. With each option we present, you'll get the equipment's complete details and technical spec, as well as cost comparisons – so you're clear what's available, its pros and cons and how much it will cost. Then you can present your options to the board and teaching staff, confident that you've considered every aspect thoroughly.
A Team Effort – Perfect Projection
To help give you the best info the Toomey AV team have put our heads together to form these projector reviews. Paul (our head of rental), Seamus (our head of installation), Keith (our service manager), and Ivan & Corinna (Sales department) decided that the following is a list of our current favourite projectors for schools.

HITACHI CP-CX251N Projector Review
Our Opinion:
A great Short Throw Projector, an ideal projector refresh for an Interactive Whiteboard, 2500 ANSI Lumens, HDMI Input and a 3 Year EDU Warranty. This is our run rate refresh model – a little workhorse at a great price.
EPSON EMP – EBX39 Projector Review
Our Opinion:
A super long throw projector and makes an ideal portable projector, 3500 ANSI Lumens, XGA resolution, HDMI input and a 3 Year EDU warranty. Great all-rounder, exceptional image quality at the price and ideal for ceiling refresh or portable use. Can't go wrong at the price. There is also (a slightly more expensive) W39 widescreen version which is a favourite with Ivan & Seamus, who feel the XGA (1024 x 768) resolution is getting a little old now and would prefer the more contemporary (1280 x 800) widescreen format.
NEC M403H HD Projector Review
Our Opinion:
A good FULL HD Projector, stunning image detail, long throw, 4200 ANSI Lumens, 2 x HDMI Input and a 3 Year EDU Warranty. It was a toss up between this model and the EPSON EB-2250U. The NEC pipped it in the end. If movies and high quality image detail are your thing then Full HD is the way to go.
NEC PA853W Projector Review
Our Opinion:
This is our school hall weapon of choice! Large screen school hall installation projector with high brightness 8500 ANSI Lumens and stunning (WXGA 1280 x 800) image quality. The great range of lenses available so short throw, standard ceiling mount or long throw options from the back wall are all available here. This projector offers great image quality at a very affordable price all things considered.
The Best Projectors for Schools – For Now
Projectors are ever changing, and so too will this list be. These are some of the best projectors available for schools these days but rest assured there'll be another innovative batch along soon vying for our praises and to be listed here!
Toomey AV are proud to supply and install all premium projection solutions for all applications in Irish schools. Why not give us a call on +353 1 4660515 or contact us online and speak to a member of the projector team today.
Make sure you don't miss out on future blog posts by joining our mailing list now!