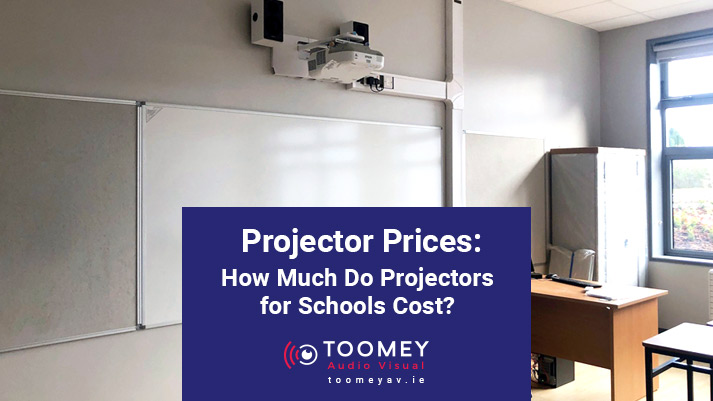 16 May

Projector Prices – How Much Do Projectors for Schools Cost?

One question we get over and over again is to do with projector prices and more specifically, how much do projectors for schools cost? When it comes to projector prices, there are many factors such as projector type, the brightness, the resolution, the technology and the warranty. In this post we'll touch on each of them and how they can impact the price of your projector.
Projector Type
The most common projectors for schools, sorted by price, are:
Long throw  – Ceiling mounted or portable
Short throw  – Wall mounted on an arm
Ultra short throw  – mounted on wall, close to wall.
Interactive – Ultra short throw projectors with inbuilt interactivity
Large Hall Projectors – High Brightness, High resolution and multiple lens options.
Projector Warranty
Broadly speaking there are two tiers of projector. The lower cost brand options tend to be primarily Optoma, Acer, Benq and Vivitek. These are good projectors and offer great image quality. The issues we have encountered tend to be with long term performance, heavy use in schools and warranty. Warranties are normally return to base or 'RTB' as they are referred to. The practicalities of this are a nightmare. This means you have to take the projector off the wall or from the ceiling and return it to the manufacturer most likely in the UK. This is time consuming and costly; and hopefully your projector works when you get it back!
NEC & SMART offer a onsite swap-out managed from the UK. Typically, you have to take down the projector and swap it with a replacement which has arrived in a flight case. This can take a few days and you keep the replacement.
In our experience, the premium service comes from EPSON & Hitachi. These brands have service agents in Ireland who arrive onsite fix, replace and sort out our projector problem. This is a premium service and really worth factoring in within school environment where projectors get heavy day to day use. Needless to say, the better the warranty, the bigger the price tag but you get what you pay for.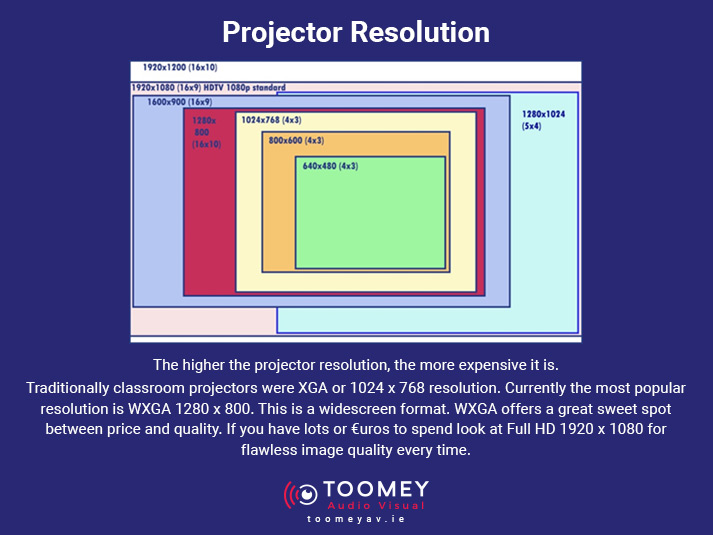 Projector Resolution
The higher the projector resolution, the more expensive it is. Traditionally classroom projectors were XGA or 1024 x 768 resolution. Currently the most popular resolution is WXGA 1280 x 800. This is a widescreen format. WXGA offers a great sweet spot between price and quality. If you have lots or €uros to spend look at Full HD 1920 x 1080 for flawless image quality every time.
Projector Brightness
It's as simple as this. The brighter the projector, the more expensive it is. Brightness is measured in ANSI Lumens. Currently (at time of publication May '19) the most popular long throw projector for schools is 3500 ANSI lumens. Ultra-short throw models are 3100 ANSI Lumens and school hall AV systems have 8500 lumens.
Projector Technology
When it comes to projectors are 3 main technologies. DLP (ideally used for movies / video use), LCD (most common type) and laser (new to the market). Laser is more expensive and reduces maintenance due to the fact that there is no lamp unit. The projector typically comes with 20,000 hours maintenance free and delivers higher image quality for longer. When the laser runs out, then simply replace it. DLP and LCD are similarly priced.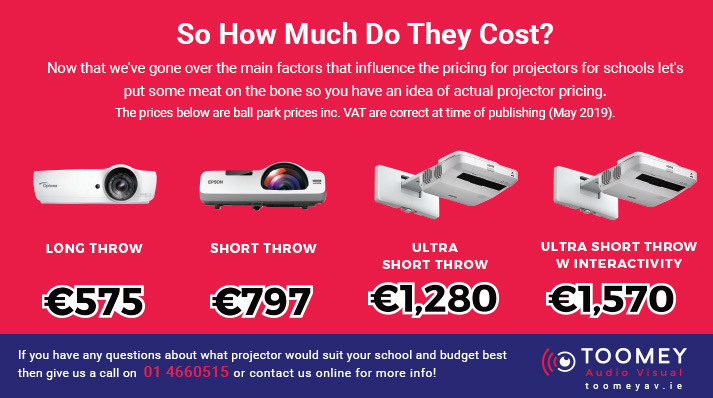 So How Much Do They Cost?
Now that we've gone over the main factors that influence the pricing for projectors for schools let's put some meat on the bone so you have an idea of actual projector pricing. The prices below are ball park prices inc. VAT are are correct at time of publing (May 2019).
Long throw – €575
Short throw – €797
Ultra Short Throw – €1,280
Ultra Short Throw w Interactivity – €1,570
The School Projection Experts
We have over 50 years experience in providing schools around Ireland with projectors and as such have become know as the school projection experts. If you have any questions about what projector would suit your school and budget best then give us a call on 01 4660515 or contact us online to speak to a member of the team.
Click here to sign up and receive our extensive May 2019 projector & AV pricing flyer.