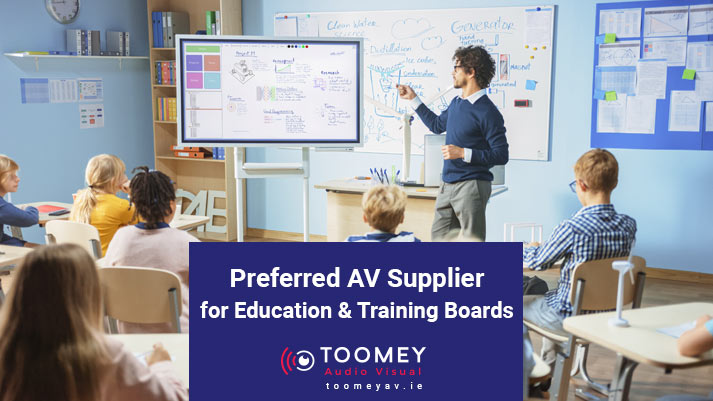 28 Oct

Preferred AV Supplier for Education & Training Boards

Toomey Audio Visual has been in business for over 50 years. In those 50+ years we have built up a lot of experience and trust with our customers. Our reputation has also grown in this time. We like to think of ourselves as a trustworthy vendor which puts our customers needs above all else.
A Synergy With ETBs
There is a great synergy between Toomey Audio Visual and Education & Training Boards across Ireland. Many ETB's have entrusted us with supplying their Audio & Visual requirements over the past few years. Dublin Dun Laoghaire ETB, Kildare Wicklow ETB, Longford Westmeath ETB and most recently Louth & Meath ETB board. This is surely an acknowledgment of the professional products and service we provide. Reliability is vital when supplying educational boards and we are happy they put their faith in our company. The ETB's require varying technology for their training and educational needs.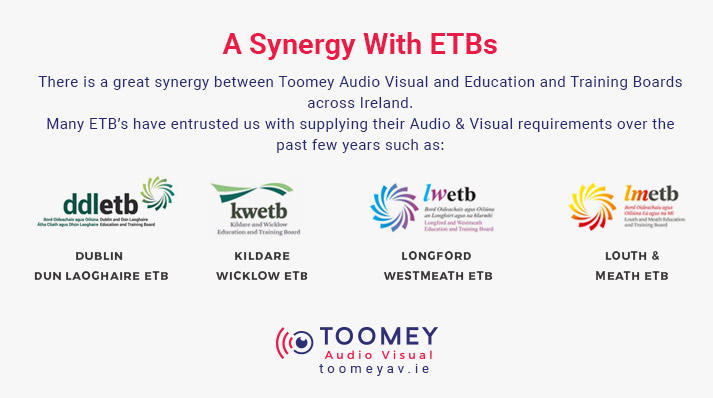 Understanding the ETB Environment
Toomey AV have a long history of delivering audio-visual solution to ETBs and appreciate that ETBs are vibrant learning communities that have particular requirements. Our approach recognises that campuses are active environments, and the safety of the community is paramount. That means we start with risk assessments to ensure that the equipment we provide can be delivered and commissioned safely.
Effective Methodology That Delivers
Our ability to deliver an audio-visual product and backup service to ETBs is based on a well-tested methodology to ensure that we effectively engage stakeholders to meet our clients long term expectations. We employ:
A clear programme aim agreed between Toomey AV and the Education and Training Board
A distinct suite of objectives including the identification of any particular requirements around commissioning
A validation of requirements to ensure that the audio-visual devices delivered are the most effective and, most importantly, meet the needs of the the learner, staff and community for a fully integrated digital communications system.
The use of existing infrastructure where appropriate so that we do not incur unnecessary spend.
An on-going after sales support solution that minimises product unavailability
A highly qualified, experienced, and motivated team that work with you every step of the way.
Products Supplied to ETBs
Here is a sample of some of the products and servers that we provide to the various ETBs around the country.
Supporting Transition in the Education Sector
In this time of transition and change for the educational sector, Toomey AV are a source of stability and support for the ETBs. In addition to extensive experience in supporting similar clients, our longstanding history as audio visual providers to ETB and other public sector bodies means that we understand the drivers and what matters to you in delivering inclusive and accessible learning. Our insight allows us to see and support the opportunities for the ETB, while understanding the individual sensitivities and concerns of learners, faculty and the community.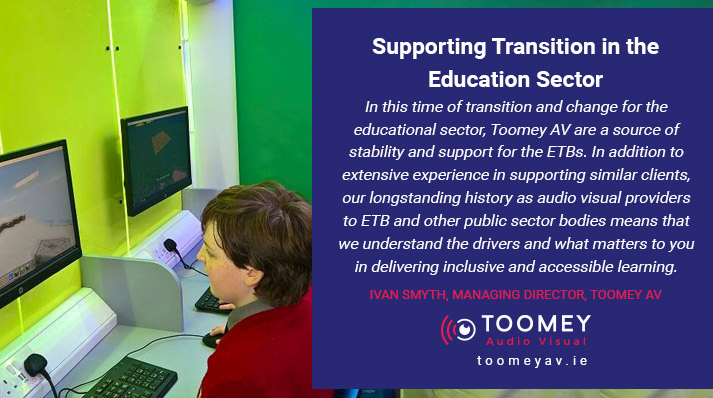 A Trusted AV Partner for ETBs
We welcome any opportunity afforded by ETB's to present our credentials as your AV trusted partner. We will bring the experience of our diverse team of specialists and our progressive thought leadership to the service of you into the future. If you would like more information on what we can offer, please give our expert team a call on 01 4660515 or contact us online.