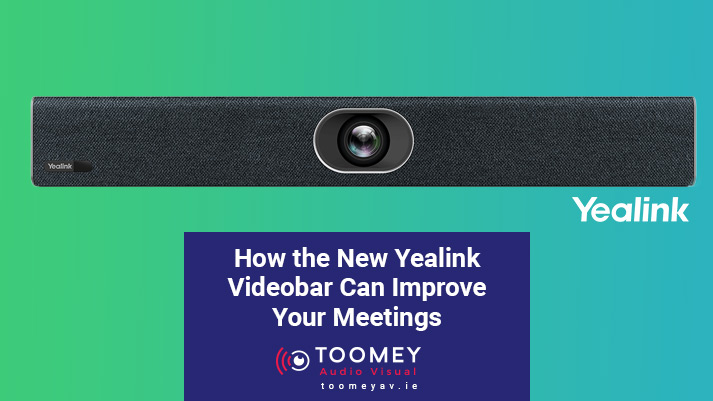 18 Nov

How the New Yealink Videobar Can Improve Your Meetings

As the world adapts to what seems like a never-ending virus we all have to come up with new ways to run businesses and live our lives. If not, then nothing will move forward, and society will take longer to get back on its feet. With more and more fields moving to online or at home productivity we have to come up with new ways to keep people in contact and the Yealink video bar is raising the bar in ways you can improve your online meetings.
Yealink UVC Videobar
With the pandemic and the movement to online meetings there has been an increase in the sale of videobars. An all in one soundbar, camera, microphone for video conferencing gives you all you need for video conferencing but with minimal fuss. No more cramming multiple people into a small meeting room. Now we can take them seamlessly online ensuring your business and employees productivity stay at the high level your business and customers deserve.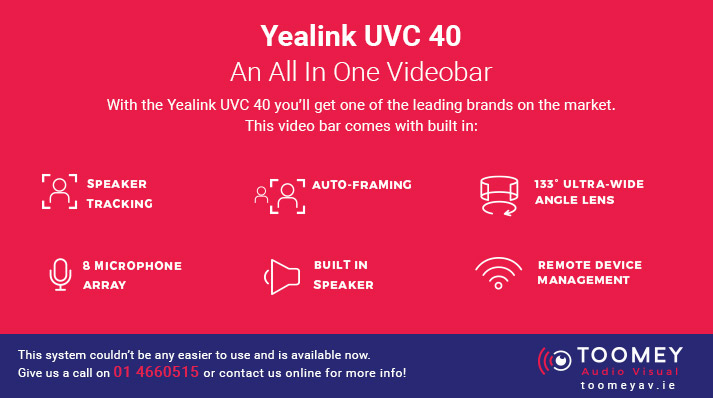 Yealink UVC 40 – An All In One Videobar
With the Yealink UVC 40 you'll get one of the leading brands on the market. This video bar comes with built in speaker tracking, auto-framing, 133° Ultra-Wide angle lens, 8 microphone array and built in speaker as well as an easy to use remote device management system through Wi-Fi. This system couldn't be any easier to use. You just set it up under your screen and plug in to your computer via USB. The device can then be managed remotely via the Wi-Fi setup.
Yealink UVC 40 Setup
Not only is the setup easy but you can also use the device in conjunction with Microsoft Teams or Zoom, whatever your chosen platform. This increases the viability for your meetings as well as giving you the option to host webinars for a broader outreach or event.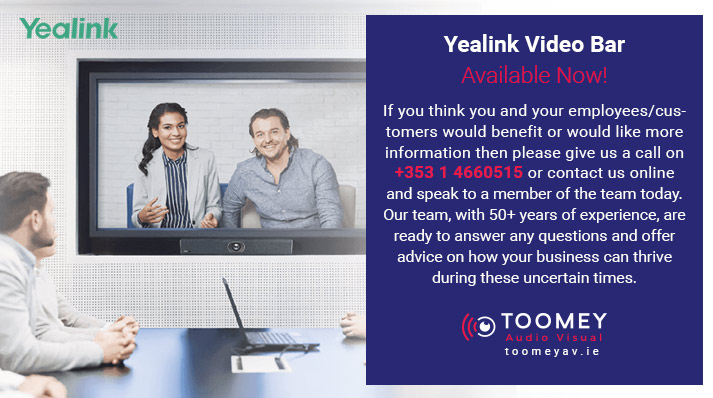 Yealink Video Bar – Available Now!
If you think you and your employees/customers would benefit or would like more information then please give us a call on +353 1 4660515 or contact us online and speak to a member of the team today. Our team, with 50+ years of experience, are ready to answer any questions and offer advice on how your business can thrive during these uncertain times.