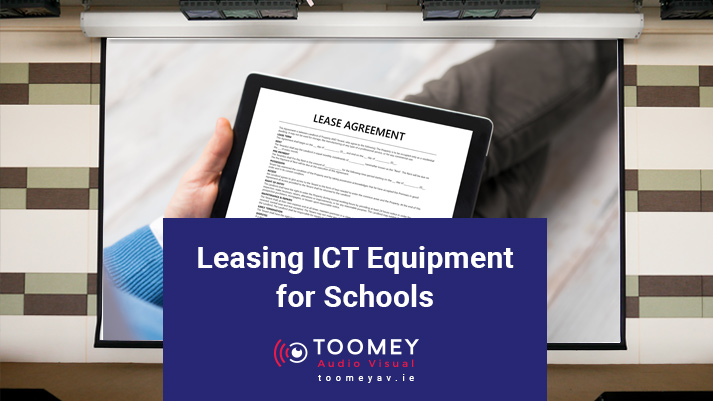 17 Apr

Leasing ICT Equipment for Schools

So, you have looked at all the options. You've picked the latest Interactive Flatscreens and decided on the ICT set-up for every classroom. The only problem is there's 11 classrooms to be fitted out, add the VAT and before you know it, you need more than an ICT grant, multiple cake sales and the odd ostentatious contribution to get over the line. But you need the equipment now!!! –  and so the answer is simple, LEASE IT!
Leasing ICT For Schools – Where? How? Who? What?
Leasing ICT for schools gives you the full use of the asset over a fixed term without the burden of ownership. At the end of the lease agreement you have the options to update your equipment and enter into a new lease agreement, choose to buy the asset at a very low cost, or simply return the equipment if no longer required. Toomey Audio Visual provides all your leasing requirements through GRENKE leasing.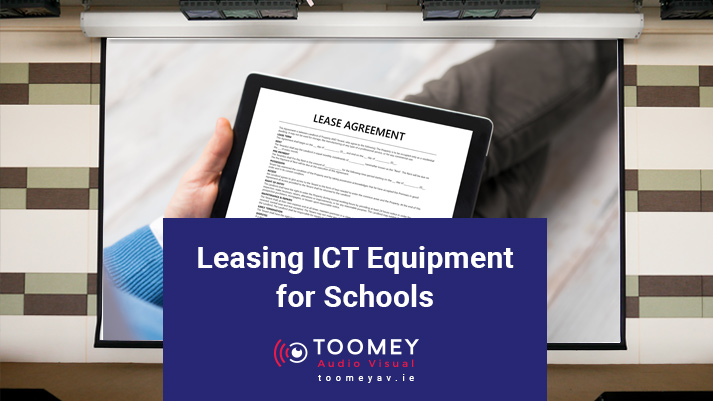 GRENKE Leasing Provider
Established since 1978, GRENKE are the leading leasing providers in Ireland. The reputation of the GRENKE brand is a key consideration in everything they do and how they do it. As a part of the community, GRENKE takes its responsibilities to society very seriously, as demonstrated by their support for community and cultural activities. GRENKE is a market leader in the small-ticket IT market. GRENKE have arranged leasing arrangements for schools across Europe.
Small Initial Outlay
Unlike purchasing an asset outright, a lease contract provides your school to quickly access new assets with only a small initial payment required up front. It is rare that a school has a stockpile of cash just waiting to be spent on vital assets as and when required, leasing is ideal for schools that are looking to invest in equipment and upgrade existing equipment.
Budgeting and Planning
Much like you would with photocopiers and phone systems, leasing is now an option for all AV technology. Leasing allows you to plan your budget monthly or quarterly in a simple and structured way. You and your staff can use the latest classroom technology with a simple quarterly leasing payment in the background.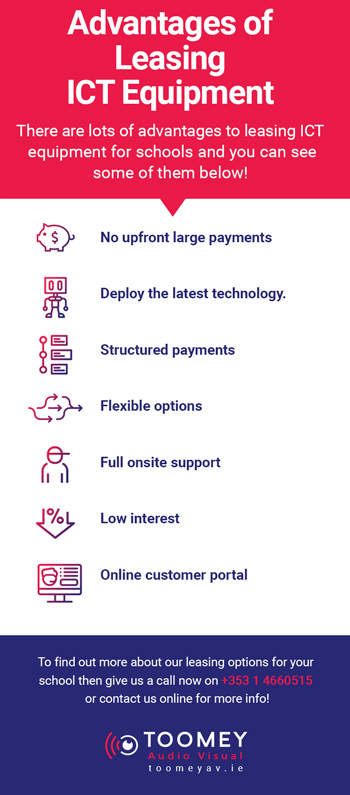 Advantages of Leasing ICT Equipment
There are lots of advantages to leasing ICT equipment for schools and you can see some of them below!
No upfront large payments
Deploy the latest technology now
Structured payments
Flexible options
Full onsite support
Low interest
Online customer portal
Always have the latest technology
Toomey AV Onsite ICT Support
Buying your equipment from Toomey AV through a lease rather than a traditional direct invoice, does not affect your after sales support in any way. You continue to get full onsite after sales support direct from Toomey's in the very same way you are accustomed to. In fact, there is great peace of mind in knowing that every 3 years your equipment can be automatically upgraded if this is something you choose to do.
How Do I Move Forward With Leasing ICT Equipment?
Its simple, call our leasing specialists on +353 1 4660515 and we will prepare a package for you. We can supply you with all the costs and exact leasing figures. If you choose to proceed, we get the paperwork signed and arrange an installation date that suits you without delay. It couldn't be easier. Why wait? Call us now on +353 1 4660515 or contact us online for more info!