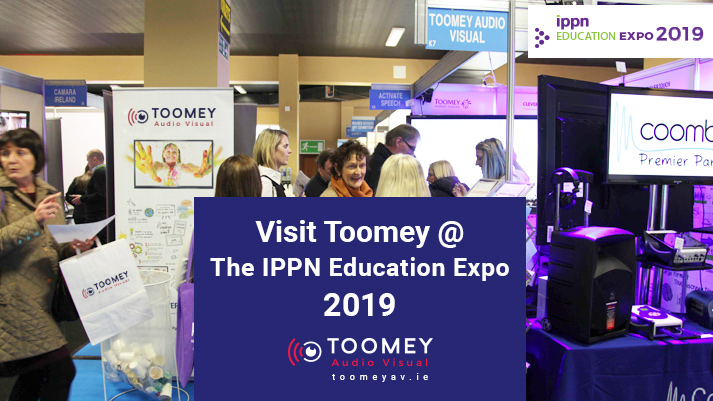 08 Jan

Visit Toomey @ The IPPN Education Expo 2019

The IPPN Principals Conference & Education Expo 2019 takes place in Citywest Convention centre on 24th & 25th of January 2019. Toomey Audio Visual will exhibit in the Education Expo and will be located at stand K9. Toomey Audio Visual have been supporting the IPPN and exhibiting every year since the exhibition started. Today the Education Expo is Ireland's largest trade event for schools, brings over 130 companies and 1,200 principals under one roof over 2 days of IPPN's Annual Principals' Conference.
The IPPN Principal's Conference Expo 2019
At the IPPN Principal's conference Expo you'll be able to try out the Clevertouch Interactive Flatscreen (IFS). Discover the unique benefits of the class leading CLEVERTOUCH PLUS SERIES with the inbuilt Android platform and enjoy intuitive design and engineering at its very best. Browse through the CLEVERSTORE APP STORE, see the inbuilt SEDAO Digital Signage, learn about OTA (over the air) updates and try out the new Clevershare App. This is all only available on Clevertouch PLUS Interactive Flatscreens. The modern panel for the modern classroom.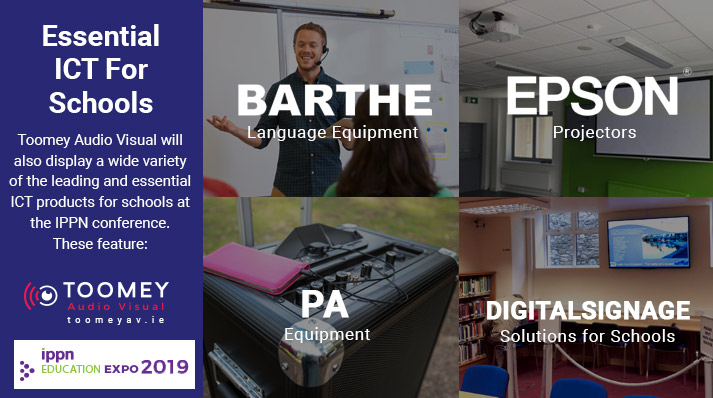 Essential ICT For Schools
Toomey Audio Visual will also display a wide variety of the leading and essential ICT products for schools. These feature EPSON Projectors, BARTHE Language & PA Equipment as well as digital signage solutions for schools. We can't bring our replacement projector lamps with us as a there are too many models, but you can view the entire catalogue and order online at a replacement projector bulb here.
Stay Ahead of the Curve at the IPPN Conference
Each year that we attend the IPPN conference we're blown away at the interest in how schools can best use AV and ICT to benefit students, teachers and learning outcomes. To help teachers and principals stay on top of the changing ICT landscape we've set up a special mailing list which will give you updates whenever there are any new developments or special offers for ICT. If you're not already subscribed make sure you join it here!
To find out more about the IPPN conference or to arrange a meeting give us a call now on +353 1 4660515 or contact us online for more info! And, don't forget to check out our special IPPN Deals – see you there!