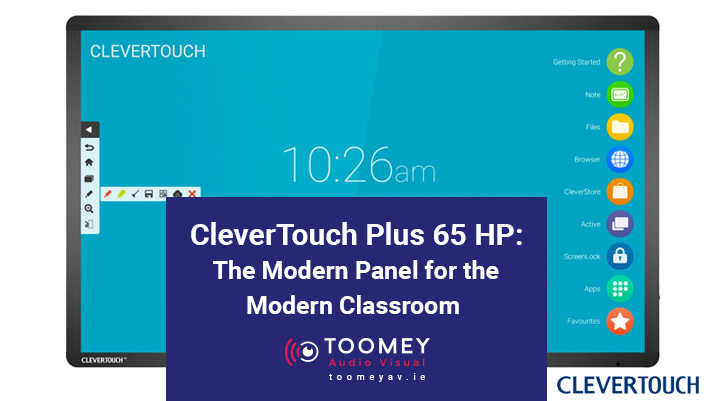 11 Dec

CleverTouch Plus 65 HP: The Modern Panel for the Modern Classroom

The CleverTouch Plus 65 HP interactive flat screen is, quite simply, the big daddy of all interactive flat screens. This all-in-one classroom solution is a serious piece of technology that will completely transform your learning environment for the better. This machine has so much to offer, it is mind blowing! The best way to approach it is to just dive in. So, if you are ready, take a deep breath and here we go.
CleverTouch Plus 65 HP – Software
CleverTouch provides a range of subscription free software designed to engage students and simplify the lesson planning process. You can share resources with other teachers and utilize pre-made lesson and activity templates. Collect and combine media and resources to produce innovative lessons, using both Lynx and Snowflake multi-teach software.
The CleverStore – Hundreds of Free Apps
In the CleverStore, you will find hundreds of free apps with no adverts or inappropriate content. The content is in a variety of languages and covers all ages and subjects. Creating exciting lessons has never been so easy!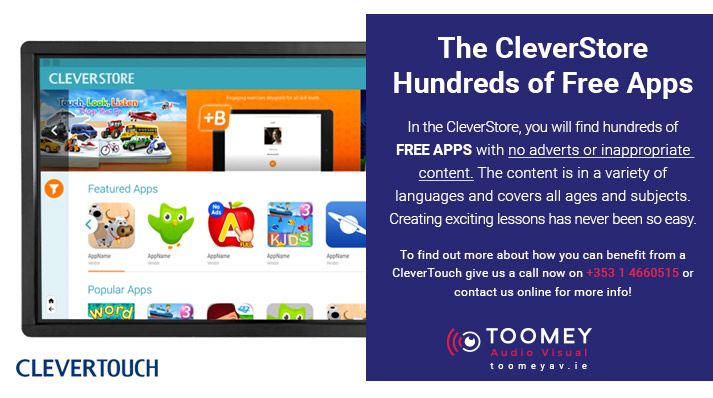 Screen Mirroring with the CleverTouch Plus 65 HP
Clever Share allows you to connect up to fifty devices and share images, video and audio. The teacher maintains full control over what is being shared and can show up to four device screens simultaneously. This fantastic technology will increase student collaboration and participation considerably and works perfectly with the BYOD concept.
Installation & Integration of Your CleverTouch Panel
Integration and installation of your CleverTouch panel is designed to be as easy as possible. You can setup and integrate with your existing system and software in no time. CleverTouch 65 HP offers remote management tools, increased security and network options and the most comprehensive warranty on the market, leading to long term savings and increased return on investment. We also provide a full installation service as well as an AV maintenance service for peace of mind.
CleverTouch Super Glide Surface Technology
Enjoy a natural, fluid writing experience with the CleverTouch Super Glide surface technology. Return to the mighty pen and whiteboard with high precision touch pens. Switch between finger touch, pen and dual pen instantly.
The New Clever Message App
Send messages, alerts and media. The new Clever Message app allows you to send dynamic digital signage messages to your CleverTouch screens. Produce live video messages from the Principal, instructions during a fire drill, building maintenance information, daily news and general announcements.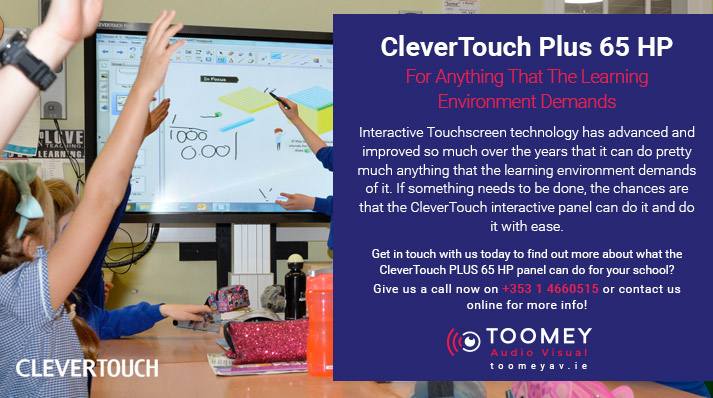 CleverTouch Plus 65 HP – For Anything That The Learning Environment Demands
Okay, did you get all that? If you didn't, no need to worry. All you really need to know for now is that this technology has advanced and improved so much over the years that it can do pretty much anything that the learning environment demands of it. If something needs to be done, the chances are that the CleverTouch interactive panel can do it and do it with ease.
If this all sounds interesting to you, why not get in touch with us today to find out even more about what the CleverTouch PLUS 65 HP panel can do for your school? Give us a call now on +353 1 4660515 or contact us online for more info!
Don't miss out on future blog posts and be in with a chance to win a €100 voucher by joining our mailing list now!