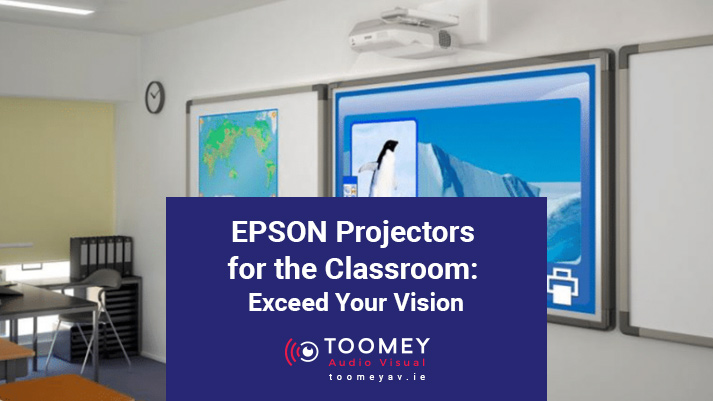 03 Dec

EPSON Projectors for the Classroom – Exceed Your Vision

Whether you're searching for state-of-the-art laser displays, networked classroom projectors, or visual solutions for larger rooms and venues, Epson offers a comprehensive line-up of displays and projectors that are designed to connect students and teachers in ways never before imagined. We understand that — just like no two students are alike — each classroom and learning environment offers a unique space for exploration and understanding. From interactive whiteboarding solutions that make collaborative, personalized learning a regular part of instruction to high-brightness, large-venue products for well-lit spaces, Epson is education's No.1 choice for projection technology.
Advantages of Epson Technology Projectors
Some of the advantages of the next generation of Epson projectors are: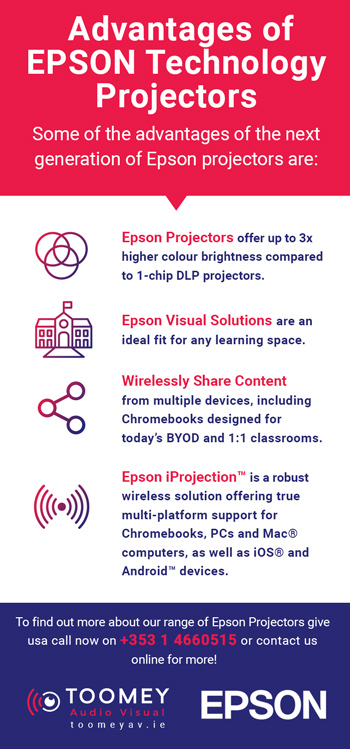 Epson projectors offer up to 3x higher colour brightness compared to 1-chip DLP projectors.
Epson visual solutions are an ideal fit for any learning space, with large, easy-to-see images and the latest in connectivity and support for Chromebooks, tablets and smartphones.
Wirelessly share content from multiple devices, including Chromebooks designed for today's BYOD and 1:1 classrooms
Epson iProjection™ is a robust wireless solution offering true multi-platform support for Chromebooks, PCs and Mac® computers, as well as iOS® and Android™ devices.
Students and teachers alike can wirelessly display documents, images, webpages and more from their devices for the entire classroom to see on the big screen Epson iProjection for Chromebook™ makes it easy for students to wirelessly share their Chromebook screens with the rest of the class. With full mirroring capabilities, the app allows students to display content from Google Docs™, Google Slides and Google Sheets™, as well as Web content from their Chrome™ browser (audio support not available for mirroring).
Epson Interactive Projectors
Engage your entire classroom with these bright, dynamic and easy-to-use interactive displays, available in laser and lamp-based models. Offering dual-user pen-based and/or touch-enabled interactivity for up to six users at a time (on select models), these displays are designed to maximize classroom collaboration and allow you to share lessons — or students' work — from Chromebooks, computers, iOS and Android devices, or annotate PC-free with no device at all.
Ultra Short Throw Projectors
Share engaging lessons with these bright, versatile displays, which feature built-in ultra short-throw lenses for images up to 100″ from as little as 11″ away with minimal shadows and glare. The lamp-based PowerLite 600 Series and 700U laser signage display feature advanced wireless capabilities and connectivity, including Chromebook support.
Some of the features of Epson Ultra Short Throw projectors are:
Manage your display and send announcements remotely — easy network connectivity; software included
Wireless Support — display Chromebook, iOS, Android, Mac and PC screens
Up to 3x HDMI® Ports — supports high definition A/V devices including the latest laptops, Blu-ray Disc® and media players
Long-life Displays — lamp-based models last up to 10,000 hours in ECO Mode; PowerLite 700U offers up to 20,000 hours of virtually maintenance-free operation.
Short Throw Projectors
These bright, budget-friendly projectors feature built-in short-throw lenses for images up to 116″ from as little as 4′ away with reduced glare and shadows. Offering affordable, long-lasting lamps, the PowerLite 500 Series delivers a low total cost of ownership.
Installation Projectors
Designed for medium- and large-sized rooms with high ambient light, these installation projectors offer powerful brightness, super-wide lens shift and robust digital connectivity. Select models offer native Full HD support. They are ideal for large halls, GP areas and rooms with high levels of brightness. We have custom made cages available for AV systems for school halls where ball sports are played. And, like with all of our projector installations, a full av maintenance call out service is available if ever needed.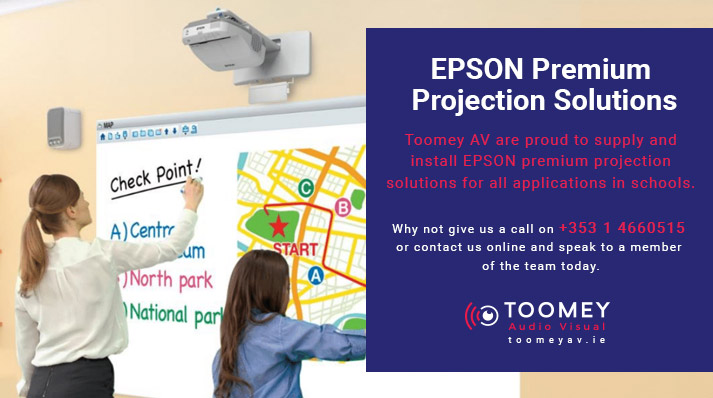 EPSON Premium Projection Solutions
Toomey AV are proud to supply and install EPSON premium projection solutions for all applications in schools. Why not give us a call on +353 1 4660515 or contact us online and speak to a member of the team today.