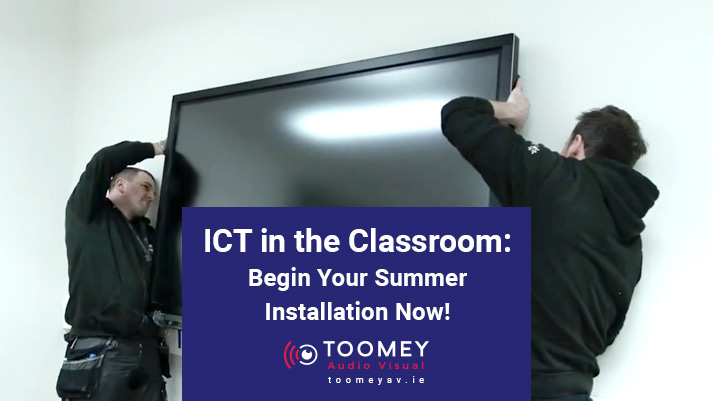 21 May

ICT in the Classroom: Begin Your Summer Installation Now!
ICT – Changing Schools
Traditionally, children are set free from school for the Summer months and return to the drudgery of education in the Autumn. This is how it is and how it always will be, right? Wrong. The advent of ICT such as the interactive flat screen and interactive projector is changing all that. School life has become so much more fun and engaging, and this is how it should be.
Summer ICT Installation
It's no secret that children learn better when the lesson is associated with play. Interactive technology is allowing this to happen. If you want your school to be primed and ready for the coming year, now is the time to invest in the ICT technology that will revolutionise your school. Toomey AV offers a complete, seamless integration of technology: a Summer ICT installation that will transform your learning environment.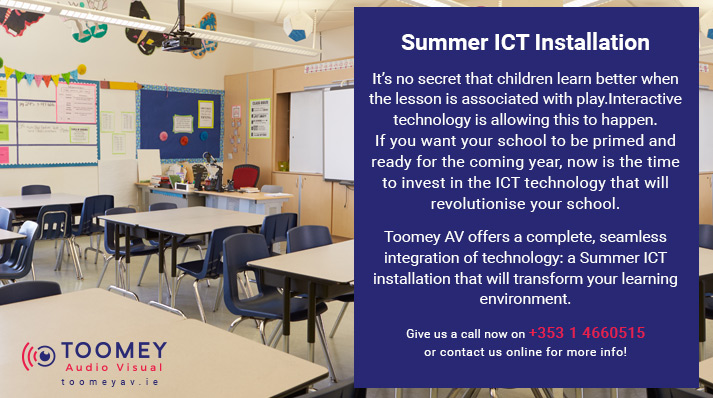 Working In The School Environment
We at Toomey AV are experienced professionals as far as installing ICT technology goes. We are used to working in the school environment and meeting deadlines and we are fast – we can fit out 4-5 classrooms with the latest ICT technology in a day.
What ICT Should You Install This Summer?
With the recent ICT grant for schools we are expecting that this summer will be a particularly busy one for ICT installations. We recently shared a guide with you about some our top recommendations for the ICT grant and below you can find some of the products we offer that you might consider as part of your Summer ICT installation.
The Clevertouch 65" V series and Hitachi 65" interactive flat screens. These are for the more budget conscious buyers.
If you want something more top of the line, the Clevertouch Plus series 86" interactive panel might be just the product for you.
Remember that projectors can be interactive too! The Epson EB 685 wi interactive projector with 83" SMIT projection whiteboard and audio system is a great interactive solution that will make learning easier and more engaging.
If you want to replace your old projectors, you might consider the Hitachi short throw replacement projectors. These are excellent and affordable pieces of equipment that are effective learning tools.
If you want to enrich lessons with high quality images, the Epson ELP DC 20 Visualiser may be for you.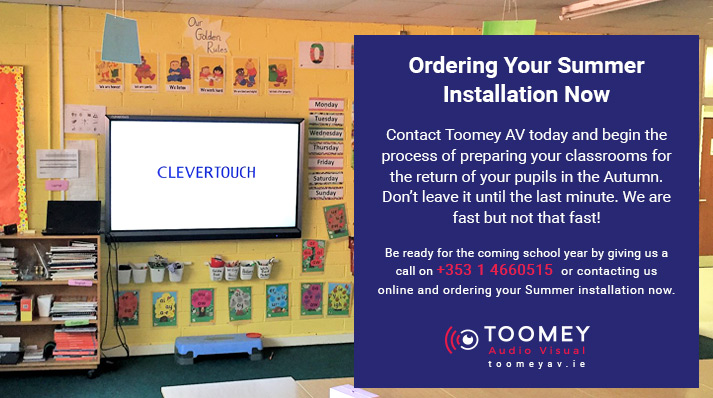 Ordering Your Summer Installation Now
So, contact Toomey AV today and begin the process of preparing your classrooms for the return of your pupils in the Autumn. Don't leave it until the last minute. We are fast but not that fast! Be ready for the coming school year by giving us a call on +353 1 4660515 or contacting us online and ordering your Summer installation now.
Don't miss out on future blog posts and be in with a chance to win a €100 voucher by joining our mailing list now!