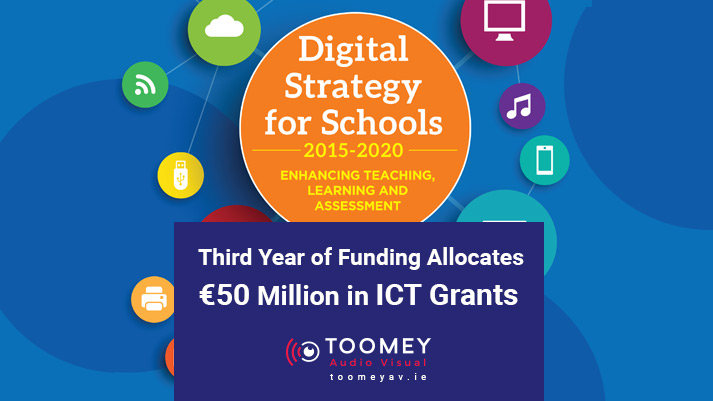 20 Mar

€50 Million in ICT Grants Available Now – Digital Strategy for Schools
Digital Strategy for Schools ICT Grants
A third year of funding under Project Ireland 2040 has been announced by Minister for Education and Skills, Joe McHugh T.D. €50 million will go toward the implementation of ICT infrastructure in primary and post primary schools across Ireland as part of the Digital Strategy for Schools. The total spend on the digital strategy for schools ICT Infrastructure Fund is now €110 million. The school grants will enable institutions to purchase key technology such as
Desktop PCs, laptops, tablets or hybrid devices
Projectors
Cloud based tools and software applications to support learning
Learning platforms
ICT Grant Allocations
Allocation is through a standard lump sum and additional per capita sums based on the number of pupils or students at the school. Primary level schools will receive in the region of €5,900 for a 100 pupil school and €22,000 for a 500 pupil school. Post primary schools will get a grant of €27,000 for a 500 student school and €52,000 for a 1,000 student school.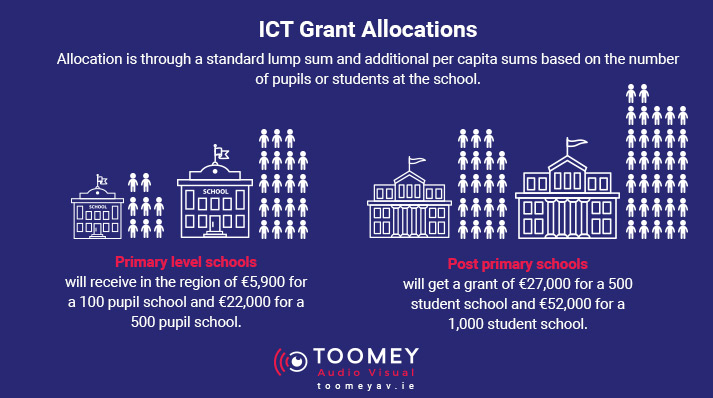 Supplying Schools With ICT Equipment
Here at Toomey AV we welcome this news as we have been supplying schools with ICT equipment such as projectors and interactive flat screens for a long time now and we look forward to playing a part in this major drive toward transforming classrooms into smart digital learning environments. We want to have a role in moulding the next generation. They will be intrepid: full of the confidence of learning instilled at a young age. They will be ICT literate: able to articulate their knowledge and experience and impart their learning to others. And they will be intelligent and adaptive: able to take to different digital environments with ease.
ICT Is Ubiquitous
We want to be a part of readying pupils and students not just for the digital workplace but for the digital world. ICT is ubiquitous and we need to ensure that the next generation will wield it with confidence and ease.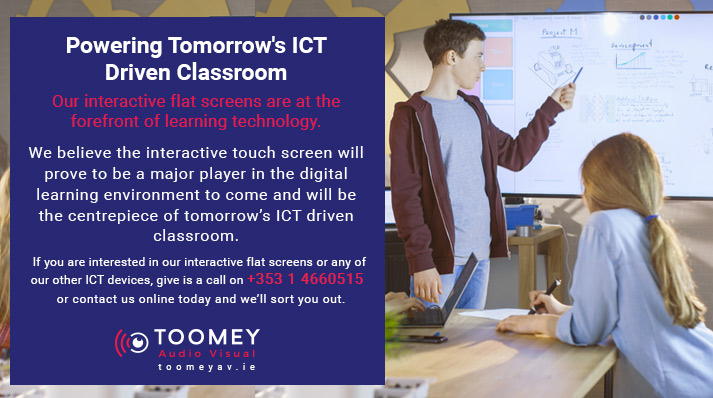 Powering Tomorrow's ICT Driven Classroom
Our interactive flat screens are at the forefront of learning technology and we look forward to supplying schools with these powerful, sturdy devices as they spend their grant money. We believe the interactive touch screen will prove to be a major player in the digital learning environment to come. That they will be the centrepiece of tomorrow's ICT driven classroom. You won't regret investing in one of these high calibre machines.
If you are interested in our interactive flat screens or any of our other ICT devices, give is a call on +353 1 4660515 or contact us online today and we'll sort you out.
Don't miss out on future blog posts and be in with a chance to win a €100 voucher by joining our mailing list now!