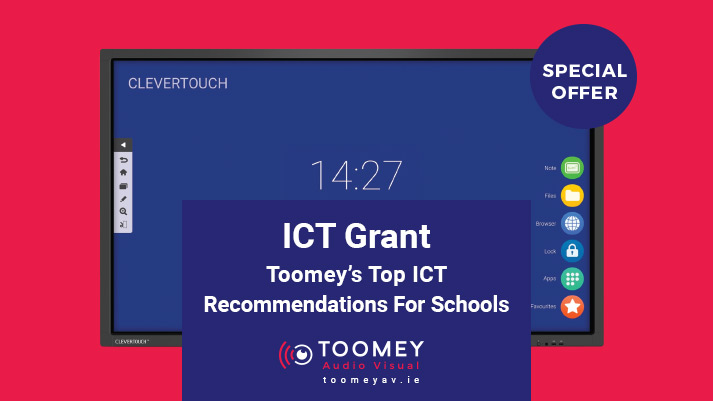 09 Apr

ICT Grant – Toomey's Top ICT Recommendations For Schools
ICT Infrastructure Grant – Get The Most out of It
So the ICT infrastructure grant as part of the Digital Strategy for Schools has been announced, and no doubt you have found yourself inundated with sales pitches, spec sheets, demonstrations, quotations, recommendations, offers and advice from lots of companies.
51 Years Supplying Irish Schools With ICT
Hopefully, with the benefit of our 51 years experience supplying Irish schools with ICT equipment and AV technology,  we can add some useful suggestions here with some of the great ICT products Toomey Audio Visual has to offer. As always, the products we recommend to schools are handpicked to offer value, performance, durability and extended warranties. Of course, our class leading after sales support and maintenance is included as standard.
1. CLEVERTOUCH 65" V Series
This is a superb high quality interactive flatscreen. Ideal for the more budget conscious, V Series benefits from advanced connectivity, a simple to use LUX android user interface, and many of the great functionality and features you can experience with other education displays in the Clevertouch family. With whiteboard-mode using the Note app, an in-built internet browser, and subscription-free access to Lynx, Clevermaths and Snowflake MultiTeach when connecting a PC – the V Series offers a complete classroom solution. The best thing about this is that you can run any software and resources you like. You are not tied to a particular software or platform. The 5 year onsite warranty is tasty too! Make sure you check out our guide on the Clevertouch V Series vs the Clevertouch Plus to learn more!
COST at time of publishing approx: €3000 (installed on a solid wall)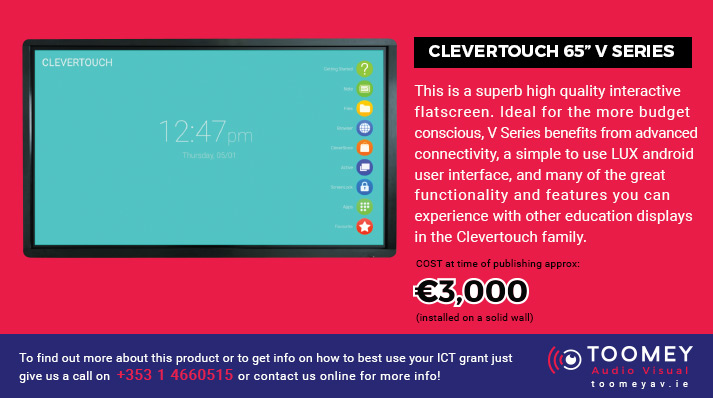 2. EPSON EB 685Wi Interactive Projector with 83" SMIT Projection Whiteboard & Audio System
If a larger image is required for a larger space, this package is hard to beat.
The EPSON EB685wi Ultra Short throw projector offers superb interactivity thanks to its dual pen capability. With a brightness of 3,500 lumens and HD-ready WXGA resolution, the EB-685Wi's ultra-short-throw design allows you to present large images from a very short distance with minimised shadows and glare. A 14,000:1 contrast ratio and HDMI input mean that students benefit from sharp, clear images. The 83" SMIT Board is a matt surface projection whiteboard designed specifically to accommodate EPSON UST projectors. The projection screen is available as a 83 inch (210 cm) 128cm x 201cm single panel board with a large, matt-white projection surface which is perfect for interactive multi touch projector installations. Bundled with a pair of wallmounted classroom speakers, this makes a nice little ICT bundle. Computer, video, audio & interactivity all in one! Learn more about projectors for schools here!
COST at time of publishing approx: €3000 (installed)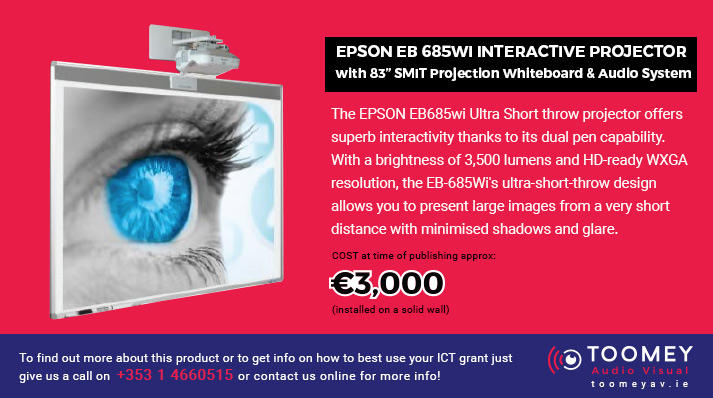 3. HITACHI 65" Interactive Flatscreen
This is the lowest cost 65" interactive flatscreen that we offer. It is 4K resolution and comes with a 5-year warranty which makes it ideal for fitting out multiple classrooms with a premium brand Interactive screen at a lower cost.
COST at time of publishing approx: €2300 (installed)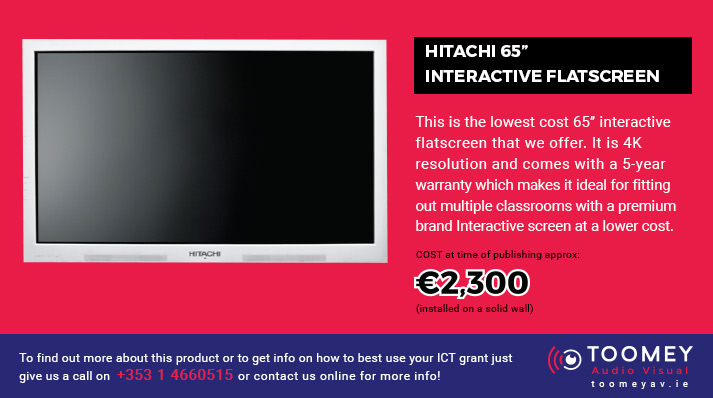 4. CLEVERTOUCH PLUS Series 86" Interactive Panel
If you are feeling 'particularly flahoolack' you can always splash out on the flagship 86" Plus Series 4K Interactive display. Quite simply, this has revolutionized classroom technology. It's incredibly functional, with its easy-to-use LUX software and an intuitive walk-up-and-use experience, it makes technology simple and accessible to all ages and backgrounds. With hundreds of apps available for free from the Cleverstore, and access to Snowflake Lesson's Community where teachers share their interactive activities, inbuilt CleverMessage digital signage, over the air updates, MDM and CleverShare screen casting app,  you'll have more resources than ever, with no subscription costs or hidden fees. A stunning piece of technology which would be welcome in any education al establishment.
COST at time of publishing approx: €LESS THAN YOU'D THINK!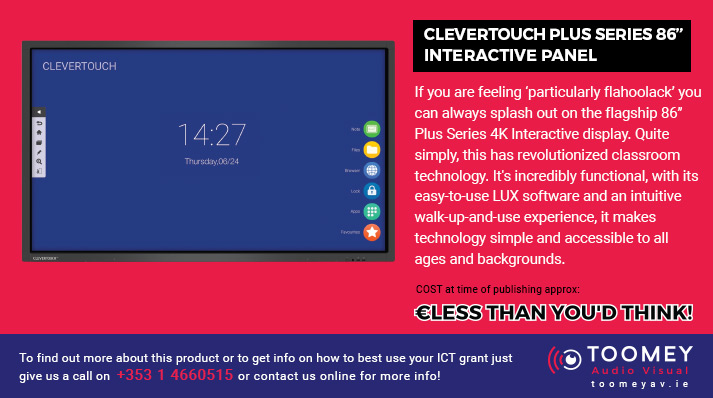 5: HITACHI Short Throw Replacement Projectors
Not everybody wants to spend all their grant money on single large ticket item. The ICT grant presents a great opportunity to replace older projectors. New models offer brighter images, longer projector lamp life, and laser lamp less options, higher resolution, digital connectivity and extended warranties.
Hitachi Short throw projectors offer superb quality at a great price point. They offer superb value for money and add a new lease of life to classroom displays and older interactive whiteboards.
COST at time of publishing approx: €1190 (installed)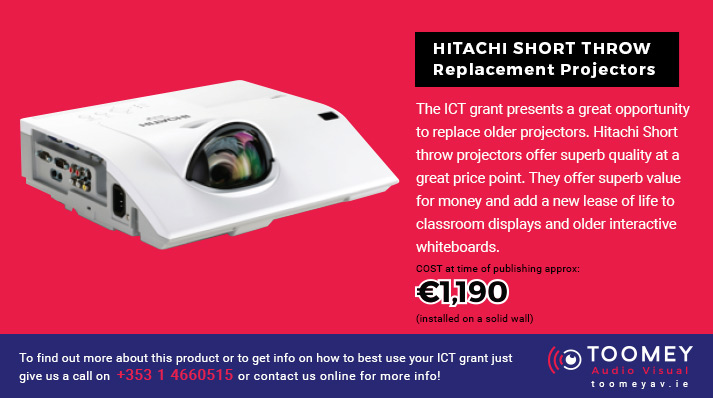 6: EPSON ELPDC20 Visualiser
We have all tried low cost visualisers for classrooms. They're OK. Why not use the grant to purchase a really good visualiser? The desktop ELPDC20 is the ideal classroom visualiser for teachers looking to enrich lessons with high-quality images. The large 1/2.7 inch CMOS sensor and HDMI interface enable close-ups of images or 3D objects in full HD 1080-pixel high-definition resolution. Images can be displayed up to a 120x maximum zoom, and live feeds are shown with minimum time delay, due to a rapid frame rate of 30fps. A really nice premium classroom product.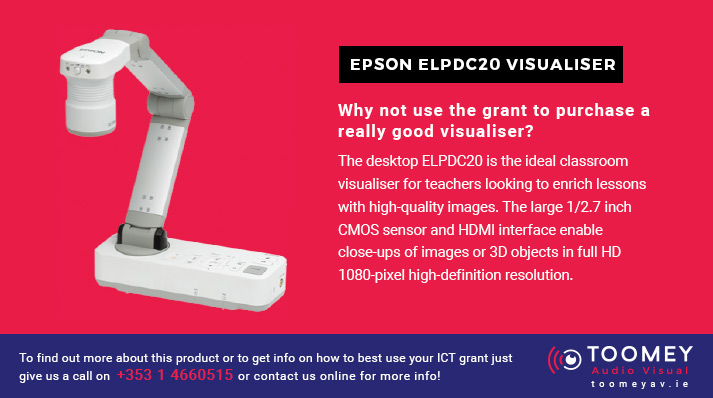 Specialists in School ICT & Premium AV Equipment
At Toomey Audio Visual we specialise in advising and equipping schools with premium AV equipment and supplying ongoing after sales support, maintenance and training for teachers. Spend your ICT grant wisely and trust the professional team with the 51 year track record to deliver for you. Call Toomey Audio Visual on 01 4660515 or contact us online to speak to the team today.
Don't miss out on future blog posts and be in with a chance to win a €100 voucher by joining our mailing list now!