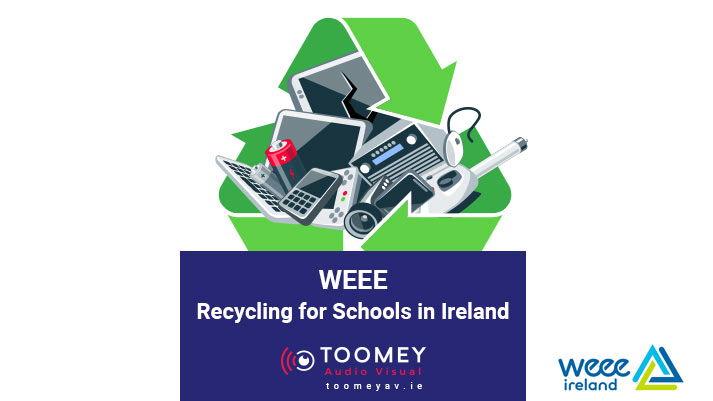 11 Aug

WEEE Recycling for Schools in Ireland

The current climate debate is one that we at Toomey take very seriously as one of the leading providers of digital technology for schools. As a recognised WEEE vendor we are keen to get across the message of the importance of the adequate disposal of electrical equipment. Not only are these products volatile when irresponsibly disposed of they are also extremely hazardous to the environment and anyone that comes in to contact with them. The government has pushed this scheme for all, businesses, households and schools.
WEEE Pledge Scheme
Schools can apply to the WEEE Pledge Scheme for information regarding battery disposal. This scheme is a great introduction for school children to learn the importance of recycling electrical equipment such as projectors and interactive flatscreens in the proper manner. Schools don't stop at just education. They teach children important life lessons that not only benefit them but wider society. Recycling is a key aspect for all our futures with the threat of climate change looming it is essential we teach young people from an early age of the collective responsibility of taking care of our environment. You can request your free battery collection box here WEEE Pledge – School Recycling Challenge.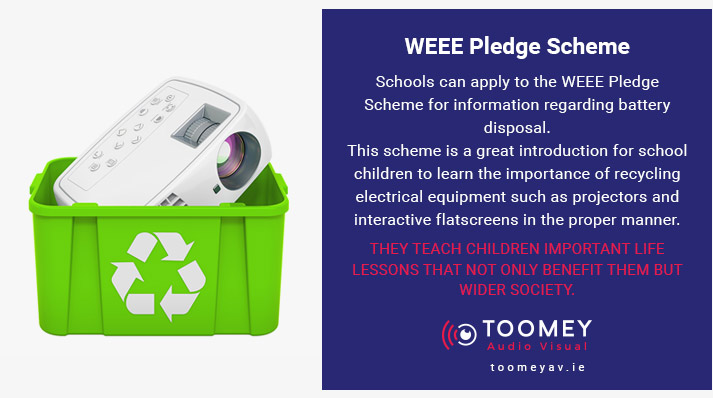 Duty of Care in Disposal of Electrical Equipment
As for vendors, we have a duty to take care in the proper disposal of electrical equipment. There are fees to being a member of the WEEE scheme and certification. Our expert team are trained in the scheme and can give your school the knowledge which you can pass on through the generations of students. A responsible person creates a thriving environment. At the moment we're busy with summer school ICT installation projects around the country and safe disposal of old electronic equipment is a big part of that.
Avoid WEEE Fines
There have been costly fines, and in some cases imprisonment, for those that have not followed the proper guidelines for disposing equipment in the correct manner. It is vital that you acquire a reputable vendor when in need of equipment disposal and we at Toomey offer a full WEEE recycling service as well as advice to help you educate your staff and students on building a healthier environment for all to ensure our planet thrives for future generations.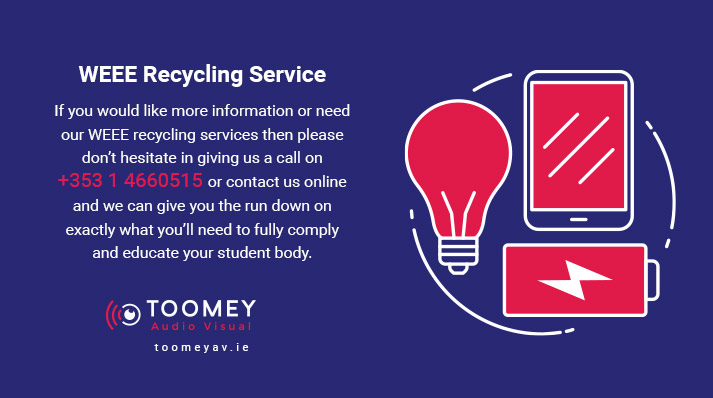 WEEE Recycling Service
If you would like more information or need our WEEE recycling services then please don't hesitate in giving us a call on 01 4660515 or contact us online and we can give you the run down on exactly what you'll need to fully comply and educate your student body.