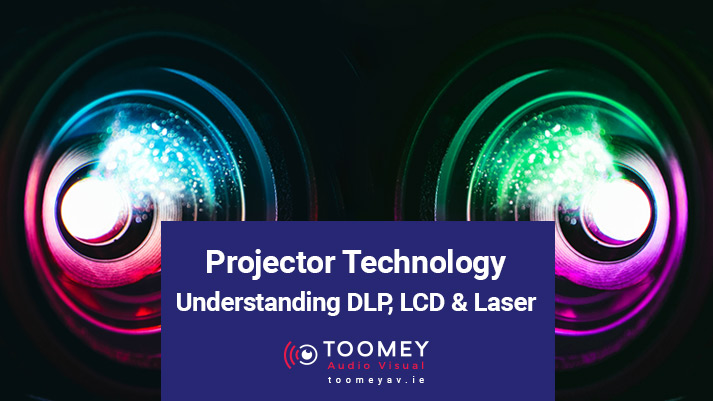 31 Jul

Projector Technology – Understanding DLP, LCD and Laser

So, are you thinking about buying a projector but you don't know which one to go for? Or, maybe you don't know anything about projector technology at all? Well, you've come to the right place. This article will explain some of the technology behind the three main types of projector and shed some light on what they are best used for, in order to help you to make your choice.

Buying a projector is not something you should rush into, there are so many different options. Read this article first to get an understanding of the the "big three" of projector technology – DLP, LCD & Laser – and then talk to an expert before making your decision.
DLP Projectors
DLP stands for Direct Light Processing. Basically, this kind of projector shines light on a digital mirror made up of thousands of reflectors, which creates the image. The image is then blasted through a colour wheel which gives the image its colour. The most common use of DLP projectors is in movie theatres. They can produce a very crisp and clear image and have no convergence issues, but they can have poor contrast ratio. There are many different DLP models out there and many different prices. So, consult with someone who knows the business, so you won't be left in the dark.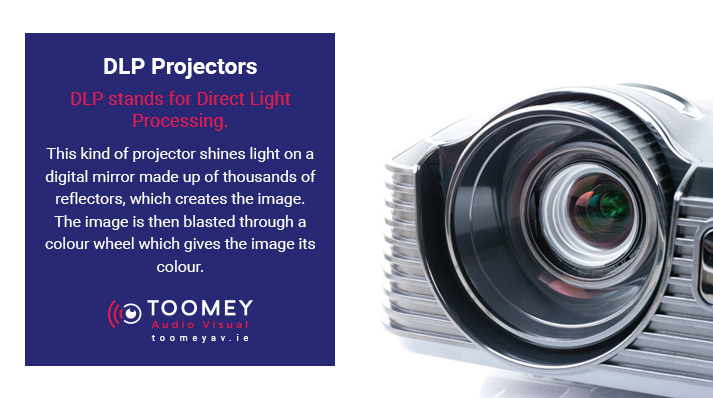 The 3 Panel LCD Projector
3 Panel LCD projectors use the oldest kind of projector technology. They take an LCD panel for each primary colour, combine the image and display it on a screen, much the same way as a TV works. LCD projectors are typically much cheaper than other types. The convergence can be a little off, which means the picture can be a bit fuzzy. Motion blur can also be an issue. But the contrast ratio is much better than that of DLP projectors. The 3 Panel LCD is good for small, intimate events or small business use (for info on the best projectors for schools check here). It is a good entry level projector as it is very affordable and reliable, if it is put to its best use.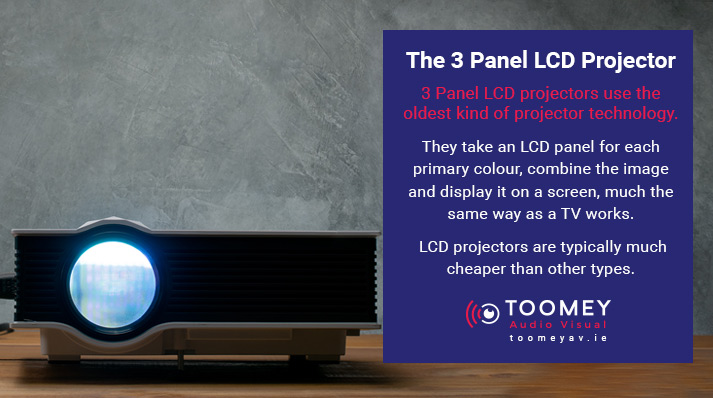 Laser Projectors – The Future of Projector Technology
Laser projectors are powerful, high performing machines that use the latest technology. Basically, a laser provides the light source. The technology is advancing fast, as manufacturers experiment with different ways to use a laser as a light source. They have a very long projector bulb life, produce a higher resolution and have far fewer convergence issues than the LCD. They are also cheaper to produce in the long term. These are the reasons why laser projectors are the future of projector technology. The only drawback is the price. They are far more expensive that the other two types but, when you use one, you will know where the extra money went.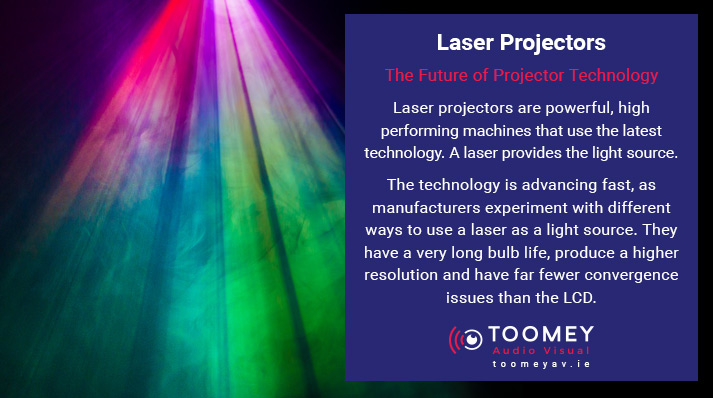 DLP, LCD or Laser Projector?
Okay, now you know a bit about your projector options and the key differences between DLP, LCD and laser projectors the next step is to find out which one will suit your needs best. We've been providing projectors to the Irish market for over 50 years and are a specialist you can trust. To find out which projector technology is best for you give us a call now on +353 1 4660515 or contact us online to find the perfect projector solution!
Make sure you don't miss out on future blog posts by joining our mailing list now!