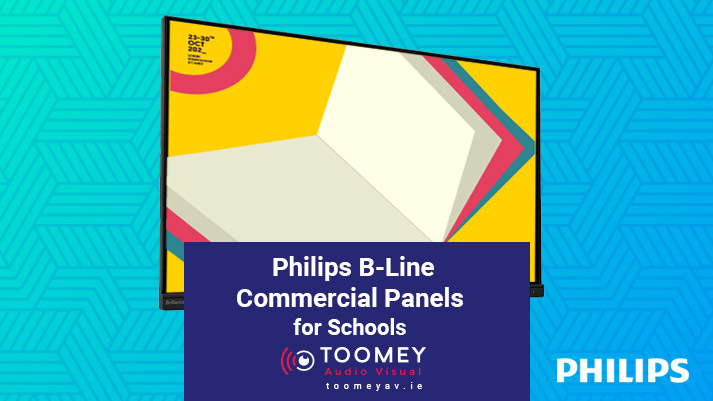 13 Jul

Philips B-Line Commercial Panels for Schools

If you are looking to upgrade to flatscreens in your classroom but do not require interactivity, The Philips B Line screen is a superb choice. Commercial means its designed for heavy use. Unlike a domestic TV, these screens are tough, more robust and more importantly carry a warranty which covers up to 16 hours use per day for 3 years.
Commercial Grade Panels for Schools
Commercial grade panels offer much more than domestic consumer grade screens. They are designated for commercial space use rather than private usage. They offer toughened display bezels to better withstand wear and tear overtime. Cleaner cuts with distinct black bezel provide a more business like appearance.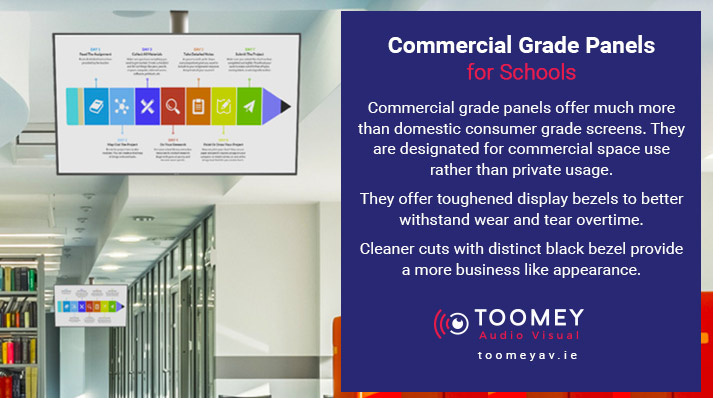 Philips B-Line – Seamless Integration
Philips B-Line seamlessly integrates into corporate systems for efficient control. Chromecast built-in ensures presentations run smoothly with instant wireless media sharing from Windows, Apple and Android devices. A brighter future starts with intelligent innovations. Philips places your learning environment at the top of the class with world-leading Philips professional displays and complete solutions to power digital transformations or take your smart schooling set-up to the next level.
B-Line Screens for Digital Signage
B-line screens are also ideal for digital signage applications. Proudly present your school branding for improved campus culture, show important news, updates and emergency info. Dynamic content enables higher engagement. Our DSA cloud signage system coupled with Philips B line commercial panels offers a long-term solution ideal for the school environment.
Philips B-Line Panel Features
Size: B-line screens are available in 43", 50". 55", 65", 70" & 75" diagonal sizes.
Android: Android-powered Philips professional displays are fast, versatile and easy to navigate. All displays are optimised for native Android apps and you can install web apps directly to the display too. Automatic updates ensure apps stay up to date.
HDMI hotplug detection When wireless connectivity is not an option, HDMI hotplug detection recognises direct cabled connections from presentation sources and automatically handles source changes and on/off switching.
Google Play StoreFull access to the entire Google Play Store makes it easy to add apps, games, music, movies, and more to your Philips professional display. New business tools and extra entertainment options are added to the catalogue daily, ensuring that you always have access to the latest global trends.
Wireless Sharing: Harnessing the power of Android P, Crestron-connected and with Chromecast built-in, the B-Line allows content to be wirelessly shared to one or more displays from any BYOD device – from a laptop to a tablet or smartphone. Better still, no new apps or additional hardware are required, ensuring hassle free sharing for users and a cleaner, wire-free installation, removing the risk of potential theft too.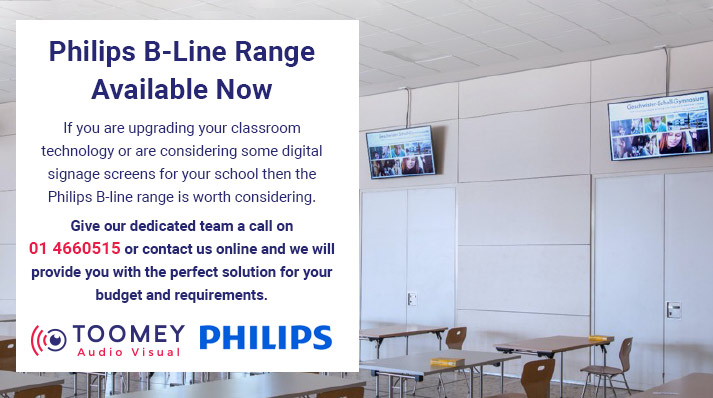 Philips B-Line Range Available Now
If you are upgrading your classroom technology or are considering some digital signage screens for your school then the Philips B-line range is worth considering. Give our dedicated team a call on 01 466 0515 or contact us online and we will provide you with the perfect solution for your budget and requirements.