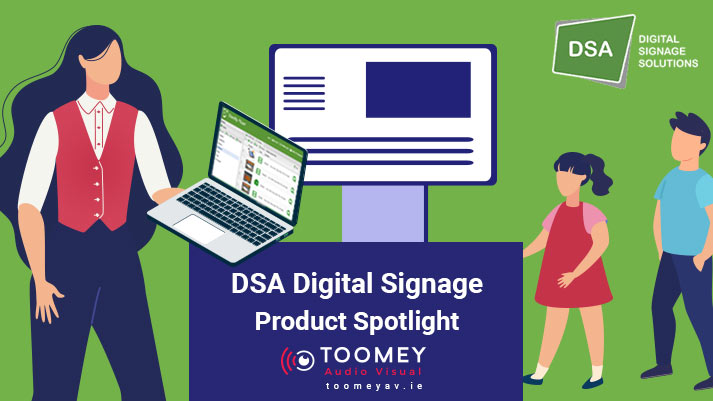 29 Mar

DSA Digital Signage – Product Spotlight

Digital signage is a form of electronic display that shows videos, images, text and web content in public and private environments for informational or advertising purposes. A digital sign usually consists of a computer or digital signage playback device connected to a large, bright digital screen such as an LCD or flatscreen display. Digital signage is used in retail, schools, libraries, corporate settings, medical facilities, transportation hubs, hospitality and other public venues. Our DSA digital signage displays are mostly controlled by cloud-based signage portals which communicate with a media player located at the screen.
Advantages of Digital Signs
There are several advantages of using digital signs:
they can be updated frequently at potentially no added cost
they offer dynamic, eye-catching content
they are designed to minimise power draw and don't require the raw materials necessary for physical, printed signs so they are often more environmentally friendly than alternative signage
most importantly, digital signage can leverage the power of video so messages can be delivered to an audience simply and effectively
DSA Digital Signage – Market Leaders
DSA is the market leading digital signage solution which leverages The Cloud and the DSA Android Software Platform. DSA comprises a platform independent cloud management service and a Player App. DSA Player is a specialized application which runs on a small form android box which is located behind your display screen. The DSA Cloud Service is accessible from any web browser and it allows you to distribute content, control operation and monitor status of large numbers Android platforms equipped with the DSA Player App.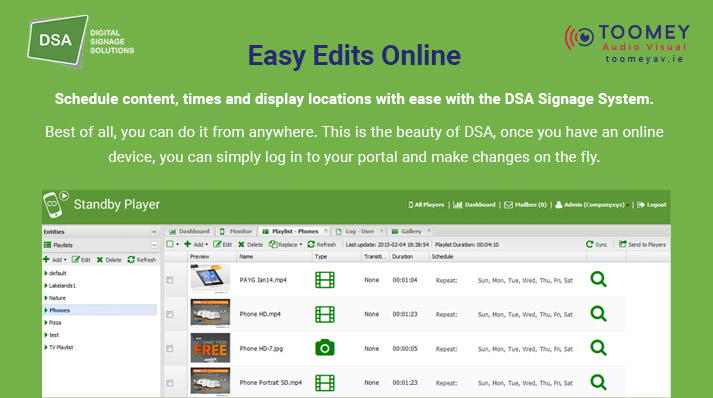 Easy Edits Online
DSA allows you to edit your screen playlist with ease. The software is familiar and easy to use. Schedule content, times and display locations with ease. Best of all, you can do it from anywhere. This is the beauty of DSA, once you have an online device, you can simply log in to your portal and make changes on the fly. Another great feature of DSA is the central media gallery. You can access all you content whether its images, videos, logos, or even PowerPoint or PDF files centrally, so no matter which display screen you are editing the content you require is on hand. Again the software interface is familiar and simple you use.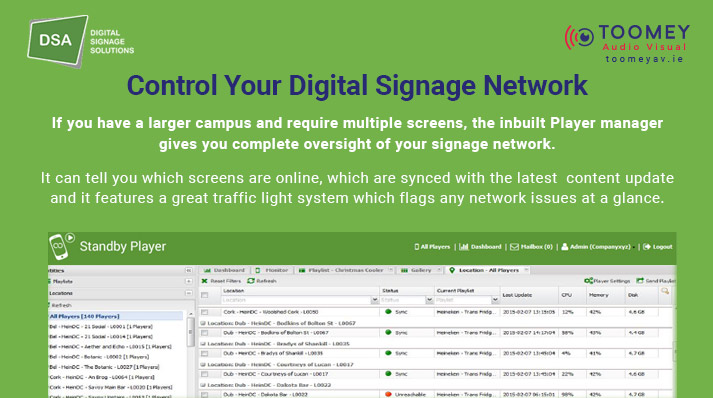 Control Your Digital Signage Network
If you have a larger campus and require multiple screens, the inbuilt Player manager gives you complete oversight of your signage network. It can tell you which screens are online, which are synced with the latest  content update and it features a great traffic light system which flags any network issues at a glance.
DSA Cloud Screens for Schools
Unlike regular noticeboards for schools, our DSA Cloud screens offer schools a creative platform to display messages, celebrate pupil achievement, promote development and improve parent engagement. School personnel will be able to access a content management system that is quick and simple to use and allows administrators to update messages on the go.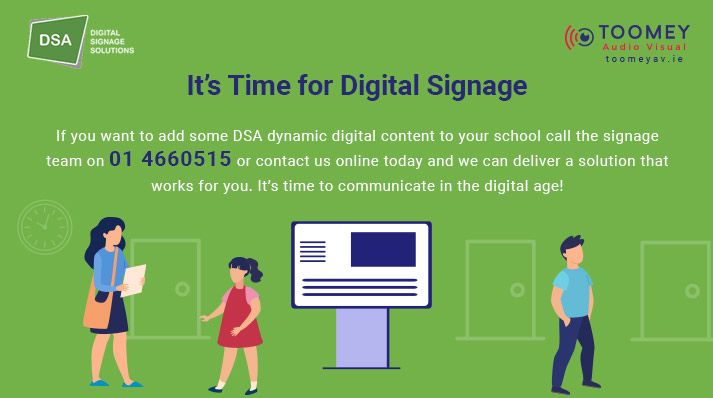 It's Time for Digital Signage
If you want to add some DSA dynamic digital content to your school call the signage team on 01 4660515 or contact us online today and we can deliver a solution that works for you. It's time to communicate in the digital age!