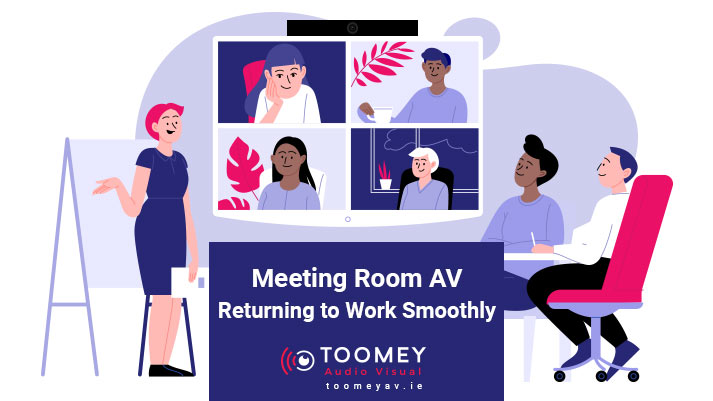 16 Sep

Meeting Room AV – Returning to Work Smoothly

More and more businesses are returning to their offices again after 18 months of largely working from home. Getting back into the swing of things can be tricky with so much time away from the office environment. This is why it is essential to have everything in place for a smooth return. With us, we can have your office space fitted out with the necessary AV equipment for meeting rooms for a successful transition back to work.
Meeting Room AV – Increase in Demand
We at Toomey have found an increase in the need for AV equipment for office spaces so all events, meetings, collaborative projects and presentations can be handled in-house, with the option of going virtual for larger outside groups. Our product range can be tailored to your specific meeting room needs. Our wide range of flat screen panels whilst great for presentations they can also be used as digital signage when not in active use. You can customise them to your needs, be it your company logo, motto, safety messages, advertising, reminders to staff about policies or upcoming events. How about creating tailored welcoming messages for new business partnerships visiting your office? With our flatscreen panels your office will look sleek and modern. We can help with any request you need.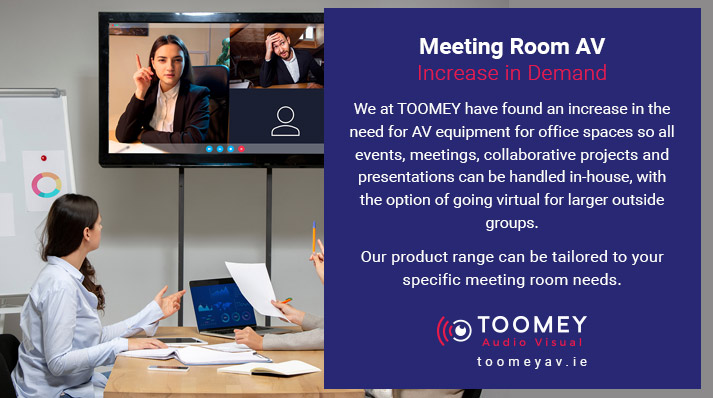 Virtual Online Events with Meeting Room AV
Not only does our range include flatscreen panels that can be tailored to your needs but we can setup a full audio package that allows for a larger conference room to be fully fitted with speakers and microphone so you are heard in a more crowded area like the Yealink Videobar. Also, if you require a presence for virtual online events we can supply the necessary webcam packages. Our team have decades of experience and we will set up everything for you so your move back to the office is stress and problem free.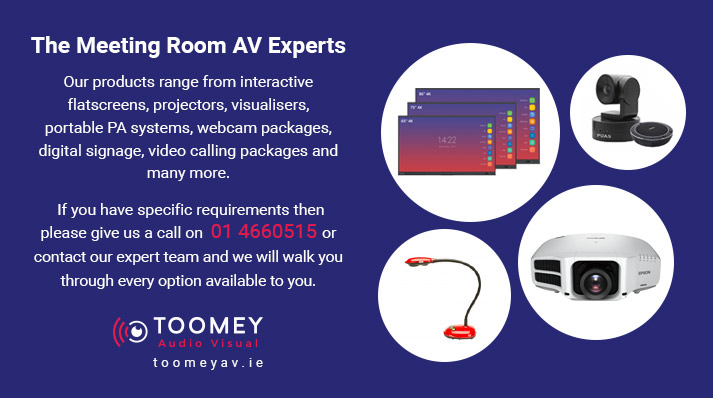 The Meeting Room AV Experts
Our products range from interactive flatscreens, projectors, visualisers, portable PA systems, webcam packages, digital signage, video calling packages and many more.
If you have specific requirements then please give us a call on 01 4660515 or contact our expert team and we will walk you through every option available to you and cater to exactly what you and your office need.