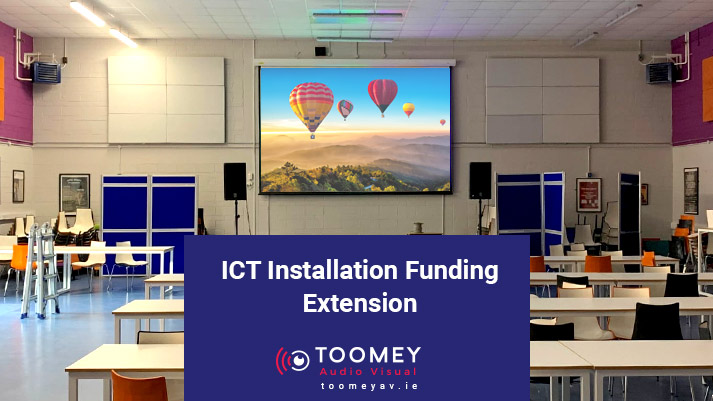 06 Jan

ICT Installation Funding Extension

Here at Toomey, we have continually highlighted the importance of digital learning in schools. The sooner this technology is implemented in a students learning life the bigger impact it will have. The Minister for Education Norma Foley TD announced recently a new €50m grant scheme for primary and post-primary schools to help implement a digital technology infrastructure.
Vital That Schools Change
With the pandemic rampant and changing our normal existence it's vital schools follow suit in protecting their students and teacher's health as well as futures "There is little doubt that the potential and importance of digital learning and the use of digital technologies has come into sharper focus in light of recent experiences. Digital learning is an essential component of a modern curriculum, and this funding will help schools to equip their students with the skills and competencies they will need to thrive." Minister Foley announces.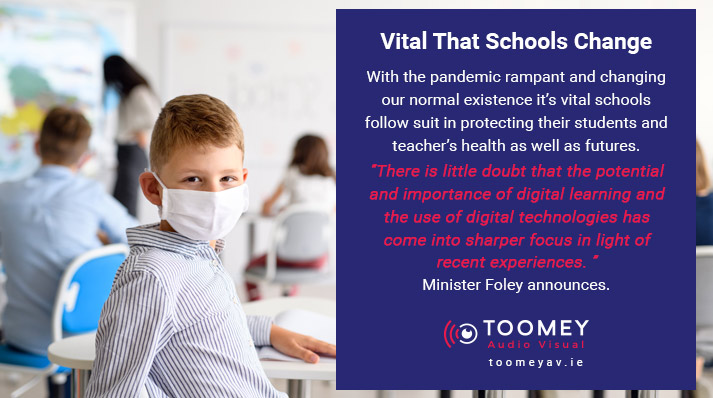 Popular Digital Tech for Schools
We at Toomey have supplied a number of products to schools using these grants and a couple in particular are rather popular such as the portable option for our 65" screens. The portability allows these screens to be used anywhere in your school. It's also the perfect option for schools on a budget or those with a small student body. If it's a commercial flatscreen or an interactive flatscreen you're in need of we can install and maintain to ensure you're always ready for every class.
Yealink Video Bar – Available on Grant Scheme
The Yealink video bar is easily our most popular and it's available on the grant scheme, as is most of our products. With the Yealink you can conduct classes remotely for students unable to attend the school physically due to lockdown restrictions. Set it under your screen and plug it in and you're ready to go. All our products come with our own expert team installation and servicing.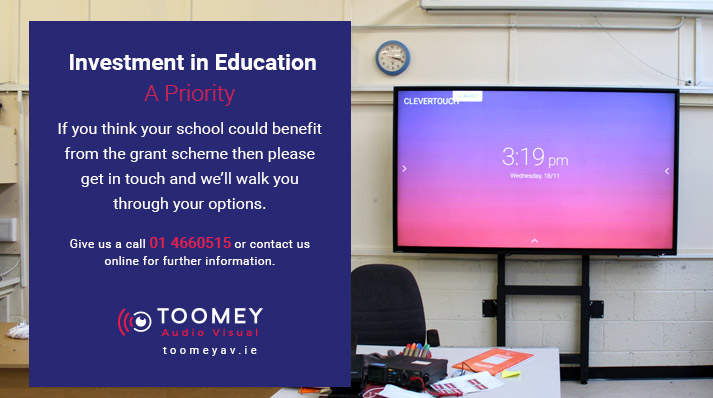 Investment in Education – A Priority
Norma Foley TD added "Investment in education is one of this government's top priorities. I am delighted to announce this funding today to assist schools to support their digital technology programmes, as well as broader teaching and learning." So if you think your school could benefit from the grant scheme then please get in touch and we'll walk you through your options. Give us a call +353 1 4660515 or contact us online for further information.