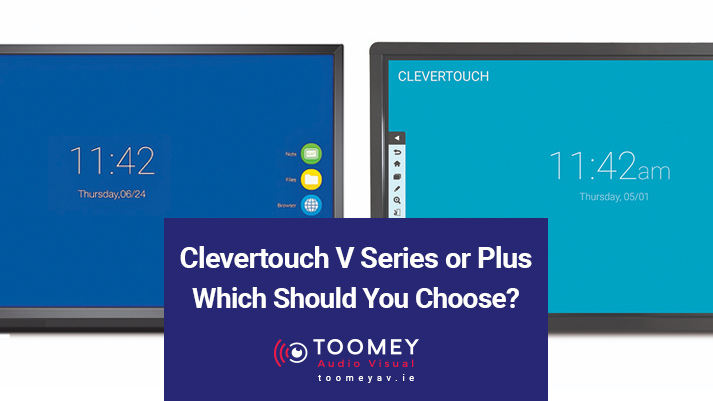 12 Jun

Clevertouch V Series or The Plus – Which Should You Choose?
Clevertouch Panels Are Powerful & Versatile
As far as interactive flat screens go, there really is only one choice for quality and class: Clevertouch. Clevertouch panels are so powerful and versatile that you will soon find out where that money went. These are serious machines and well worth investing in if you want to see results in both the short term and long term. The only decision you must make is whether to invest in the Clevertouch V series model or the Clevertouch Plus model.
Intuitive and Easy To Use Interactive Panels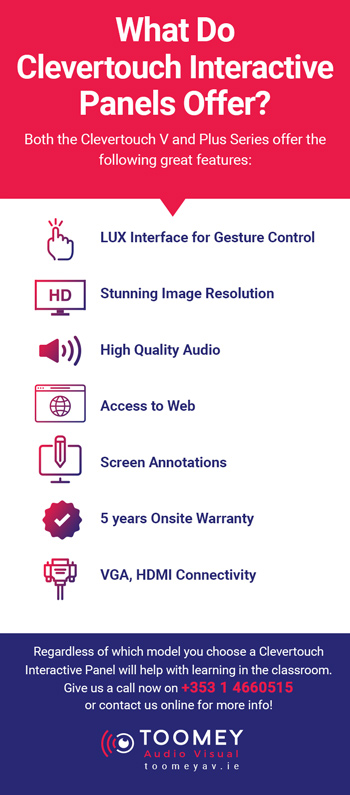 These are basically the same except for a few extras that come with the Plus and make it a little bit more expensive. Let's look at what these machines share before looking at the differences. Both utilize the new LUX interface which allows multiple users to interact and use gesture control. Both models are highly intuitive and easy to use. They offer stunning image resolution and high-quality audio. With both you can browse the web and annotate with ease: no need to connect your laptop. Also, both come with VGA and HDMI connectivity and a 5 year onsite warranty!
So, what makes the Clevertouch Plus more expensive? What extra bang do you get for your buck?
Clevertouch Plus and Clevershare – The Perfect Combo
The Clevertouch Plus has a beefier Android platform with more RAM and ROM. It has the Cleverstore App store which offers a superb download environment with high quality, vetted, ad-free and cost-free Apps for education. It also has Clevershare, a collaborative software that enables bi-directional touch and screen sharing between a wide range of operating systems. With it you can connect your iPhone, iPad, tablet, laptop or PC to your touch screen. The Plus model also offers OTA (over the air updates): once mounted on the wall, software and firmware updates can be sent directly to the screen. The Plus also offers anti-glare glass, a slight upgrade from the anti-reflective glass of the V series.
The Clevertouch V Series
The Clevertouch Plus flat screen is well worth the cost for the extras you get but, if you are on a budget, the V series will serve you very well also. It's not as powerful as the Clevertouch Plus but you won't get a higher-grade solution for the price anywhere.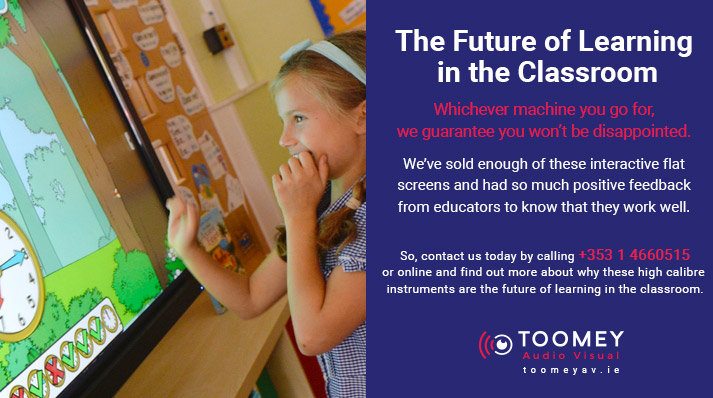 The Future of Learning in the Classroom
Whichever machine you go for, we guarantee you won't be disappointed. You can get both using our summmer ICT installation service and we've sold enough of these interactive flat screens and had so much positive feedback from educators to know that they work well. In fact, they are incredibly strong and sound in terms of both hardware and software and ridiculously easy to use. So, contact us today by calling +353 1 4660515 or online and find out more about why these high calibre instruments are the future of learning in the classroom.