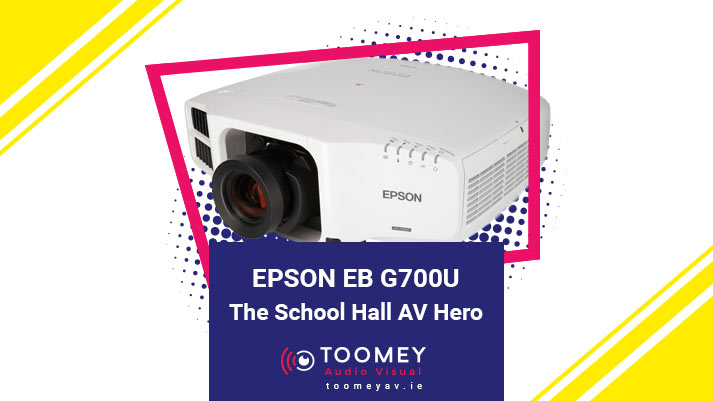 02 Sep

EPSON EB G7900U – The School Hall AV Hero

Education has seen many changes over generations of students. For decades now technology has become more and more important in schools. One staple in the classroom and schools all over the world is the trusty projector. From the late 1950's and early 60's the introduction of the projector saw students learn in a whole new way. Now, in 2021, we're seeing more energy efficient and cost light models come on the market. One such model is the EPSON EB G7900U which we've dubbed the School Hall AV Hero due to it's range of features.
EPSON EB G7900U – The Perfect Projector for School Halls
The EPSON EB G7900U is ideal for large rooms such as auditoriums and assembly halls in schools. Incorporating enhanced 4K detail this truly does bring projectors in to the 21st century. This model also boasts bright colours from 7,000-lumens brightness, 3LCD technology, superior white balance, better colour matching. Also included are a range of lens options including optional short-throw (UST) lens, with a vertical and horizontal lens shift. And with 360° flexibility for installation this projector can be placed almost anywhere.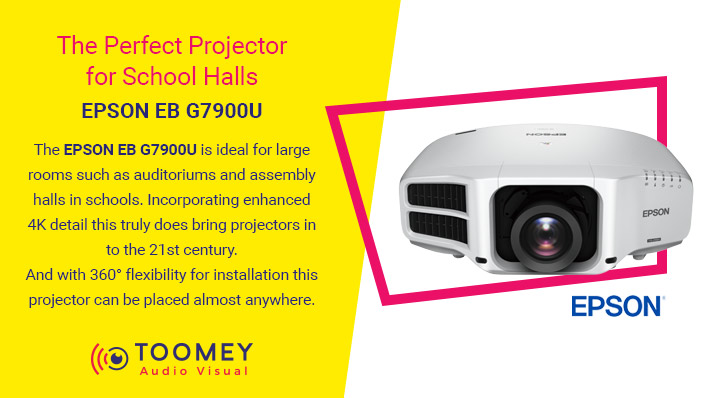 EPSON EB G7900U Features
With the lens memory function there's no need for setup each time the unit is turned on. Aspect ratio, image position, focus and zoom settings are automatically saved. It's also easy to change settings if and when needed. The unit can also be integrated with multiple systems as it comes with inputs include HDMI, HDBaseT, DVI-D and component video. Modes are also interchangeable without having to change bulbs. Installation and maintenance is a doddle too.
EPSON Projector Dealer of the Year
Our team of experts, with over 50 years of experience in this field, were also recently awarded the EPSON Projector Dealer Ireland award which we are proud to uphold the standards set that afforded us this award. So if your school would like an easy and trusted consultation on how the EPSON EB G7900U model can benefit your school then you can rest assured our team will do our utmost in providing an unparalleled service before and after installation.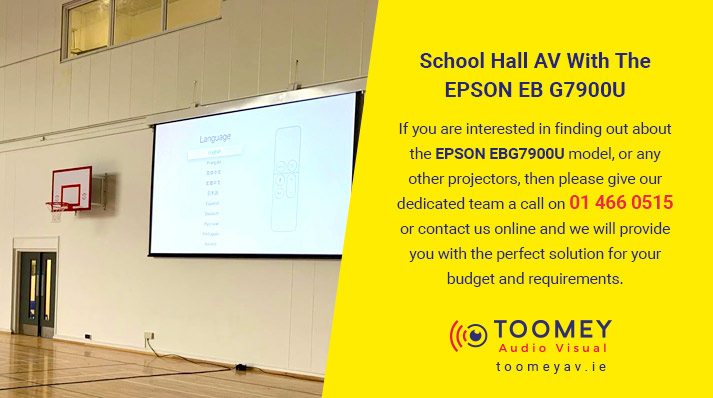 School Hall AV With The EPSON EB G7900U
If you are interested in finding out about the EPSON EB G7900U model, or any other projectors, then please give our dedicated team a call on 01 466 0515 or contact us online and we will provide you with the perfect solution for your budget and requirements.