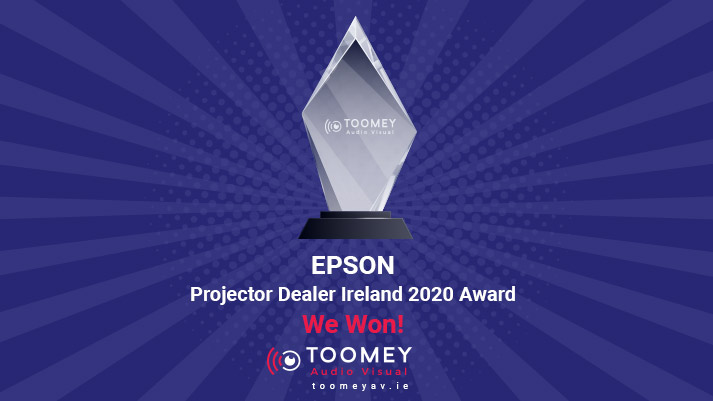 18 Feb

EPSON Projector Dealer Ireland 2020 Award – We Won!

We are delighted to announce that Toomey Audio Visual has been awarded the highly esteemed EPSON Projector Dealer Ireland 2020 award. This award acknowledges the exceptional hard work and the results gained by Team Toomey AV during incredibly difficult times. The Award acknowledges "Epson partners who have been resilient and successful during the past 12 months. Based not only on unit sales numbers but on a number of key factors".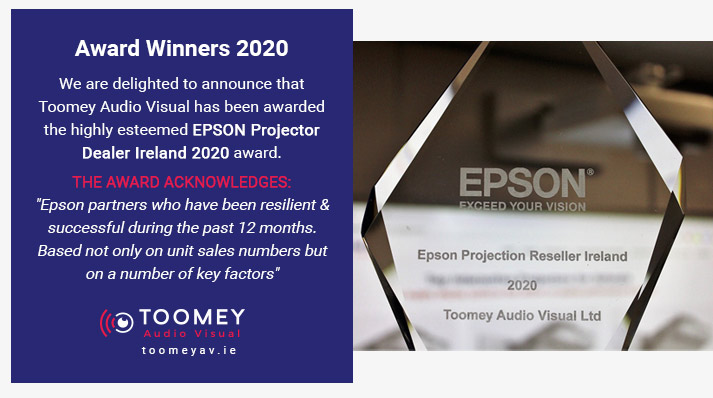 EPSON Projectors, Toomey AV and Irish Classrooms
Over 52 years, Toomey AV have established a proud tradition of supplying projectors. This is our DNA. From 8mm and 16mm filmstrip projectors through overhead acetate projectors and from the early development of VGA LCD projectors through to the bright and punchy models we know and love today. EPSON has set itself apart form the competition. Toomey AV & EPSON make a perfect partnership. Epson are now leading the way in laser projection which offers schools the option of projectors without lamps and maintenance.
Why Choose EPSON?
"Epson projectors offer reliability, superior image quality, larger image sizes and best value for money for any educational establishment. Furthermore, teachers want larger images at the front of the classroom, only EPSON can supply a Ultra short throw projector that can fill a 2400mm wide whiteboard" says Corinna Toomey, Sales Director at Toomey "
Keith Jackson, Service Manager Toomey AV, has been servicing projectors for over 20 years with Toomey AV. "Our service bench is considerably quieter than it used to be", says Jackson, with onsite warranty support and projector lamps that can run up to 10,000 hours, unfortunately we don't get to see the projectors we sell too often"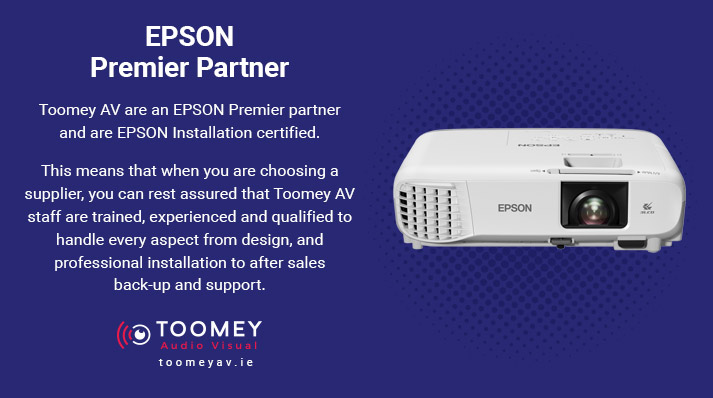 EPSON Premier Partner
Toomey AV are an EPSON Premier partner and are EPSON Installation certified. This means that when you are choosing a supplier, you can rest assured that Toomey AV staff are trained, experienced and qualified to handle every aspect from design, and professional installation to after sales back-up and support.
Toomey's Top EPSON Model
Our current favourite is the EPSON EB685wi. This projector has it all. Ultra short-throw, super bright, interactive and great value. This is our current classroom favourite.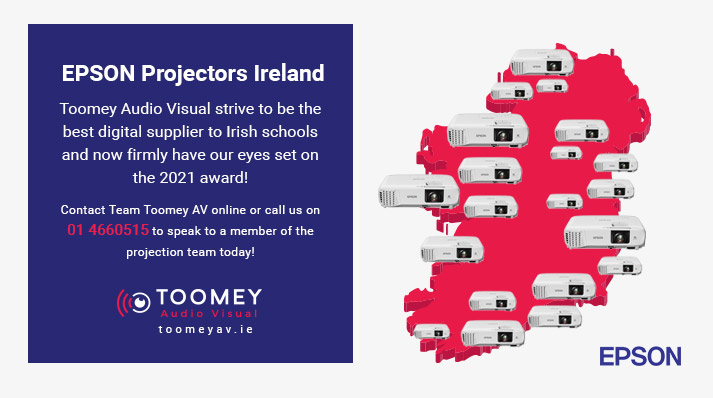 EPSON Projectors Ireland
Toomey Audio Visual strive to be the best digital supplier to Irish schools and we now firmly have our eyes set on the 2021 award! Contact Team Toomey AV online or call us on 01 4660515 to speak to a member of the projection team today!