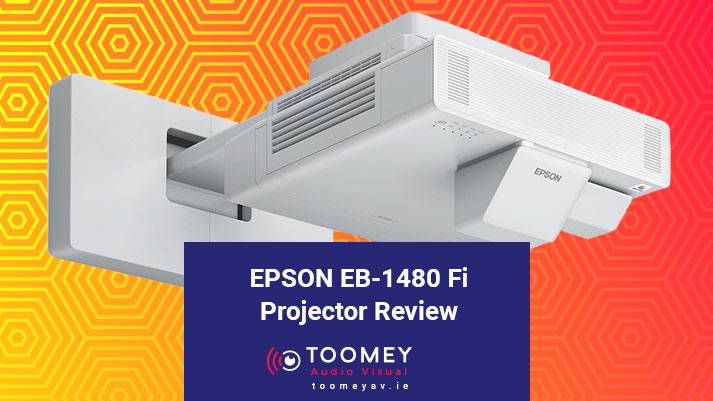 08 Mar

EPSON EB-1480 Fi Projector Review

After receiving the EPSON Projector Dealer Ireland 2020 award we're determined to outdo ourselves and not only continue to offer our clients a family friendly approach but ensure our clients know they're receiving the absolute best projectors and AV products that suit their needs. In line with that it's time to introduce you to one of our top sellers with this EPSON EB-1480 Fi review, read on!
EPSON EB-1480Fi – An Amazing Short Throw Projector
The EPSON EB-1480Fi projector is an amazing short throw projector that comes with an abundance of connection options. Having 3 HDMI ports allows multiple devices to connect which also gives the user the option to display multiple feeds of content on the one screen. This is extremely helpful if you have an event/meeting that requires multiple screens to be shown at once like a presentation along with charts.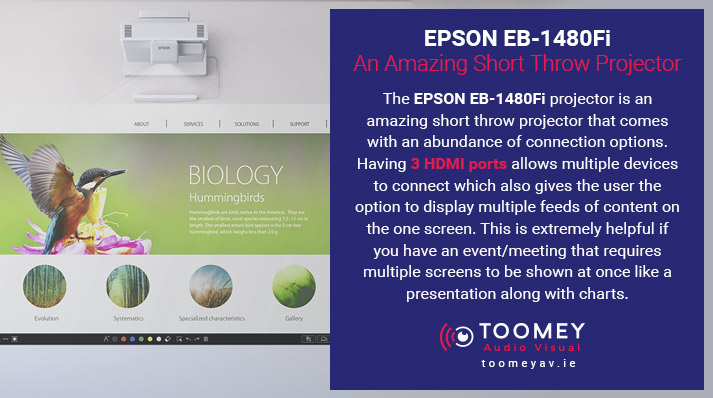 Long Projector Lamp Life
The EB-1480Fi projector comes with 20,000 hours (30,000 on economic mode) of lamp life, which doesn't need any maintenance during this period, but to set your mind at ease it comes with a 5 year warranty. This is 8,000 more hours of projector lamp life than the next best selling projector. With a full HD brand new laser display and a resolution of 1080p and a contrast ratio of 2500000:1. There are also multiple video modes with a full display of 100".
Epson iProjection App
The Epson iProjection App is available to download for free, providing seamless wireless connectivity and collaboration control from multiple devices and platforms. It's compatible with Windows, Office 365 suite and iOS, allowing the use of Office applications via PCs and tablets. This enables the user to use the screen mirror software (Mirracast). Wi-Fi connectivity allows remote connectivity and freedom to move around.
A Solid Projector Upgrade
With the variability in connection opportunities and applicable uses as well as ease of use this is a solid upgrade for anyone hoping to improve on their previous projector model, or as an entry point for those looking to add a projector to their technological repertoire.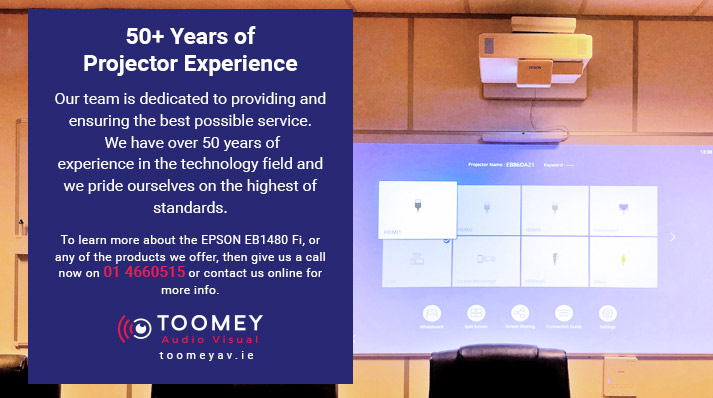 50+ Years of Projector Experience
Our team is dedicated to providing and ensuring the best possible service before, during and after on the journey with our customers. We have over 50 years of experience in the technology field and we pride ourselves on the highest of standards. Something which has been recognised by EPSON themselves when they awarded our team the EPSON Projector Dealer Ireland 2020. So we want to keep those standards and raise them this year. To learn more about the EPSON EB1480 Fi, or any of the products we offer, then give us a call now on +353 1 4660515 or contact us online for more info.