20 Aug

Digital Strategy for Schools – Have You Planned Yours?

We here at Toomey have supplied many schools with digital technology for varying targets. Each school has a multitude of needs that have to be met whilst some schools only have one main aim such as fitting out their auditorium with a sufficient school hall AV system to ensure events and assemblies go down without a hitch. But before diving in to fitting your school with digital technology there are questions you should consider to help you plan the digital strategy for your school.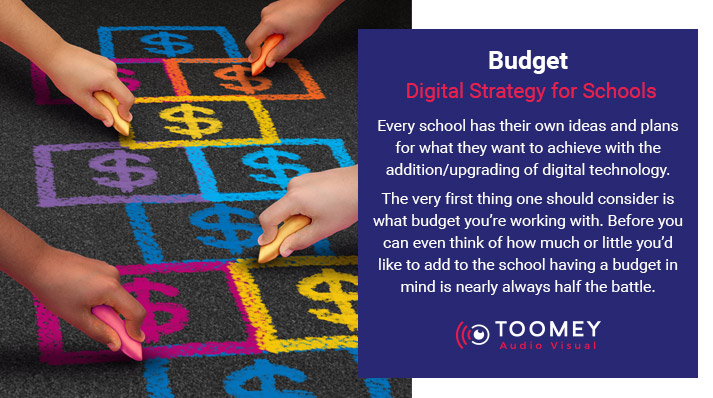 Budget – Digital Strategy for Schools
Every school has their own ideas and plans for what they want to achieve with the addition/upgrading of digital technology. The very first thing one should consider is what budget you're working with. Before you can even think of how much or little you'd like to add to the school having a budget in mind is nearly always half the battle.
Targets/Needs of the School
Another important decision is what exactly your targets and needs are for the classroom and school overall. Would you like Interactive Flatscreens for the classrooms to enable a more fluid teaching and learning environment? Are you planning on displaying messages around the school for new Covid-19 safety measures where digital signage screens are a perfect format for an ever changing landscape of advertising? Do you have an assembly hall that would improve drastically with a sound system installed so your events don't fall flat amongst the audience?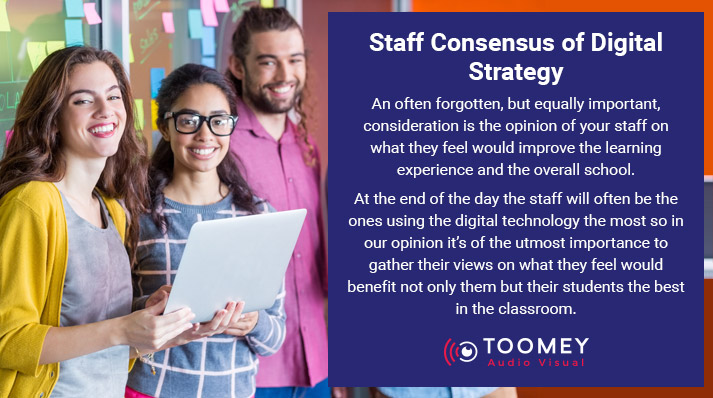 Staff Consensus of Digital Strategy
An often forgotten, but equally important, consideration is the opinion of your staff on what they feel would improve the learning experience and the overall school. At the end of the day the staff will often be the ones using the digital technology the most so in our opinion it's of the utmost importance to gather their views on what they feel would benefit not only them but their students the best in the classroom. The last thing any school wants is decisions taken out of their hands and being forced to use technology that may be totally irrelevant to any of their needs. Which often happens when boards or committees make the decisions on their behalf.
Leading Suppliers of Digital To Schools
If you can think of it then we can supply it. We offer a range of Interactive Flatscreens of varying sizes and budgets. Digital signage for your messages which can display the same message throughout the school or varying messages on each screen. You can also change any given screens message within seconds. We can fit your entire school with wireless connectivity. We supply projector screens as well as projectors. For any of our screens we also supply wall mounts, stands and trollies for ultimate flexibility. We can supply PA systems, mixing decks, mics, overhead choir mics, termination plates and many, many more options for your auditorium needs.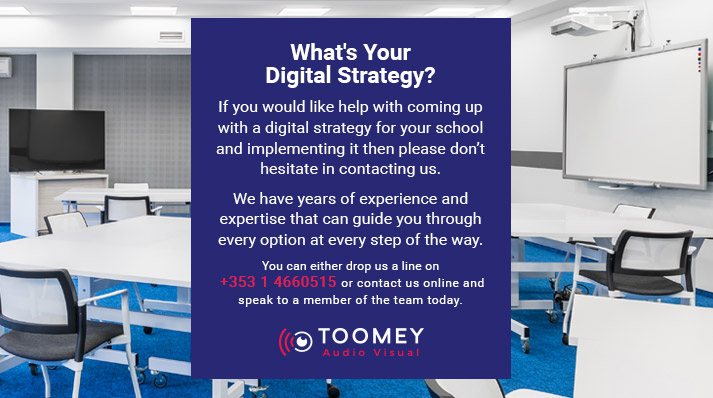 What's Your Digital Strategy?
If you would like help with coming up with a digital strategy for your school and implementing it then please don't hesitate in contacting us. We have years of experience and expertise that can guide you through every option at every step of the way. You can either drop us a line on +353 1 4660515 or contact us online and speak to a member of the team today.