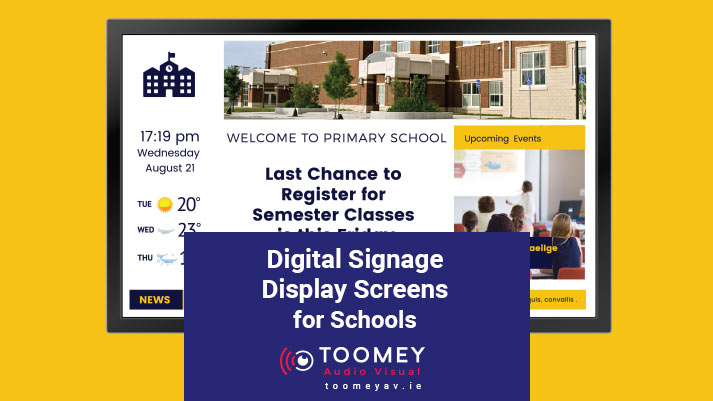 29 Jul

Digital Signage Display Screens for Schools

Digital signage is a form of electronic display that shows videos, images, text and web content in public and private environments for informational or advertising purposes. A digital sign usually consists of a computer or digital signage playback device connected to a large, bright digital screen such as an LCD or flatscreen display. Digital signage is used in retail, schools, libraries, corporate settings, medical facilities, transportation hubs, hospitality and other public venues. Our Digital signage displays are mostly controlled by cloud-based signage portals which communicate with a media player located at the screen.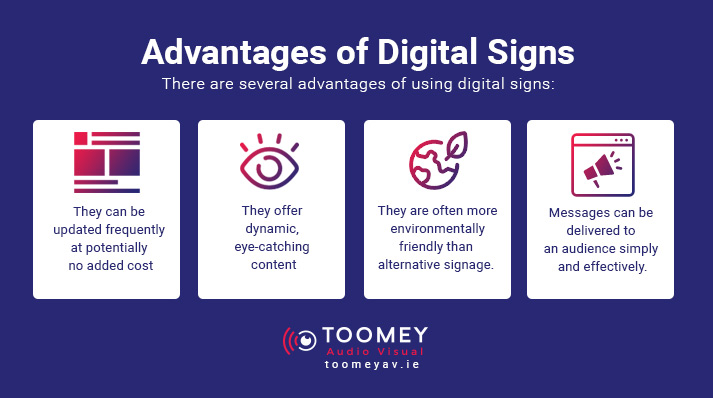 Advantages of Digital Signs
There are several advantages of using digital signs:
they can be updated frequently at potentially no added cost
they offer dynamic, eye-catching content
and because they are designed to minimise power draw and don't require the raw materials necessary for physical, printed signs, they are often more environmentally friendly than alternative signage.
Most importantly these days, digital signage can leverage the power of video so messages can be delivered to an audience simply and effectively.

Campus Wide Connectivity with Digital Signage

Digital signage can help you achieve campus-wide connectivity. Communicate with students and faculty's via bulletins, class notices and event promotions. Impress prospective students, parents, and visitors by demonstrating your school's adoption of technology. Send an environmentally conscious message by drastically reducing usage of paper, ink and plastics. Digital signage could also be used to generate revenue, by displaying sponsor messages etc.

DSA Cloud Screens for Schools

Unlike regular noticeboards for schools, our DSA Cloud screens offer schools a creative platform to display messages, celebrate pupil achievement, promote development and improve parent engagement. Schools will be able to access a content management system that is quick and simple to use and allows administrators to update messages on the go.

Benefits of Using Digital Signage

There are many benefits of using digital signage such as:

Minimizes perceived wait times
Professional looking image for staff & clients
New creative content is inexpensive
Schedule your content depending on the time of day or day of the week
Digital signage screens can be interactive
You can double up your marketing efforts by using content online and on digital signage
Easy to update without ongoing costs
Reduces administration cost
Digital signage lets you leverage the power of video content

Common Uses of Digital Signage

We have installed digital signage for a wide range of uses and clients and you can get an idea of some of the common uses of digital signage below.

Digital Notice Boards are a great way to communicate with students and visitors alike. Display a wide range of media including live data feeds from Twitter, images, videos and much more. Perfect for keeping viewers informed about all the latest developments on campus.

Education Reception Displays ensure staff can update information on the displays quickly and easily. Motivational messaging, timetables, academic achievements and other useful information are only a few of the multiple ways to use reception displays.

Staff Room Schedules: Separate content for staff room allows for vital information to be displayed for staff. Timetables, room changes, sub teacher info, sports day and emergency messaging are just some of the useful advantages available.

Wayfinding: Help staff, students and visitors get to where they need to be with Digital Wayfinding. Interactive or static layouts can both be extremely effective in displaying location information, creating an engaging and informative experience for the user.

Menu Boards: Use Digital Menu Boards at the various food locations on campus to easily update and constantly change menu items helping to improve service, save on resource and print costs as well as increase sales by up to 50%.

It's Time for Digital Signage

If you want to add some dynamic digital content to your school call the signage team on 01 4660515 or contact us online today and we can deliver a solution that works for you. It's time to communicate in the digital age!