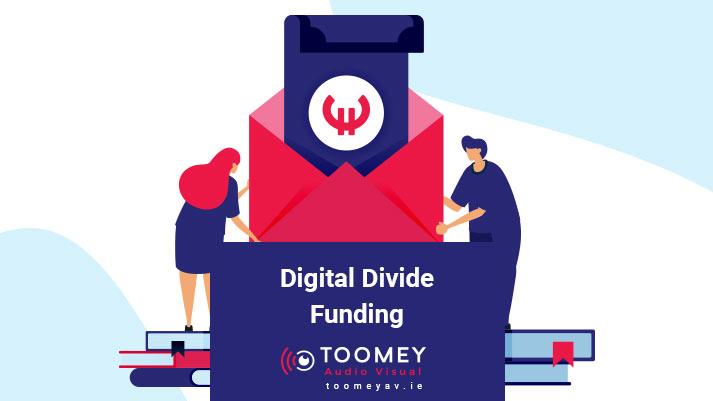 12 Jan

Digital Divide Funding
"ICT, if sensibly deployed and with carefully selected software, can positively affect many aspects of school life, from a healthy questioning of present teaching practices to a gradual improvement of the quality, scope and depth of the learning environment, as well as to provide a remarkable opportunity for teachers' development."
This quote from the research paper 'Technology in Schools:  Education, ICT and the Knowledge Society' (Hepp.  Hinostroza. Laval. Rehbein. 2004) reinforces the importance of ICT in classrooms across the country. Not only for students benefit but also teachers can improve with a new way of teaching.
Digital Divide Grant Funding
A €50m grant funding for schools has recently been announced which considers the advancement of digital technology in primary and post-primary education. Minister for Education Norma Foley TD on the grant scheme "School communities made incredible strides in digital teaching and learning during the pandemic. An enormous effort was made by teachers and students, and a huge amount has been learned. We know also that for some students a lack of infrastructure impeded their ability to engage with remote learning. This digital divide will also impact their capacity to engage fully with digital technology and development of digital skills."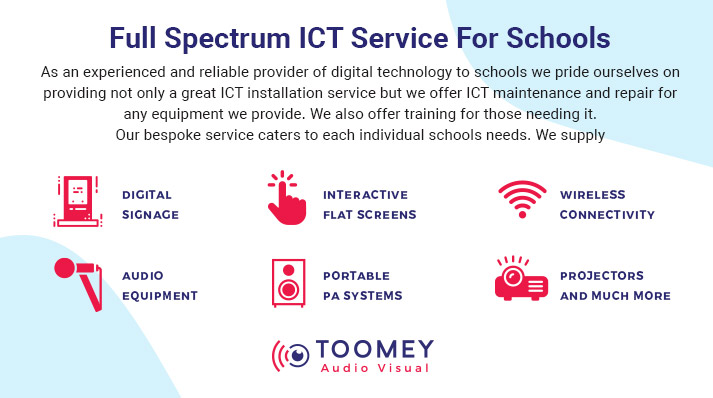 Full Spectrum ICT Service For Schools
As an experienced and reliable provider of digital technology to schools we pride ourselves on providing not only a great ICT installation service but we offer ICT maintenance and repair for any equipment we provide. We also offer training for those needing it. Our bespoke service caters to each individual schools needs. We supply projectors, digital signage, interactive flat screens, wireless connectivity, audio equipment, portable PA systems and much more.
Trusted By ETBs
As an education specialist supplier you can rest assured in the knowledge our services are trusted by Dublin Dun Laoghaire ETB, Kildare Wicklow ETB, Longford Westmeath ETB and most recently Louth & Meath ETB board. To be a preferred ICT supplier to so many ETB's shows the hard work and professionalism our expert team put into their work.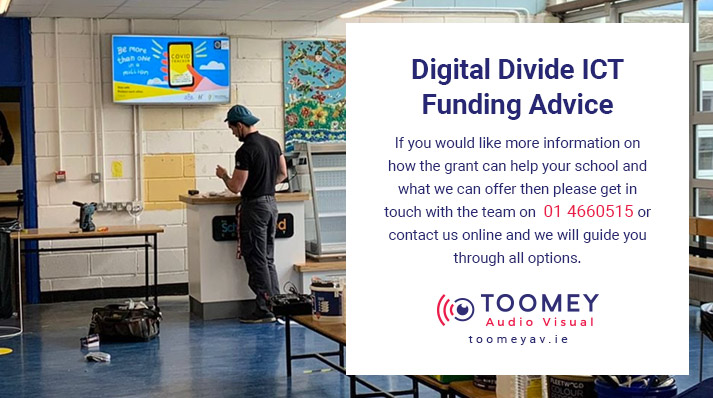 Digital Divide ICT Funding Advice
If you would like more information on how the grant can help your school and what we can offer then please get in touch with the team on 01 4660515 or contact us online and we will guide you through all options.