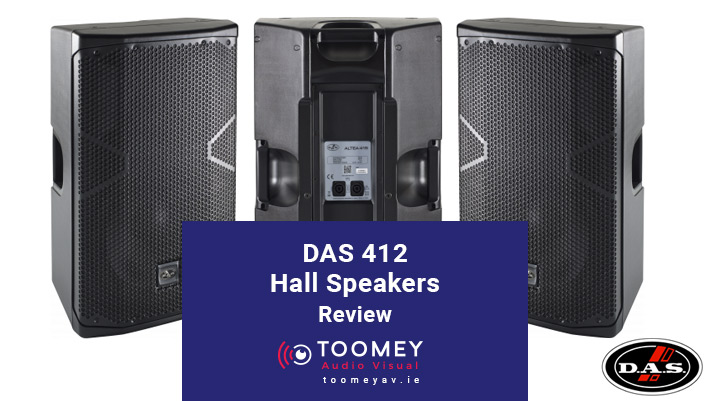 21 Jan

DAS 412 Hall Speakers – Product Review

Sound is everywhere, and making it bigger, better and more powerful, is what DAS Audio does. We realize that DAS products are the tools of the sound professional and that their performance, durability, and reliability are mission critical. Since 1971, the DAS commitment has been to constantly improve their products and services. This learning experience has given them the possibility of offering technological solutions that satisfy the needs of DAS users. Just as sound is everywhere, so are DAS systems, in use every day, somewhere around the world.
DAS 412 Hall Speakers – Portable Sound Solutions
The DAS ALTEA Series of portable sound solutions has been designed and built to offer musicians, DJs and performers great sounding systems that combines the latest in pro-audio engineering with great looks and an extraordinary set of user-friendly features. The ALTEA-412 passive system has been designed for use with external amplification and an outboard DSP. This allows users to choose the powering option they prefer and benefit from the same enclosure features and top-of-the-line components as the ALTEA 400 powered versions.
Professional Grade Louspeaker – ALTEA-412
The ALTEA-412 uses the renowned 12Mi loudspeaker. This professional-grade loudspeaker provides precise low frequency reproduction with excellent musicality. The high frequencies are handled by the M-32 compression driver with 1″ exit to provide exceptional overall performance. A winning combination of matched components that offer ideal characteristics for music reproduction.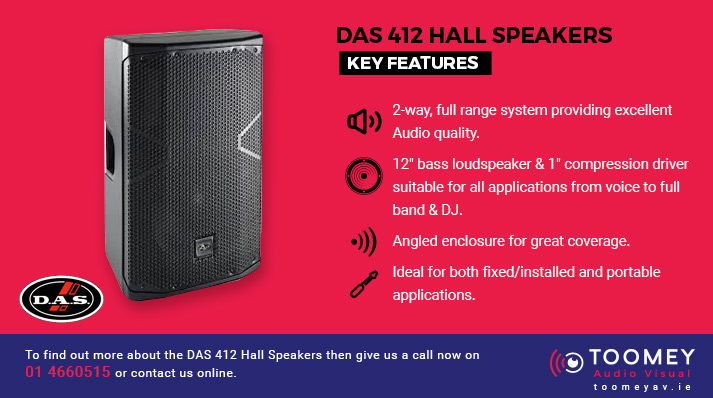 Key Features of the DAS 412 Hall Speakers
2-way, full range system providing excellent Audio quality
12″ bass loudspeaker & 1″ compression driver suitable for all applications from voice to full band & DJ
Angled enclosure for great coverage.
Ideal for both fixed/installed and portable applications.
New 412A Active Speaker
The 412A Active version has the amplifier conveniently inbuilt. This means its plug and play and ideal for portable PA applications. The additional benefit of active speakers is that they can be easily daisy chained which makes them ideal for unusual shaped areas or corridors. Set up is quick and easy and there is no power amplifier and additional cables needed.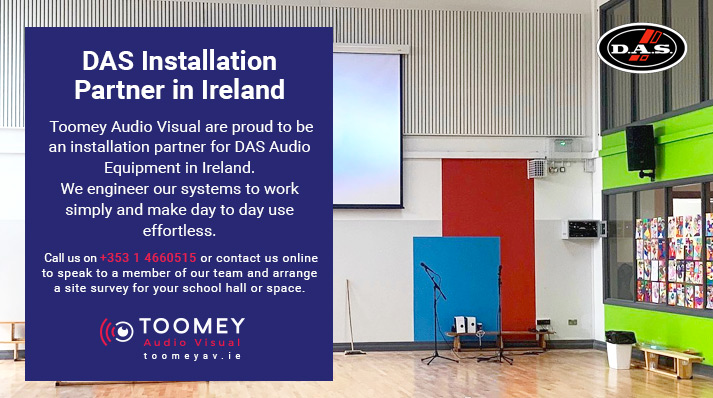 Toomey AV Thoughts on the DAS 412
A quality audio system will provide a professional solution for many different events. Whether it is morning assembly or a year-end concert, audio systems can be tailored to suit every room type and every application. Whether you need a single microphone or a multi-channel mixing desk with wireless microphones for every budding actor, an audio system should manage all your requirements with ease.
Toomey Audio Visual are proud to be an installation partner for DAS Audio Equipment in Ireland. We engineer our systems to work simply and make day to day use effortless. Call us on 01 4660515 or contact us online to speak to a member of our team and arrange a site survey for your school hall or space.
Make sure you don't miss out on future blog posts by joining our mailing list now!