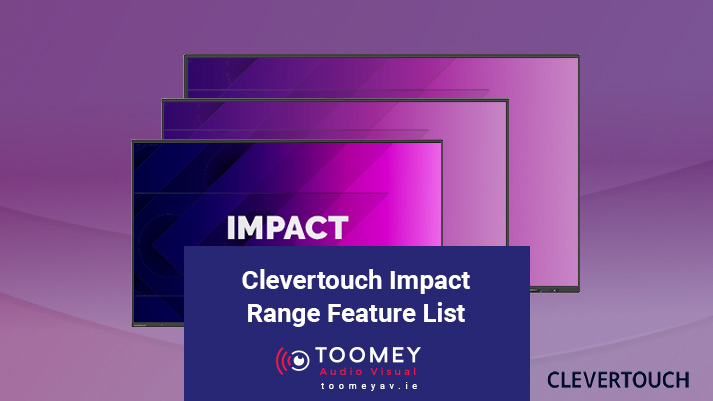 02 Dec

Clevertouch Impact Range Feature List

With the release of the new Clevertouch Impact range we thought we'd dive in to the line's features and explain how they can benefit your classroom.
Clevertouch Impact Range Features
As with previous models the Impact Range comes in 65", 75" & 86", with the Plus having the additional 55" panel for choice. All are 4K resolution with the Impact Plus having a native 4K user interface. Below is a list of features from both panels the Impact and Impact Plus.
User Interface – Lux 8
High Precision
20 Multi touch points
Instant Updates (OTA)
5 Year Remote Management
Integrated Speakers
Response Times of 8ms
Brightness of 400 nits
Multiple HDMI, USB 2.0 & 3.0 slots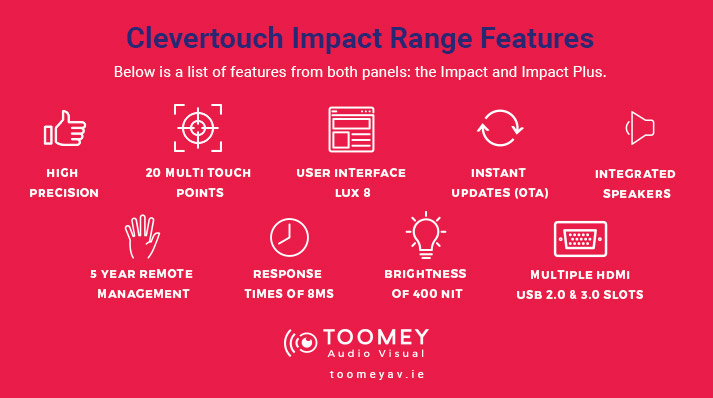 New MDM (Mobile Device Management) System
These are just some of the technical features of the new panels. But they're so much more. With the new MDM system your IT department don't have to traipse around every classroom in the school. They can now control all panels, throughout the school, at the touch of a button from their office with the Clevertouch MDM System. Meaning your safety measures won't be compromised by someone entering multiple safety bubbles. If you want a consistent message across all screens then it can be done seamlessly. You can also select specific screens to target if a particular class or teacher needs a message directed to them.
Not only can MDM allow the access to multiple panels throughout your school but with that control various apps can be updated or removed. Freeing the teachers time up to focus on teaching lessons. As previously stated this can be done across all platforms in the school or you can target specific panels depending on yours or your students needs.
Clevertouch – Proven Reliability
Clevertouch panels have been proven to be reliable and effective in the education sector for a number of years now. Not only do they have a proven track record in the classroom, but they have a proven track record in the industry as an award winning market leader.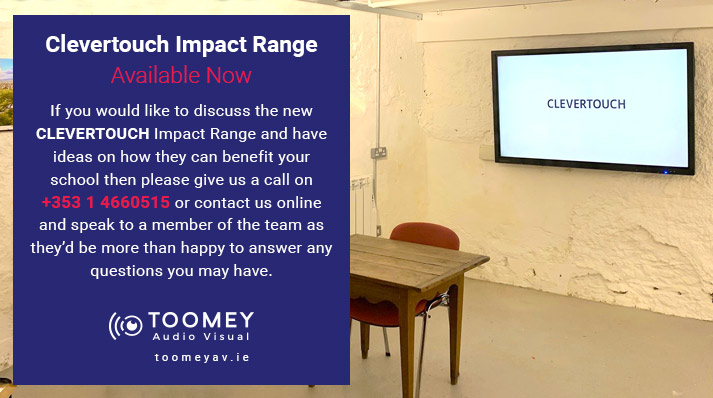 Clevertouch Impact Range – Available Now
If you would like to discuss the new Clevertouch Impact Range and have ideas on how they can benefit your school then please give us a call on +353 1 4660515 or contact us online and speak to a member of the team as they'd be more than happy to answer any questions you may have.