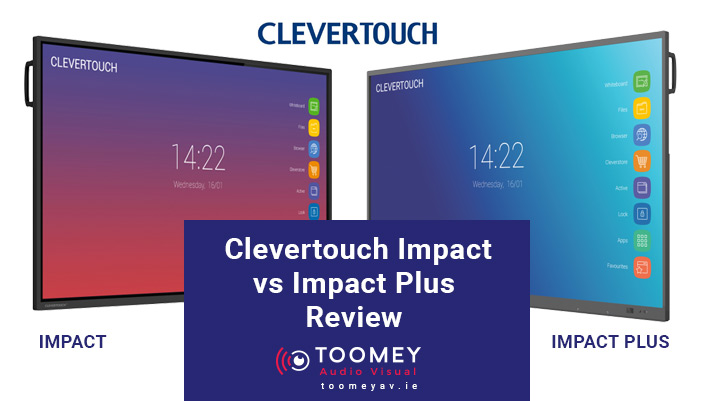 30 Oct

Clevertouch Impact vs Impact Plus Review

As Steve Jobs once stated, "Let's go invent tomorrow instead of worrying about what happened yesterday." Clevertouch are a company that lives by these words it seems. They aren't content with having one of the market leading interactive flatscreens on their books. They have been working hard to upgrade and improve on their previous Plus models to the Impact and Impact Plus Range. In this post we'll give you a quick review of the Clevertouch Impact vs Impact Plus, read on!
Versatile Interactive Panels – Clevertouch Impact Range
With the new Impact and Impact Plus range a whole new experience is at the ready for your classrooms. These new interactive panels can be used in a variety of different ways. Whether it's for lessons using the wide variety of free apps and software that comes built in. Digital signage or for your school hall AV or screening tutorials to your class. These new interactive panels are second to none. Here, we take a closer look at both the Impact and Impact Plus.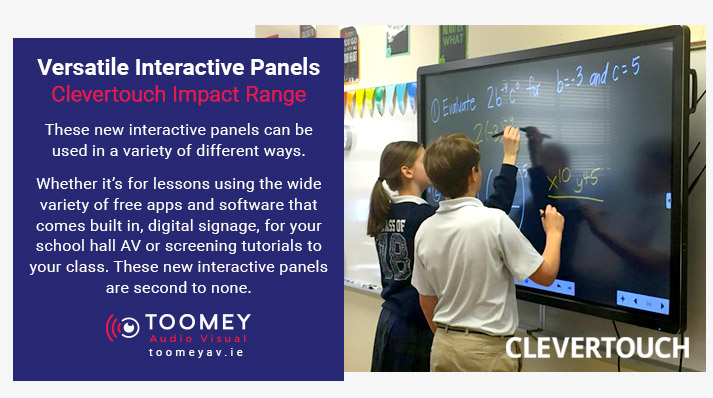 Clevertouch Impact vs Impact Plus Review
Both screens come available as standard 4K. Not only do they come in varying sizes, 65"/75"/86" for any given needs, but the Plus range also has the smaller 55" size too. There's also an extra module slot in the Plus panels. The RAM and ROM is also doubled for the Plus range. With 2GB of Ram and 16GB of ROM in the standard range the Plus range comes with 4GB of RAM and 32GB of ROM.
Both models come with 2x 15Watt speakers but with the Plus range a subwoofer is included. Not only that but with the Plus range your panels also feature motion sensor that activate when someone comes in the room. A true 4K user interface, array microphone and super cool stylus are also included with the Plus range. A major advantage of the Plus range is also the 2x USB-C inputs. One of which charges your tablet. The standard Impact comes with 1x USB-C input.
Impact Plus – The Best Interactive Panel Yet!
Given the numerous features of both panels it's hard to choose a favourite but after rigorous testing we think the Impact Plus is the best interactive panel we've ever had the pleasure of supplying. The extra features over the Impact range just pushes it over the line. But let's face it, whatever panel you decide on is going to give you an unforgettable experience.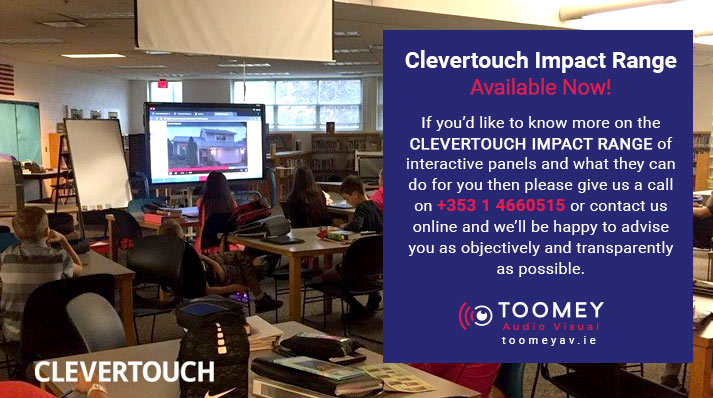 Clevertouch Impact Range – Available Now!
If you'd like to know more on the Clevertouch Impact Range of interactive panels and what they can do for you then please give us a call on +353 1 4660515 or contact us online and we'll be happy to advise you as objectively and transparently as possible.