09 Jul

Advantages of Using Digital in Schools

We here at ToomeyAV have been quite vocal about giving primary children the same access to technology across the board, both here in Ireland and abroad. Regardless of their social background children should all be given the same leg up in their education. ICT for schools is vital to that and providing the platform for their future prospects. Not only does it give each child the same platform to learn it also gives the teachers the power to go beyond just the books and have an interactive lesson evolve with the input of the children.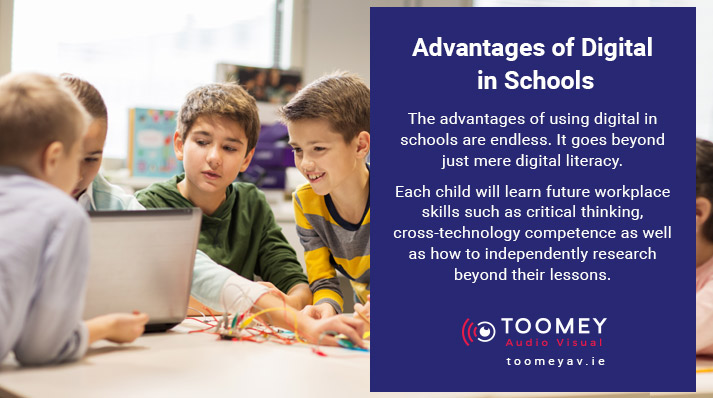 Advantages of Digital in Schools
The advantages of using Digital in schools are endless. It goes beyond just mere digital literacy. Each child will learn future workplace skills such as critical thinking, cross-technology competence as well as how to independently research beyond their lessons. Using Digital in the classroom, such as interactive flat screens, will make lessons more fun for students which in turn increases attention spans by allowing them more freedom to be involved in the lesson. This increased interactivity has also been proven to show that children retain knowledge for longer periods.
Societal Reliance on Technology
Due to the increased need for technology and society's reliance on it in the 21st century children are exposed to it from the day they're born. With the rise of smart tv's, tablets, smart phones, children are surrounded by it in every walk of life. So why shouldn't they have it in their classroom too? It's essential to their future they have early access to technology in school so they can have the same benefits as not only the rest of the country but their peers around the world.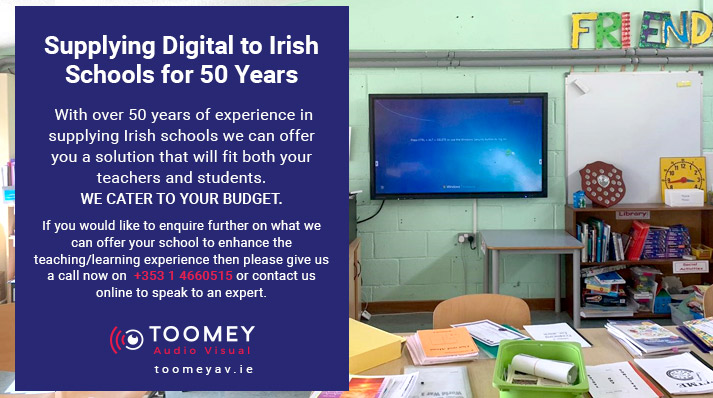 Supplying Digital to Irish Schools for 50 Years
With over 50 years of experience in the sector and supplying countless schools in that time we're in the prime position to offer you a solution that will fit both your teachers and students. We cater to your budget. If you would like to enquire further on what we can offer your school to enhance the teaching/learning experience then please give us a call now on 01-4660515 or contact us online to speak to an expert.