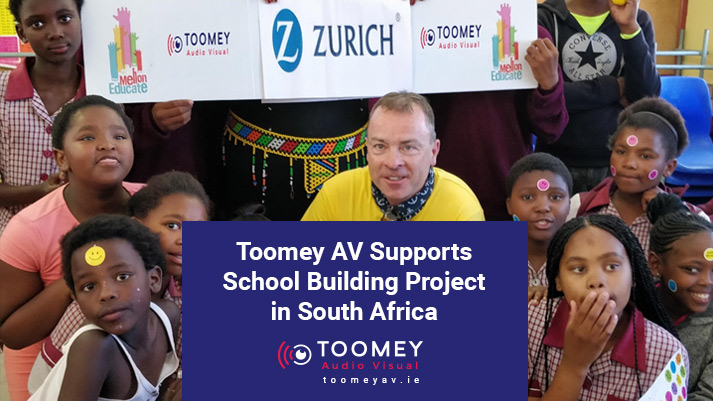 16 Dec

Toomey AV Supports School Building Project in South Africa

Toomey Audio Visual has been a supplier to the Irish Educational market in Ireland since 1968, kitting out schools with digital signage and everything else in between. Earlier this year, we took our skills for school ICT abroad and chose to support our own Conor Toomey in volunteering with a school building project in a South African township near Cape Town. Conor had never been involved in a project like this before and it was also his first time to visit South Africa and to see first-hand the incredibly difficult conditions the people in the township's live in day to day.
The Mfuleni Township
Located in the Mfuleni township, from November 17-24th, along with about 400 other volunteers, Conor worked on both a primary & secondary school site, which were right across the road from each other. The primary school currently provides schooling for 1,600 children and the secondary school for 1,400 children.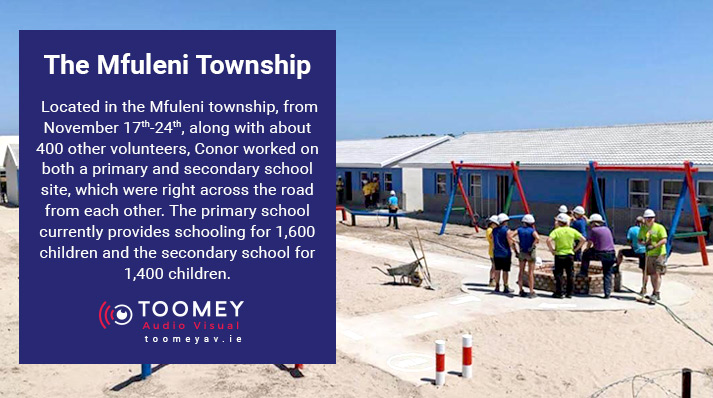 Education for 600 More Children!
During the week, there were a total of 6 completely new classrooms built and one library building completed. The new buildings were handed over to the very enthusiastic school principals, teachers and local families at the end of the week and they were so thankful for what had been achieved. The message we heard repeatedly was how much difference these new buildings would make to the children in the township and that the result of the work is that 600 additional children will now be able to receive and education!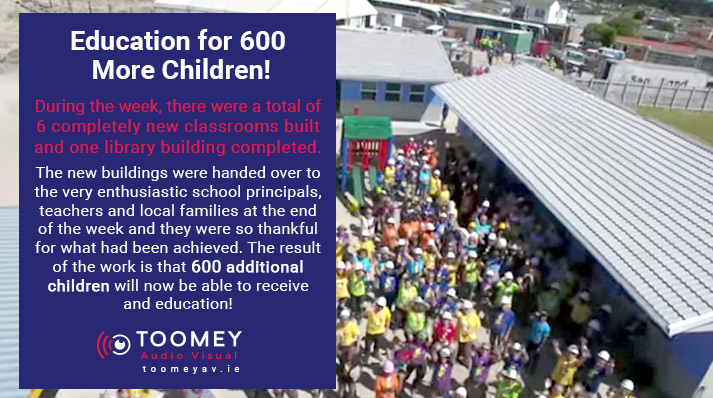 Chance of a Brighter Future
Education is one of the greatest gifts these children can be given as it is one of the only ways they can emerge from the very harsh and often violent lives they live in the townships. These new school rooms that were built will give thousands of children over the coming years a real chance of a brighter future. With regards to the project this is what Conor had to say.
"I would like to thank you for the very generous support you gave to this project and I would also like to convey the sincere gratitude of the all teachers, parents and children that said "thank you" so many times"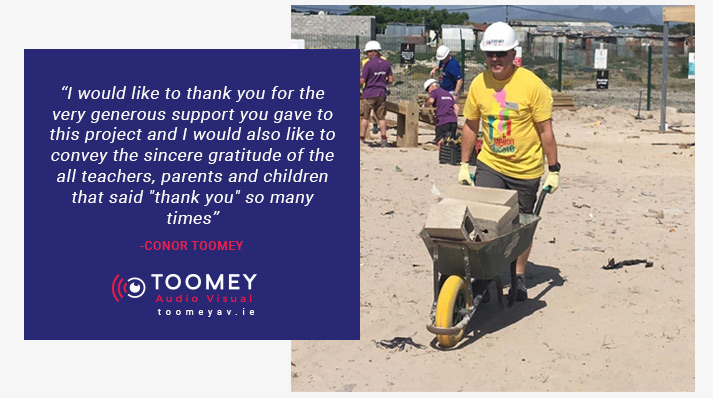 Highlighting The Importance of Education
We have over 50 years experience in ICT for schools in Ireland but this was our first time providing ICT in South Africa! If anything the experience highlighted the importance of education, the fact that it can be the great equaliser, lifting people out of poverty and creating opportunity where there may not have been one previously. We truly hope that decades of children will benefit from the stellar work done by the volunteers in providing these educational facilities to the Mfuleni Township. If you'd like to find out how you or your school could benefit from ICT then give us a call now on +353 1 4660515 or contact us online for more info and we'll take it from there.
Make sure you don't miss out on future blog posts by joining our mailing list now!