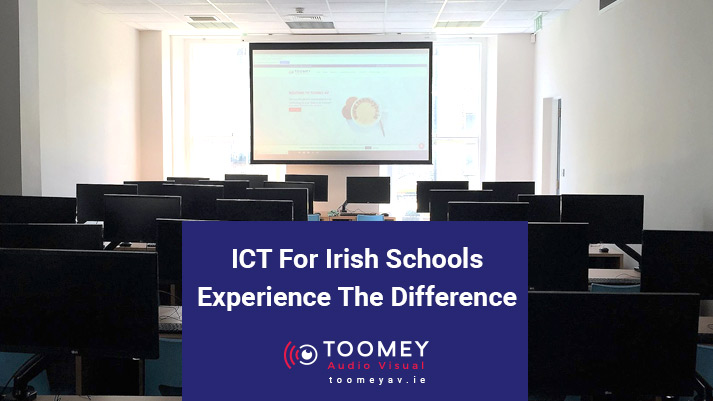 03 Dec

ICT For Irish Schools – Experience The Difference

At Toomey AV, we believe it makes sense to go to one dealer for all your ICT for schools needs. Trust and familiarity mean a lot in this business. We strive to earn your trust and expect to gain familiarity with your school or business. We seek out this familiarity with clients as it allows us to provide you with a more customised and tailored service specific to the ICT needs of your school or business.
Dedicated to School ICT and Our Customers
When you buy ICT from us you are getting more than just a product and a service. You are getting an invitation to begin a relationship. Yes, it is a business relationship, but it is also more than that – it's a personal relationship with trust and respect at its core. Building these kinds of relationships is what we are in this business for and that is why we've been leading the way in ICT for schools in Ireland for over fifty years. That's a long time! It's our dedication to building relationships that go beyond the sphere of business that keeps us going.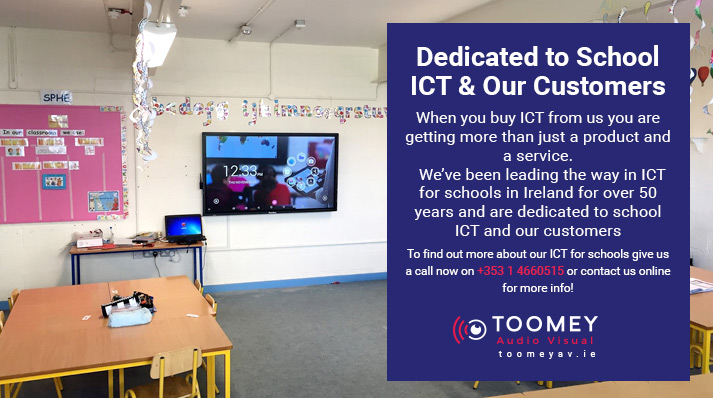 Save Money and Enjoy Peace of Mind
Nothing excites us more than doing business with a client for the first time, as it is an opportunity to begin a relationship that we hope will last years, even generations. Familiarity with your school or business, with your unique set of needs and requirements, with your culture, will make life so much easier in terms of delivering the ideal ICT solution for you. You will save money and enjoy peace of mind by returning to the same dealer for all your audio-visual technology needs.
ICT for Schools – More Than Just A Business Interaction
We take care to build a rapport with our clients so that doing business with us gets easier and easier as time goes on. Doing business based on a relationship is so much more relaxed and comfortable than buying from a different supplier each time and worrying about their quality or service and we fully understand this in the context of ICT for schools. When you work with us it is more than just a business interaction, it's the continuation of a legacy of providing a superior service to Irish schools around the country.
Lasting Relationships With Schools
We've been providing ICT to schools for a long time, and we intend to keep doing it for the foreseeable future. We are a family run business, passed down through the generations, and being a leading provider in ICT to Irish schools is a source of great pride for us. We've made our name through establishing lasting relationships with trust, respect and friendliness at their core and won't be changing that anytime soon – regardless of how the technology we provide advances!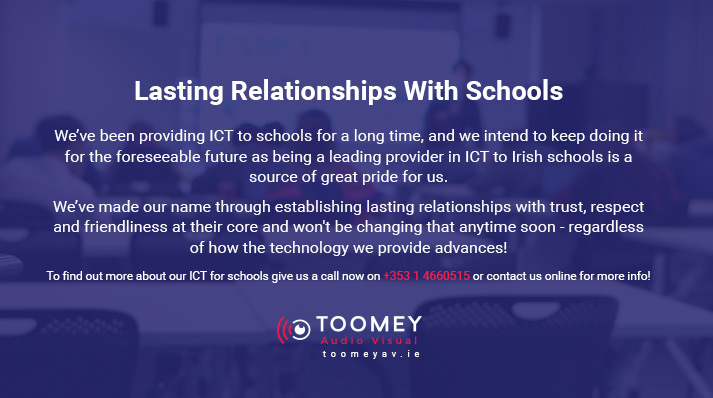 Experience The Toomey AV Difference
If you are looking to do business with an AV dealer for the first time, we invite you to contact us and experience the difference first-hand. We love what we do, and we promise to look after you and answer any questions without any obligations. Of course, our aim is to establish a long-term relationship, but we understand that this doesn't happen overnight. We urge you to take the first step by contacting us today. Give us a call now on +353 1 4660515 or contact us online to find out how we can help you with your ICT needs!
Make sure you don't miss out on future blog posts by joining our mailing list now!