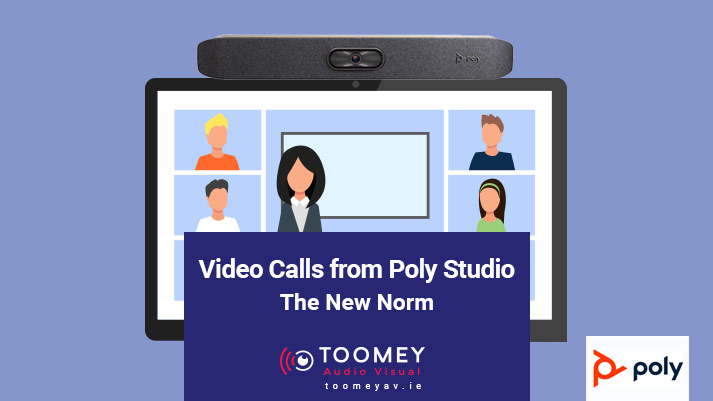 21 Jul

Video Calls from Poly Studio – The New Norm

As the school environment evolves and teaching practices change, online video classes are becoming the new normal.
Plug And Play – Polycom Studio Video Conferencing
Offering the perfect combination of simplicity, budget control and productivity the Polycom Studio is a plug and play answer to allow video calls and classes to continue seamlessly. Relatively small, the Polycom Studio is a video conferencing bar packed with exciting technology. It brings powerful conferencing into any classroom with a monitor.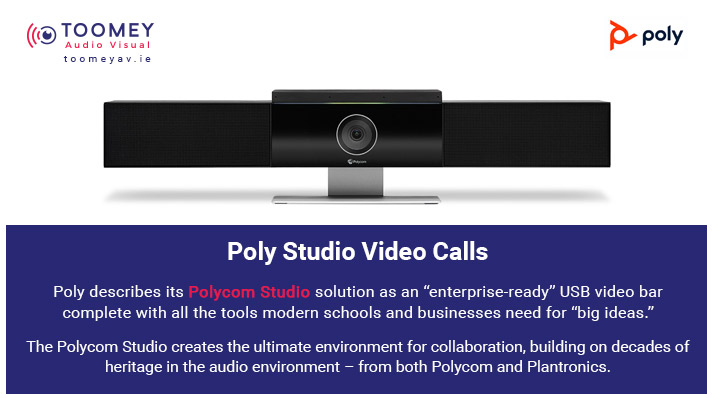 Poly Studio Video Calls
Affordable and easy to use, Polycom Studio just makes modern video calls and classes work. Let's learn a little more about it.
Poly describes its Polycom Studio solution as an "enterprise-ready" USB video bar complete with all the tools modern schools and businesses need for "big ideas." The Polycom Studio creates the ultimate environment for collaboration, building on decades of heritage in the audio environment – from both Polycom and Plantronics.
The Polycom Studio solution strives to remove the frustration from the classroom and huddle room environment, creating more effective experiences where everyone can communicate effortlessly. With simple USB plug-and-play access, Poly's Polycom Studio is designed to simply "disappear" into the background of your meeting or online class. With great features like picture framing and voice tracking, it takes your video calls to the next level.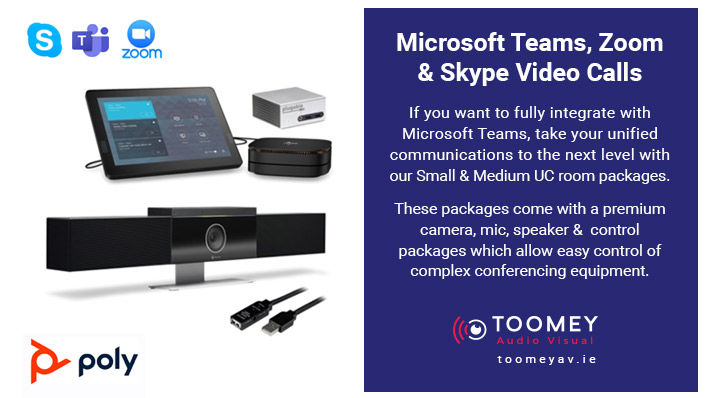 Microsoft Teams, Zoom & Skype Video Calls
If you want to fully integrate with Microsoft Teams, take your unified communications to the next level with our Small & Medium UC room packages. These packages come with a premium video calling equipment like camera, mic, speaker & control packages which allow easy control of complex conferencing systems.
With an extensive range of ancillary products, we can specify a video system for any room. This includes 4K PTX cameras, conference phones and wireless microphones.
STEM Audio
We are delighted to introduce a great new audio user experience for schools and conference rooms in the form of a complete and customisable solution. Whether you want to seamlessly integrate your audio system or show it off STEM Audio is both audibly and visually stunning.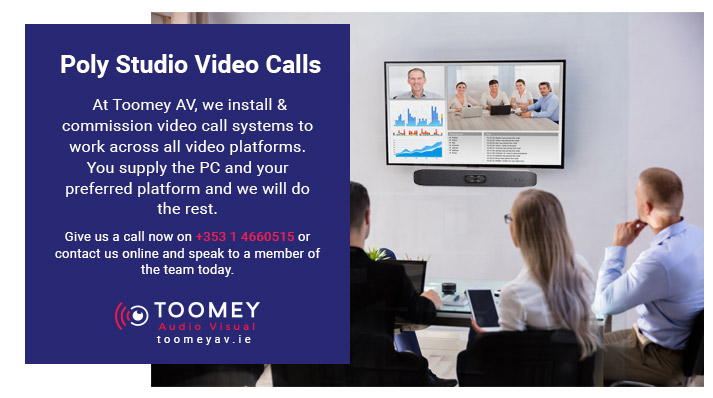 Poly Studio Video Calls
At Toomey AV, we install and commission video call systems to work across all video platforms. You supply the PC and your preferred platform and we will do the rest. Whatever your pleasure, we will supply a system for you. We also rent video conferencing systems for any duration from one day to rolling monthly contracts. Give us a call now on +353 1 4660515 or contact us online and speak to a member of the team today.