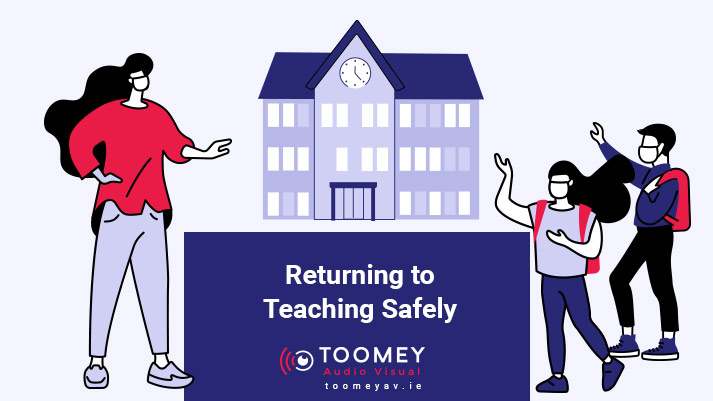 01 Oct

Returning to Teaching Safely

Normality has changed. Society has been adjusting to a new way of life since Covid-19 restrictions slowly lifted. We're now seeing sanitisation stations in most businesses and other areas of society. Wearing a mask is now the norm for most. Schools aren't much different. To keep your school open and running well we have various options you can utilise to ensure the safety of teachers and students upon their return. We also offer options for remote learning for students that are required to study at home. Like everyone, what we want is for people to be able to return to teaching safely and in this post we'll outline some of the tech that is making it possible.
Video Equipment for Online Learning
As part of the returning to teaching safely objective we offer multiple camera and speaker setups allowing lessons to be taught completely online for those vulnerable students. This also works if your school can't open fully ensuring all students can keep up with their lessons and keeping them and their teacher safe. They can be used with the video service of your choice like Zoom or Microsoft Teams.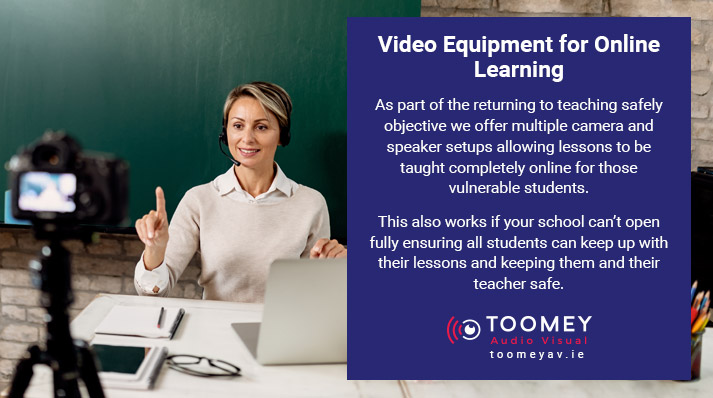 Portable PA Systems
A portable PA system is a great way to ensure the teacher can be heard throughout the class. Since masks have become a part of our reality it's often been noted how hard it can be to hear what people are saying. With one of our PA systems your classrooms won't have any trouble hearing their teacher clearly. Similar to this, voice reinforcement systems are proving particularly popular at the moment as classrooms around the country are re-opening.
Intuitive Interactive Screens
With our new range of Clevertouch Impact screens having remarkable technology that allows touchless activation. Just walk into the room and the screen will come alive. They also can be used with gloves on to stop any spread of germs should teachers require PPE gear on. All screens can be remotely managed meaning your IT department won't need to come to the classroom but can make changes or improvements from their office. The teacher can also share their lessons with any student using Cloud services of your choice which means students at home won't miss out.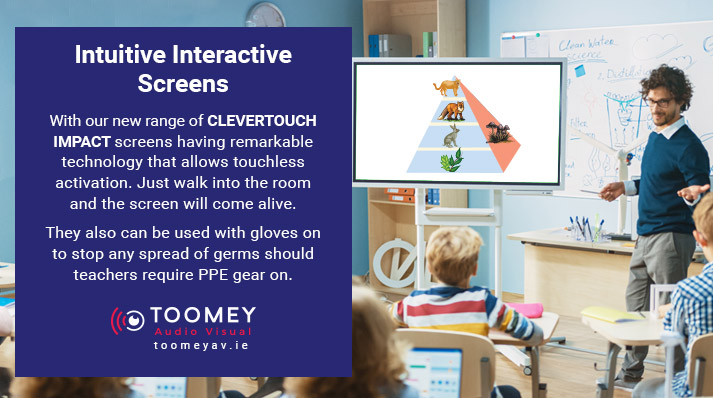 Create Live Events
Schools are now creating "Bubbles" for each of their classrooms to ensure safety for all. This creates a disjointed feeling amongst staff and pupils as they can no longer attend a school assembly. By using the free CleverMessage app, in conjunction with CM-Series, IMPACT or IMPACT Plus, headteachers can live-stream their assembly directly into classrooms. This technology can also be used to create large online school events to bring some fun back to the classroom such as talent shows giving your students a chance to get creative.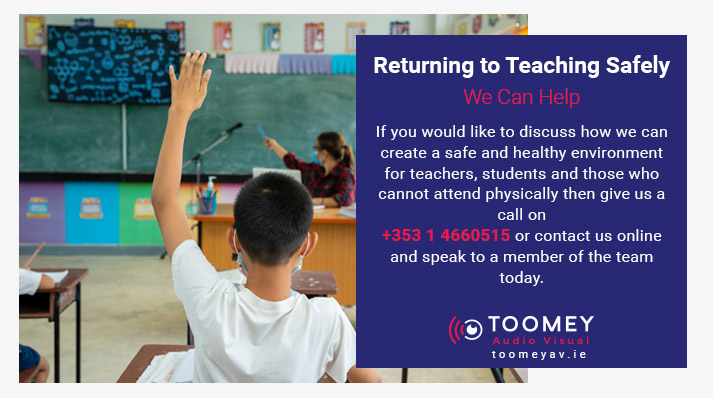 Returning to Teaching Safely – We Can Help
If you would like to discuss how we can create a safe and healthy environment for teachers, students and those who cannot attend physically then give us a call on +353 1 4660515 or contact us online and speak to a member of the team today.