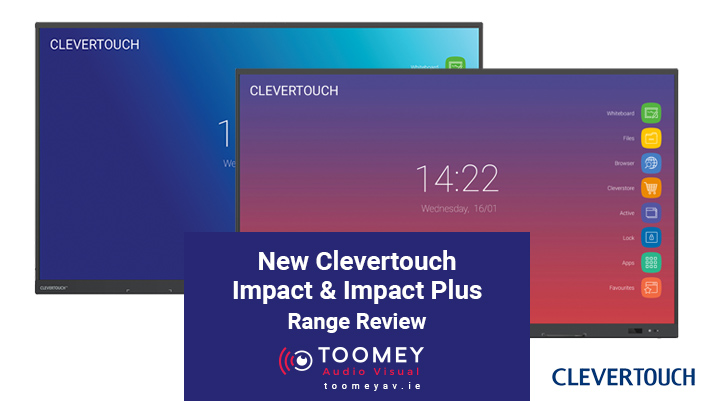 16 Jun

New Clevertouch Impact & Impact Plus Range Review

Clevertouch has done it again. They have absolutely blown the competition out of the water in terms of inbuilt features and overall product quality of their new range of Impact and Impact Plus interactive flatscreens.
Clevertouch Impact & Impact Plus Review
As the need grows for more collaborative learning spaces, so does the demand for ICT in the classroom. Clevertouch is embracing immersive learning with smart digital classroom environments. The Clevertouch Impact & Impact Plus Range are interactive panels like no other. Once again Clevertouch has leapt ahead of all the competition in every regard, see why with this Impact & Impact Plus Range review.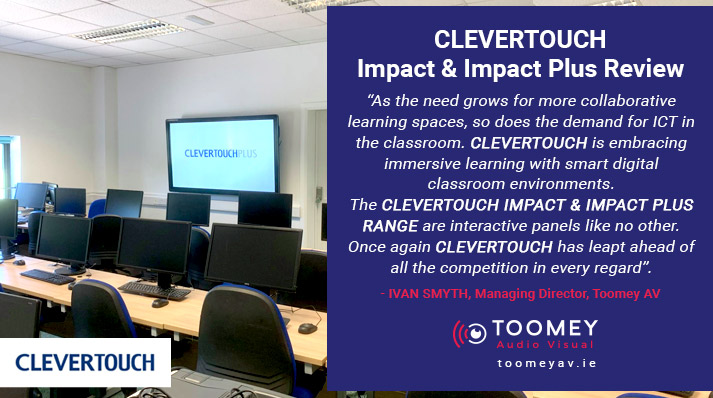 Cleverouch Impact Range Features
Apps: Clevertouch interactive panels come packed with free apps and software designed to meet curriculum requirements so you can deliver more engaging lessons everyday.
Teaching Solutions:The Clevertouch complete classroom solution is easy to use, simple installation and designed with more than 50,000 hours of use. With low maintenance and no on-going subscriptions costs it is the full solution.
Connectivity:Clevertouch multi award winning touchscreens for education are designed to inspire whilst enhancing the welfare of teachers and students alike. As the digital classroom develops, collaboration and interactivity are becoming an everyday feature. Clevertouch gives you the freedom to connect any device to your Clevertouch screen. With Clever Account profiles, any teacher can walk up to any Clevertouch and get their settings in any classroom.
Digital Signage:You can now communicate and send instant messages to every Clevertouch screen in your school, from one central location with CleverMessage. Send tailored messages to selected or all of your screens. Create fully customizable welcome screens and use your Clevertouch as 24/7 digital signage when not in use.
Intuitive InterfaceWe know teachers want to just turn on and teach. That's why Clevertouch are continuously developing their LUX user interface. It enables anyone to enter the room and use the screen, with no prior knowledge or training needed. It is genuinely intuitive.
Clevertouch – Customisable Solutions for your School
Add your favourite apps, customize the display, go into whiteboard-mode with Notes, access the internet, and lock your screen – all from the home screen. You can decide how to use your Clevertouch using the Android 7.1 module or optional slot-in Intel PC with Windows 10 module. Switch between platforms with a simple swipe or switch off the Android to work with PC only. Clevertouch provide fully customizable solutions for your school.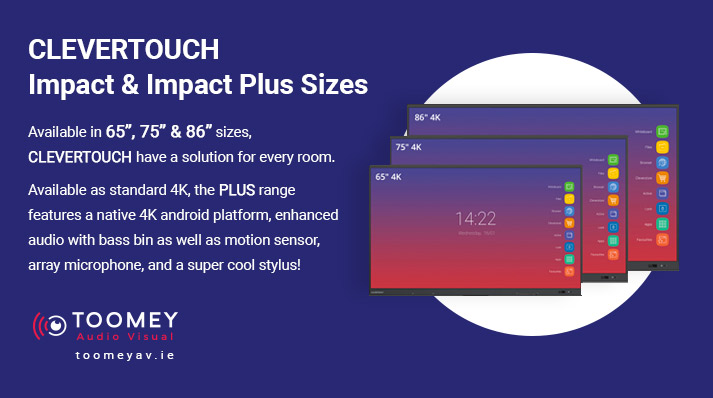 Clevertouch Impact & Impact Plus Sizes
Available in 65", 75" & 86" sizes, Clevertouch have a solution for every room. Available as standard 4K, the PLUS range features a native 4K android platform, enhanced audio with bass bin as well as motion sensor, array microphone, and a super cool stylus!
Stand Out Features
Our favourite feature is the new USB-C port on both models. First the first time ever you can connect to your tablet send audio, video, & touch down one cable and best of all it will even charge your tablet! This is a ground-breaking feature and one I know many teachers will love. We think the single most impressive feature of the new Clevertouch screens is the quality of the touch experience. It feels like the most premium touch device you can use. It feels smooth and accurate and reassuringly of the highest quality. We love it.
Watch out for our Impact unboxing Blog coming soon. We'll give it the full once over!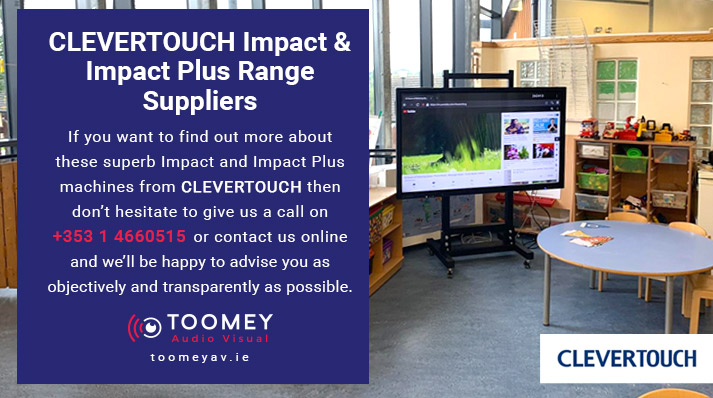 Clevertouch Impact & Impact Plus Range Suppliers
If you want to find out more about these superb Impact and Impact Plus machines from Clevertouch then don't hesitate to give us a call on +353 1 4660515 or contact us online and we'll be happy to advise you as objectively and transparently as possible.