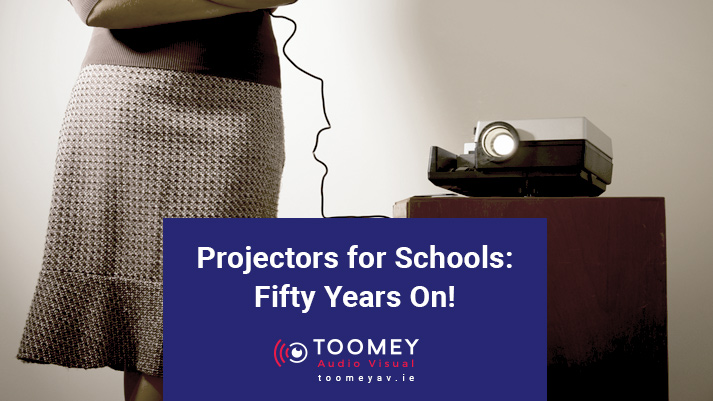 25 Apr

Projectors for Schools: Fifty Years On!
50 Years of School Projectors!
At ToomeyAV we've been dealing with projectors for schools since we opened for business fifty years ago. In that time projector technology has evolved, and it continues to evolve so that they are still an attractive and viable option for those who need them for presentations.
The Interactive Projector for Schools
We specialise in supplying projectors for schools and, for a truly dynamic teaching experience, we recommend the interactive projector. These are suitable for all levels of education and they are just as effective and transformative as the interactive flat screen.
Benefits of Projectors for Schools
The following are some of the ways in which the interactive projector is challenging traditional education practices in the classroom.
Share Notes Digitally: Listening and taking notes at the same time is difficult for anyone. The interactive projector makes this difficulty a thing of the past by allowing you to share notes digitally at the end of the lesson. This will free up the student so's he can concentrate on listening and only writing down what is useful to him. Taking down incorrect or irrelevant notes is also a thing of the past. And the information can be saved so it is impossible to lose notes.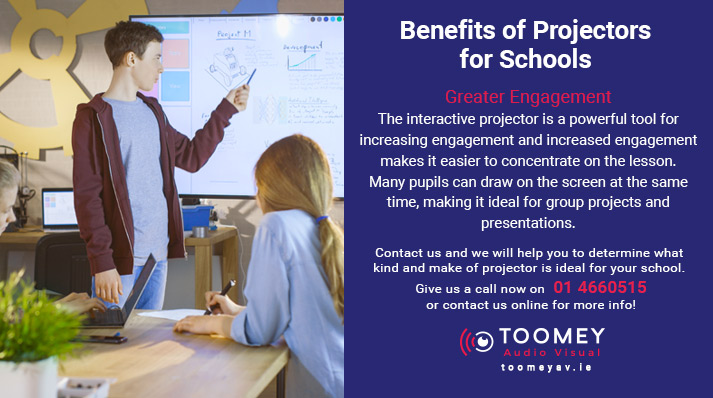 Greater Engagement: The interactive projector is a powerful tool for increasing engagement and increased engagement makes it easier to concentrate on the lesson. Many pupils can draw on the screen at the same time, making it ideal for group projects and presentations.
Incorporate Games into Your Lessons: For a long time, it has been argued that children learn better and faster when learning is associated with play. The interactive projector is proving this to be true by allowing pupils to engage with educational puzzles and quizzes. Be it a brief maths game at the end of class or a quiz to test your knowledge of French, the interactive projector is helping to make the learning environment more fun but also more effective.
Time Saving: Because teachers no longer need to write up notes or constantly erase and rewrite content on the white board, there is more time for focusing on the lesson. Teachers are freed up for other tasks such as correcting homework or helping individual pupils who are struggling. The interactive projector also helps you, as a teacher, to stay organized: you can plan presentations and exercises, use them for multiple student groups and share them with your colleagues.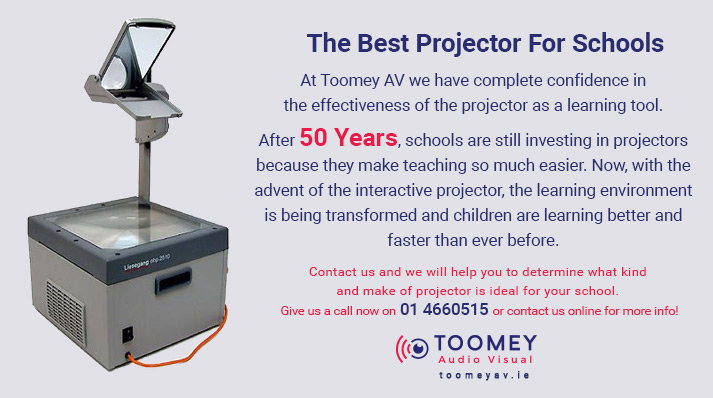 The Best Projector For Schools
At Toomey AV we have complete confidence in the effectiveness of the projector as a learning tool. After fifty years, schools are still investing in projectors because they make teaching so much easier. Now, with the advent of the interactive projector, the learning environment is being transformed and children are learning better and faster than ever before.
Contact us and we will help you to determine what kind and make of projector is ideal for your school. There is so much to consider and so much choice out there that it might be a bit overwhelming. We will guide you toward the best projector solution so give us a call now on +353 1 4660515 or contact us online for more info!