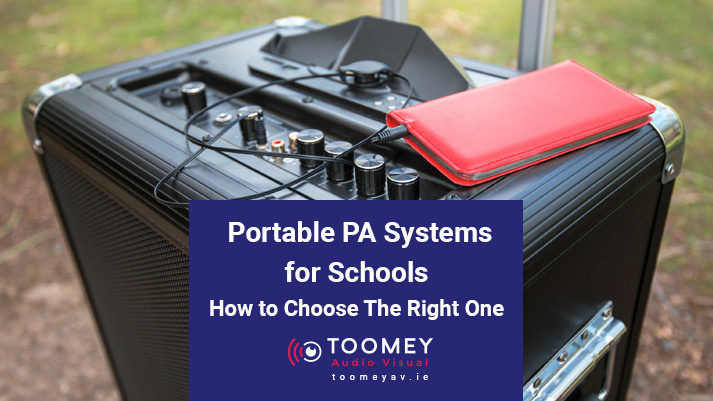 05 Feb

Portable PA Systems For Schools – How to Choose The Right One

A portable PA system is a very handy and convenient technology for a school or college to possess. Why restrict your institution to a regular fixed set up in the school hall when you can enjoy all the benefits of a portable PA system for your school?
Portable PA Systems for All Types of Schools
Our range of portable PA equipment consists of high-quality Pro audio products designed to be moved around, operated easily and yet robust enough to take the day to day abuse of school use. Toomey AV, are portable audio experts. We have a portable PA system for every application and budget, but with equipment available at every price point, how do you know what to buy? There are many key considerations when purchasing a new portable pa system for your school or classroom and in this post we'll touch on some of the key things you should consider.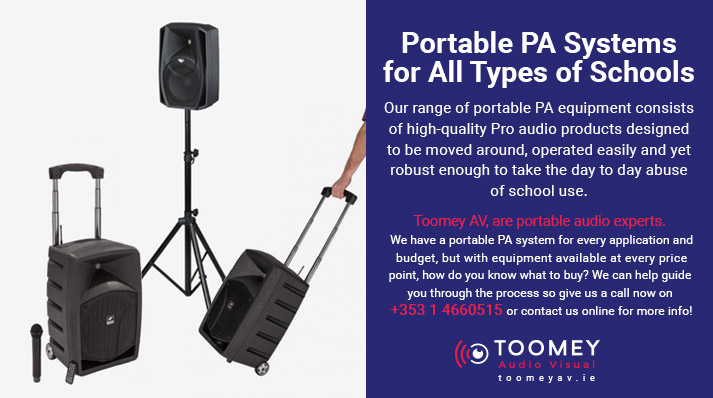 Where will you use the Portable PA System?
Will it always be in the same room? Upstairs? Downstairs? Across a few buildings on the same campus?
Indoor or Outdoor?
Will the system only be used indoors or will you ned to use it outdoors sometimes?
Mains Power or Battery Powered?
Will you need to run form battery on occasion? i.e. sports day, Parade or flag raising day?
How many microphones will you need?
Is one microphone enough or do you require multiple microphones?
Will you require wireless mics?
Do you want cables coming out of your microphones or are wireless mics preferred?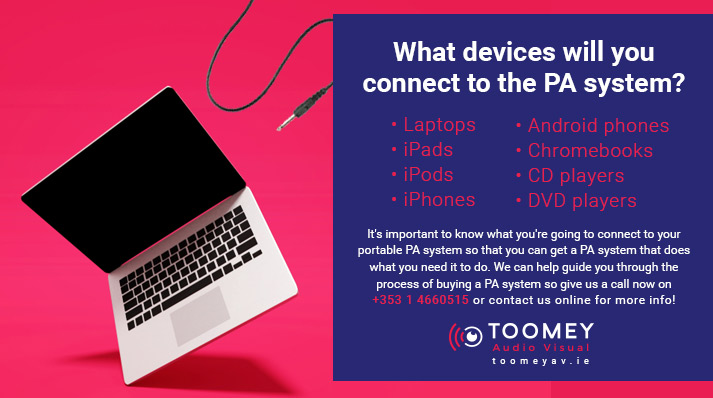 What Devices will you Connect to the PA system?
Laptops, iPads, iPods, iPhones, android phones, Chromebooks, CD players, DVD players…It's important to know what you're going to connect to your portable PA system so that you can get a PA system that does what you need it to do.
What will the audience size be?
The size of audience will dictate the PA system power requirement. i.e. how many watts should the PA be.
Do I require a single speaker PA or maybe a 2 or 4 speaker PA?
Generally speaking, a single speaker PA will be easy to use, require no set-up and pretty much switch on a go. A 2 or 4 speaker PA gives you better sound quality and caters for larger audiences, however there is a five to ten minute set-up involved plus you have the health and safety risk of cables going across the floor. So there are pros and cons to each system.
If a wired solution, what length speaker cables will you need?
What size is your room? Where will the speakers and amplifier / mixer be located? Are you allowing enough cables to get over fire exits and up speaker stands. Will there be other obstructions in the future that you need to allow for?
What is the largest application you hope to use the system for?
What is the biggest event in the school calendar? How many mics, laptops, ipods, musical instruments etc. will you need to connect at any one time? It may make sense to allow for this when purchasing initially.
How will you transport it?
If bigger than a one speaker system, will the PA require a trolley and how will the PA system be transported?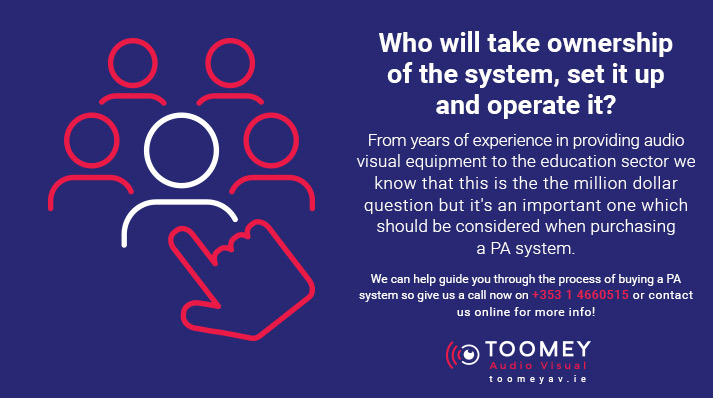 Who will take ownership of the system, set it up and operate it?
From years of experience in providing audio visual equipment to the education sector we know that this is the the million dollar question but it's an important one which should be considered when purchasing a PA system.
Is training required?
Generally single speaker PA systems are easy to use. Anything with a mixing desk will require some training. At Toomey AV, we have some great tricks for simplifying sound systems and making more comprehensive systems easier to use.
Is the price being offer too good to be true?
Like in most industries, there are a lot of cheap (and generally Chinese made) products available. If the PA system sounds too good to be true (excuse the pun), then it more than likely is. You cannot purchase a high quality wireless PA system with battery and wireless mics for under €200. It is of paramount importance, that when you are using wireless systems that you purchase quality equipment from a quality manufacturer. Like we mentioned when discussing the Clevertouch, it can be worth spending a bit more to get a better, longer lasting product.
Top Selling Portable PA Systems
When you consider all these various factors, Toomey AV can help you by suggesting various portable PA system options to suit your requirement and budget.
Current Best Sellers:
Trecker300
Barthe 120watt
Ultimate PA Package

Remember, you are purchasing equipment that will be used day to day in your school. It should be up to the job and ready to go when you are. A good PA system will lend itself to many applications and will be versatile enough to adapt to every situation.
BARTHE 120 Watt Portable PA System
One of the top sellers mentioned above is the Our BARTHE 120watt portable PA system and it's perfect for use in graduations and other school events. Mains or battery powered, it consists of a powerful 120watt speaker, wireless handheld microphone and blue-tooth connectivity to connect your iPhone, iPad, iPod and USB or SD card. The BARTHE range also offers top of the range language equipment which is perfect for classroom use!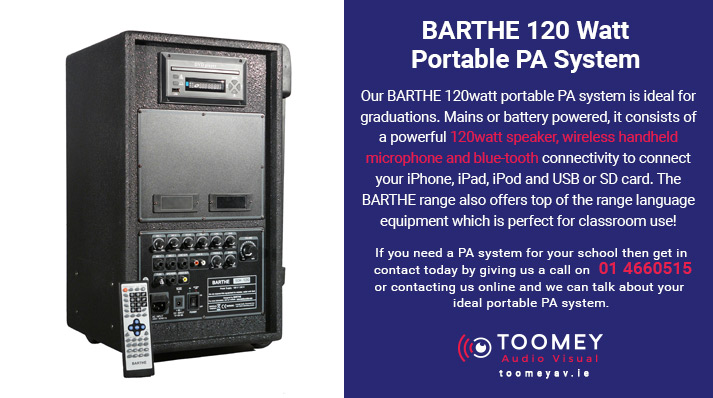 The Ultimate Portable Hall PA System
Another PA system that is a top seller for a good reason is the Ultimate Portable Hall PA System. If you're looking for a PA system that will fit the bill for live music then the ultimate portable hall PA system is the ideal choice for this kind of gig. Consisting of 2 high quality 300watt active PA speakers, 4 microphones and mixing desk, this powerful set up will ensure that the band is heard loud and clear.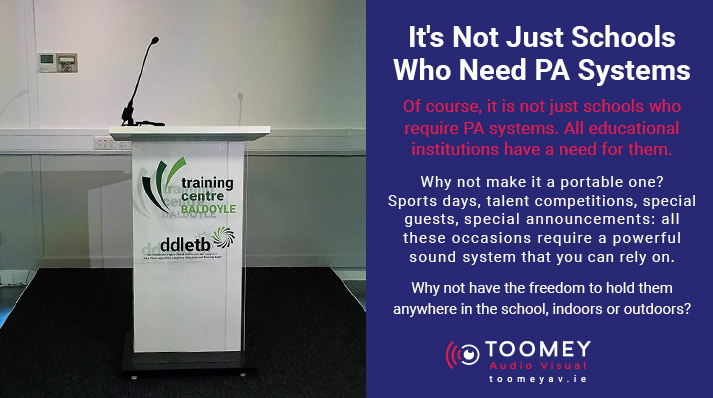 It's Not Just Schools Who Need PA Systems
Of course, it is not just schools who require PA systems. All educational institutions have a need for them. Why not make it a portable one? Sports days, talent competitions, special guests, special announcements: all these occasions require a powerful sound system that you can rely on. Why not have the freedom to hold them anywhere in the school, indoors or outdoors?
Having the Freedom & Mobility Of A Portable PA System
Investing in a portable PA system makes sense if you are to be prepared for all the important events in the school calendar but you also need to be prepared for unforeseen events that happen e.g. as a school sports victory or an outstanding achievement by a pupil or class. There is so much more to school / college life than learning. You are part of a community and, like any other community, the life of it is marked by events. Whether these are set events in the school calendar or things that haven't been planned for, having the freedom and mobility a portable PA system offers will make life so much easier.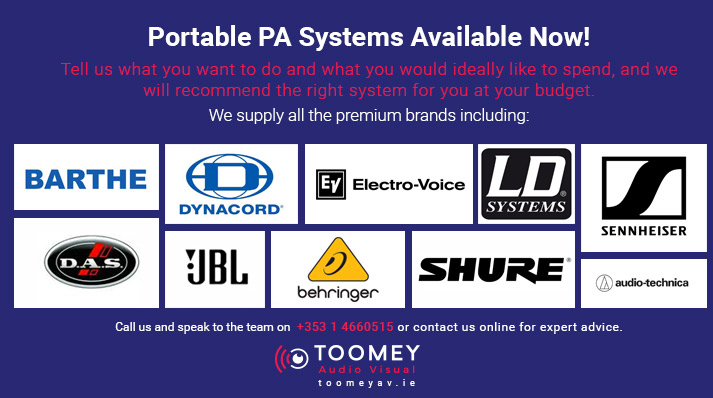 Portable PA Systems Available Now
Tell us what you want to do and what you would ideally like to spend, and we will recommend the right system for you at your budget. We supply all the premium brands including BARTHE, EV, Dynacord, Pluse, LD, D.A.S., JBL, Behringer, Shure, Sennheiser, Audio Technica and so many more. Call us and speak to the team on +353 1 4660515, contact us online or email us at info@toomeyav.ie for expert advice.
Don't miss out on future blog posts and be in with a chance to win a €100 voucher by joining our mailing list now!