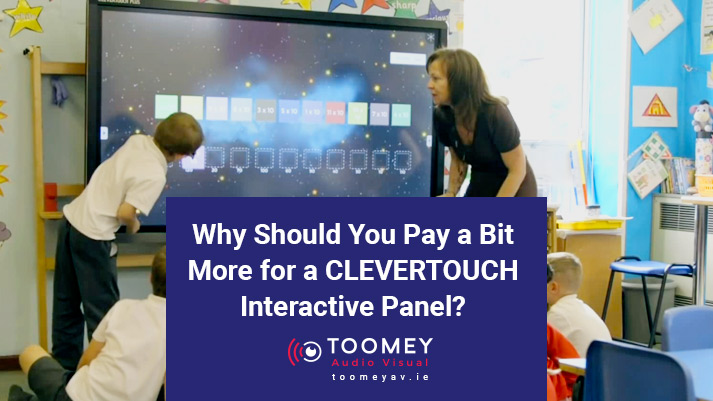 17 Jan

Why Should You Pay a Bit More for a Clevertouch Interactive Panel?

As the need grows for more collaborative learning spaces, so does the demand for technology in the classroom. Clevertouch interactive flatscreens embrace immersive learning with smart digital classroom environments. Clevertouch interactive panels come packed with free apps and software designed to meet curriculum requirements for you to deliver more engaging lessons but how do you know which is the right flatscreen for you?
Interactive Flat Screens – Seeing The Wood for the Trees
There are so many makes and models of interactive flat screens on the market, sometimes it's hard to see the wood from the trees. Full HD, 4K, 10 point touch, 20 point touch, 3 year RTB warranty, 5 year onsite warranty, inbuilt android, inbuilt PC, external android, touchscreen only….Aaaaaagh!!! –  it's all getting too much isn't it? And so, in this post we'll show why you should pay a bit more for a Clevertouch interactive panel, read on!
Largest Selling Interactive Panel
To start, let's rewind it back a bit. In the beginning there was Clevertouch. It was the first to the market and now is the largest selling Interactive Panel in the UK.  Clevertouch has been developing its product offering year on year so when you purchase a Clevertouch you are not buying 12-month-old technology or 3-year-old technology, you are in fact buying the latest technology offering on the market. Furthermore, thanks to new OTA (Over The Air updates) you are purchasing future technology as a Clevertouch Plus series panel will upgrade itself as updates become available!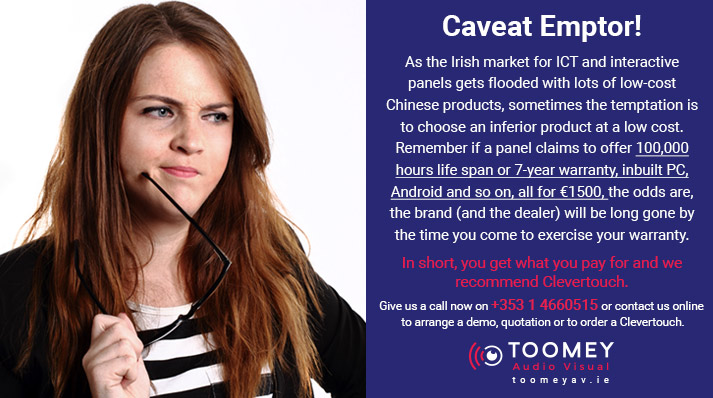 Caveat Emptor!
As the Irish market for ICT and interactive panels gets flooded with lots of low-cost Chinese products, sometimes the temptation is to choose an inferior product at a low cost. Remember if a panel claims to offer 100,000 hours life span or 7-year warranty, inbuilt PC, Android and so on, all for €1500, the odds are, the brand (& the dealer) will be long gone by the time you come to exercise your warranty.
In short, you get what you pay for.
CleverTouch Interactive Panels for Education
Clevertouch offers two strands of interactive panels for Education.
CleverTouch V Series
The V Series is stunning. 4K resolution, high quality touch, inbuilt Android, wireless connectivity, bundles of free software, 5 Year onsite warranty. It has everything you would want from a premium Interactive Panel at a very affordable price.
CleverTouch PLUS Series
The PLUS Series is simply the most stunning IFS for education on the market. 4K resolution, high quality touch, inbuilt Android, wireless connectivity, CleverStore, Clever Message, bundles of high quality free software, 5 year onsite warranty.  The CleverTouch Plus Series has everything you would want from a premium Interactive Panel and then some! The newest PLUS panel has a stunning Cleverstore APP store which offers approx. 180 premium, vetted, ad free educational apps free to download. Clever Message – The inbuilt digital signage solution form Sedao, inbuilt, and free of course. Clevershare2 App provides a new 2 way wireless collaboration app which allows you to connect any device wirelessly.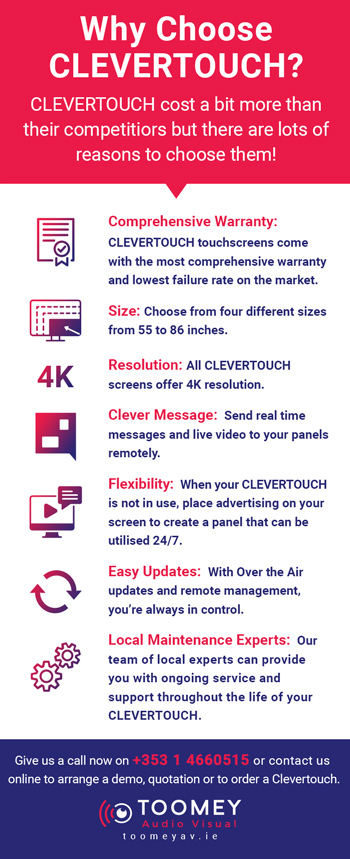 Why Choose CleverTouch?
We've had a look at the two main strands interactive panels that CleverTouch offer but why should you choose a CleverTouch product? They cost a bit more than their competitiors but the product and functionality provided by them is top tier, as we said – you get what you pay for.
Comprehensive Warranty: CLEVERTOUCH touchscreens come with the most comprehensive warranty and lowest failure rate on the market.
Size: Choose from four different sizes from 55 to 86 inches with optional slot in PC and unique LUX interface designed for large touchscreens.
Resolution: All CLEVERTOUCH 4K resolution screens come packed with features that are subscription free, reducing the overall cost of ownership.
Clever Message: Send real time messages and live video to single screens, groups of screens, or all your panels regardless of location with Clever Message.
Flexibility: When your Clevertouch is not in use, place advertising on your screen to create a panel that can be utilised 24/7.
Easy Updates: With Over the Air updates and remote management, you're always in control of when and what you update, ensuring you have the latest version of Clevertouch.
Local Maintenance Experts: Our team of local experts can provide ongoing service and support throughout the life of your Clevertouch. With high quality and low maintenance, Clevertouch is the most advanced interactive display on the market.
Clevertouch – Redefining the Future of The Classroom
Clevertouch multi award winning touchscreens are redefining the future of classroom. The all-in-one Plus Series gives you the complete package with no additional subscription costs. The V Series provides incredible quality from a premium brand at an entry level price. These highly sensitive interactive touchscreens boast 4K resolution, 20-point touch, fast response time, cutting edge security and management features, making them perfect for organisations and schools that need to provide a solution that will run on or off the network. Clevertouch are built to last and all screens come with a comprehensive manufacturer's warranty.
So now after the above we hope that the question is, "Why shouldn't I pay a bit more for a Clevertouch Interactive Panel?" and we have no good answer for that question! Give us a call now on +353 1 4660515 or contact us online to arrange a demo, quotation or to order a Clevertouch.