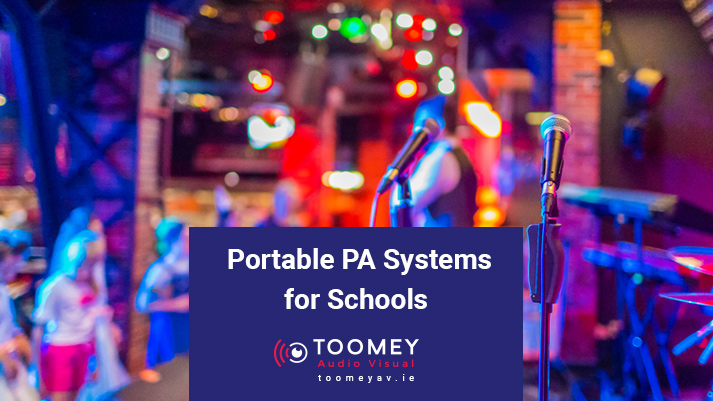 07 Aug

Portable PA Systems for Schools

A portable PA system is a very handy and convenient technology for a school or college to possess. Why restrict your institution to a regular fixed set up in the school hall when you can enjoy all the benefits of a portable PA system for your school?
Portable PA Systems for All Types of Schools
The first day of the academic year is an important one, especially for freshers. Whether you are running a PLC college or a third level institution, a welcome speech makes all the difference to newcomers. A portable PA system will allow you to do this in the open. It is so much better than doing it in a grand hall where newcomers might feel a bit intimidated. Starting college or University is an exciting time, full of expectations. Why not set the right tone by giving a welcome speech in the open air? This helps to create a relaxed, informal atmosphere that will do much to put freshers at their ease. Our Barthes 120WATT portable PA system is ideal for this.
You Need A PA System You Can Rely On
Many institutions begin the year by having a band play. A portable sound system will give them the freedom to set up pretty much anywhere, as long as there is access to power. Again, it is a good way to welcome new students and take the edge off any anxiety and fear they might be feeling. At the other end of the academic life of a student is the graduation ceremony. This is probably the most important event in the academic calendar, so you need a PA system you can rely on. Our Ultimate portable PA system is perfect for both these occasions.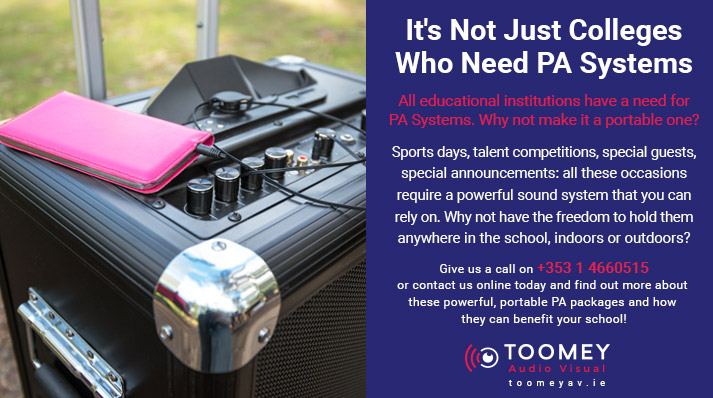 It's Not Just Colleges Who Need PA Systems
Of course, it is not just colleges who require PA systems. All educational institutions have a need for them. Why not make it a portable one? Sports days, talent competitions, special guests, special announcements: all these occasions require a powerful sound system that you can rely on. Why not have the freedom to hold them anywhere in the school, indoors or outdoors?
Having the Freedom & Mobility Of A Portable PA System
Investing in a portable PA system makes sense if you are to be prepared for all the important events in the school calendar but you also need to be prepared for unforeseen events that happen e.g. as a school sports victory or an outstanding achievement by a pupil or class. There is so much more to school / college life than learning. You are part of a community and, like any other community, the life of it is marked by events. Whether these are set events in the school calendar or things that haven't been planned for, having the freedom and mobility a portable PA system offers will make life so much easier.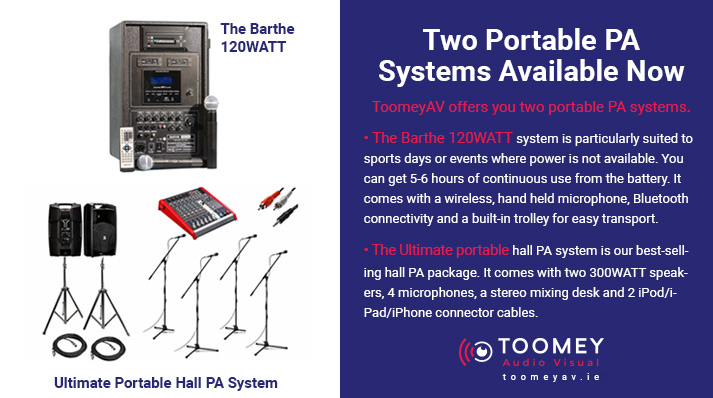 Two Portable PA Systems Available Now
ToomeyAV offers you two portable PA systems. The Barthe 120WATT system is particularly suited to sports days or events where power is not available. You can get 5-6 hours of continuous use from the battery. It comes with a wireless, hand held microphone, Bluetooth connectivity and a built-in trolley for easy transport. The Ultimate portable hall PA system is our best-selling hall PA package. It comes with two 300WATT speakers, 4 microphones, a stereo mixing desk and 2 iPod/iPad/iPhone connector cables.
Interested? Why not give us a call on +353 1 4660515 or contact us online today and find out more about these powerful, portable PA packages and how they can benefit your school?
Don't miss out on future blog posts and be in with a chance to win a €100 voucher by joining our mailing list now!